Much has been said and told about the HTC EVO3D Smartphone. Most of the reviews as well as the online articles tend to focus on its 3D aspects only. Well, this smart phone has certainly proved itself to be the Pandora's Box for communication addicts and not to forget at an extremely affordable price.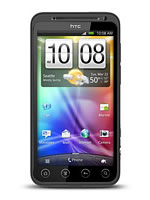 The very first asset of this phone is its screen. Not only does it possess an excellent touch screen technology, but also boasts of an enviable display quality, that goes with the best of the smart phone experience.
One of the biggest selling points of this smart phone is its processor. The HTC EVO 3D is even superior to the LG Optimus 3D, with a 1.2 Gigahertz dual- core processor and it completely smithereens its competition in terms of power, capability and absolute performance.
The HTC EVO3D also has a commendably advanced android operating system known as the Gingerbread. This is an upgradable version so you can easily upgrade it to the upcoming android versions.
Now download all the applications you want to from the official android site for Free!
Well all said and done, we're sure the next thing you all must be wondering about is the phones storage capability! Isn't it?
We're glad to tell you that the standard internal storage capacity of the EVO3D is 1 GB. This much of storage capacity, allows you to store video clips, audio files and not to forget the apps downloaded from the official android market.
So are we all ready to get set and buy the phone this weekend. We have it available at our store for 2,899 AED.