Sencor Hand Blender Green SHB31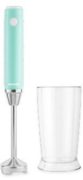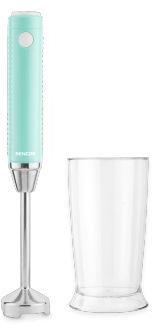 Sencor Hand Blender Green SHB31
Features
Type :

Hand Blender

Features :

Variable speed control for a gentle start reducing the risk of splattering | Bayonet mechanism for simple removal of the blending attachment | Stainless steel chopping blade suitable for chopping hard nuts | 500 ml beaker that also serves as a measuring cup | Water-resistant speed switch | Stainless steel attachment that can also blend hot meals | Dishwasher-safe attachment | Safety mechanism to protect against accidental operation by children | Double protection of electrical parts against contact with water

Capacity :

0.5 ltrs

Power Supply :

220-240V
Thinnest hand blender on the market - handle diameter is a mere 42 mm - for easy handling Variable speed control for a gentle start and to reduce the risk of splattering Extra low-noise 400 W DC motor with reduced vibration
Adjustable speed
The blender allows you to adapt quickly to any situation, any density or consistency. A system of gradually increasing speed makes this hand blender easy to work with. Starting to mix slowly then gradually increasing the speed prevents ingredients from splashing outside the bowl. Gradually increasing the speed also lets you determine the right speed for various ingredients.
High-quality motor with a 6-year warranty
A hand blender has to last a long time. Its endurance and reliability depend on a strong, high-quality motor. With a 6-year warranty, we have confidence in the motor we built into this great kitchen tool. Enjoy your blending experience.
Zoom Elegant bayonet-style attachment system
The highly practical bayonet attachment system locks in accessories for strong, stable performance and ease of handling.
The slimmest hand blender in the world
The world's slimmest hand blender* is just over an inch and a half in diameter. The ergonomic handle and slim design feel good in your hand, offering a comfortable and safe use. Continuous speed control ensures the right speed for all ingredients. The very powerful 0.5-hp motor has a 6-year warranty.
General
Brand
Sencor
Type
Hand Blender
Color
green
Speed Settings
Variable speed
Blade Material
Stainless Steel
Number of Jars
1
Total Bowl Capacity
0.5Ltr
Material
Plastic
Bowl Material
Plastic
Control Type
Variable speed control
Features
Features
Variable speed control for a gentle start reducing the risk of splattering | Bayonet mechanism for simple removal of the blending attachment | Stainless steel chopping blade suitable for chopping hard nuts | 500 ml beaker that also serves as a measuring cup | Water-resistant speed switch | Stainless steel attachment that can also blend hot meals | Dishwasher-safe attachment | Safety mechanism to protect against accidental operation by children | Double protection of electrical parts against contact with water
Display
Manual
Capacity
0.5 ltrs
Other
Power Output
400 Watts
Power
Power Supply
220-240V
Hertz
50/60 Hz