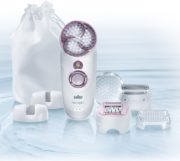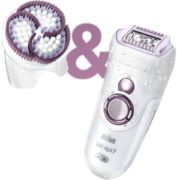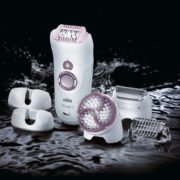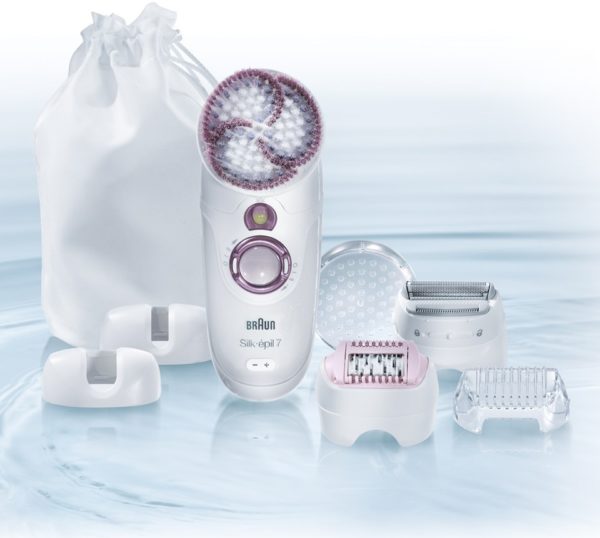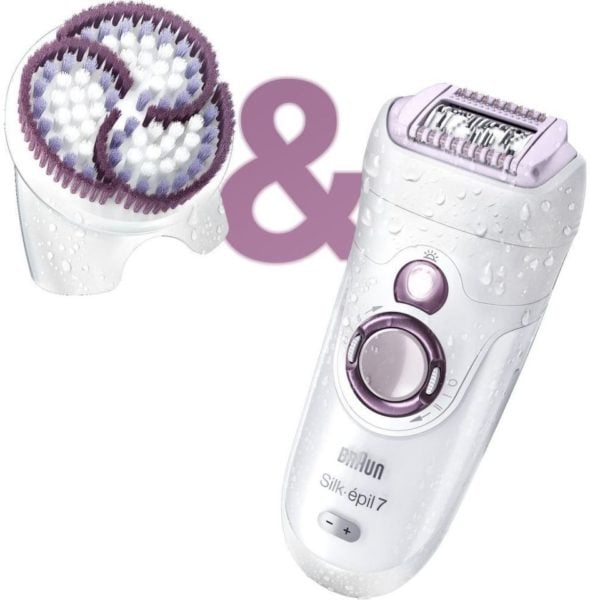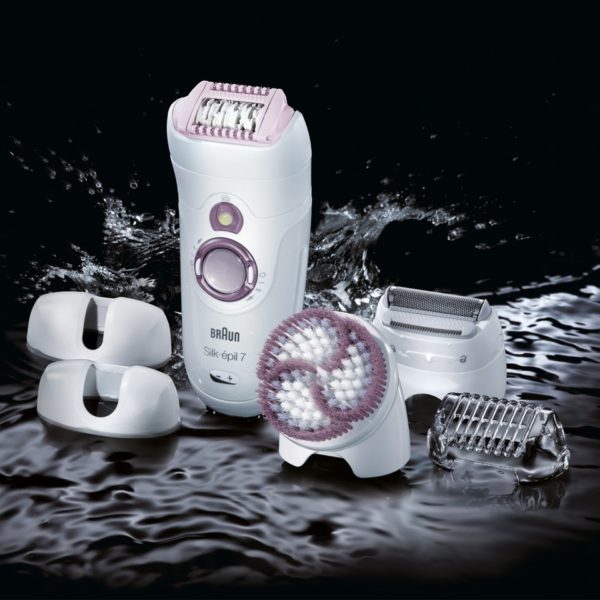 Braun Epilator 7951E
Features
Type :

Epilator

Features :

The best system 2 in 1 Hair removal and exfoliation | 2 beauty treatments in one device: The most efficient epilator Wet & Dry meets innovative exfoliating brush | Designed for use in the bath or shower for extra comfort and more delicate experience | The epilator has 40 tweezers Close-grip, removes hair four times shorter compared to waxing or as small as grains of sand (0.5 mm) | For a smooth skin for up to 4 weeks | With more than 3000 micro-vibrations per minute, the exfoliating brush exfoliates the skin in a 4 times more effective than only manual scrub | The Smartlight light helps to detect even the smallest hairs to not skip any | Also it has 4 additional accessories or a shaving head, a hood controller, a cap for the face and a hood for sensitive areas.

Cord :

Cordless
Close-Grip Technology
With 40 tweezers, it removes hair as small as a grain of sand to achieve perfect smoothness.
High Frequency Massage system
Softly stimulates skin for extra gentleness.
Pivoting head
Smoothly adapts to body contours for superior comfort and efficiency.
Wet&Dry
Use comfortably in a bath or shower for an extra soothing experience.
Sonic exfoliation
Visibly refines skin with 3,000 micro-vibrations per minute.
High density brush
10,000 fine bristles gently remove dead skin cells and stimulate skin regeneration.
General
Brand
Braun
Type
Epilator
Color
White
Features
Features
The best system 2 in 1 Hair removal and exfoliation | 2 beauty treatments in one device: The most efficient epilator Wet & Dry meets innovative exfoliating brush | Designed for use in the bath or shower for extra comfort and more delicate experience | The epilator has 40 tweezers Close-grip, removes hair four times shorter compared to waxing or as small as grains of sand (0.5 mm) | For a smooth skin for up to 4 weeks | With more than 3000 micro-vibrations per minute, the exfoliating brush exfoliates the skin in a 4 times more effective than only manual scrub | The Smartlight light helps to detect even the smallest hairs to not skip any | Also it has 4 additional accessories or a shaving head, a hood controller, a cap for the face and a hood for sensitive areas.
Body
Cord
Cordless
Other
The Smartlight reveals even the finest hairs, giving you thorough hair removal Charges in only 1 hour for 40 minutes of use. Use cordless in the shower or bath Two speed settings to adapt to your individual skin type and personal beauty routine Easily clean under running water, comfortably use in bath or shower
Power & Battery
Battery Type
Rechargeable