Electrolux Ceramic Electric Cooker EKC96150AX
Key Information
Energy input:

Electric

Works using electrical energy

No of Burners/Hobs:

4 Ceramic Hobs

Built In / Free Standing:

Free Standing

Dimensions (H x W x D):

900 x 600 x 600 mm

Installation: Not Included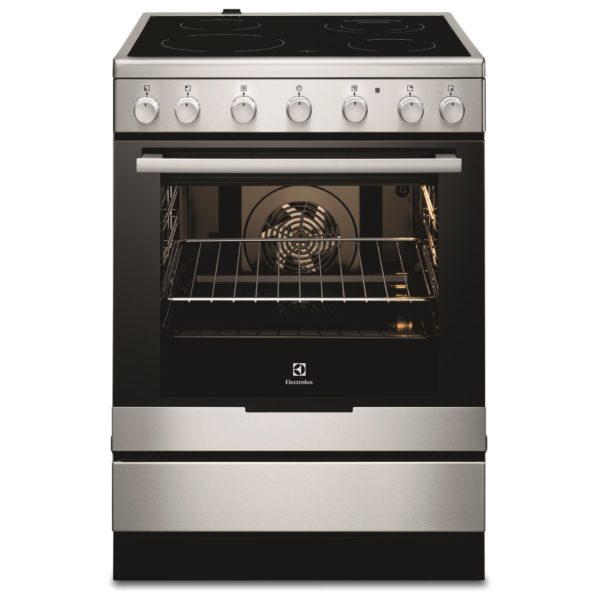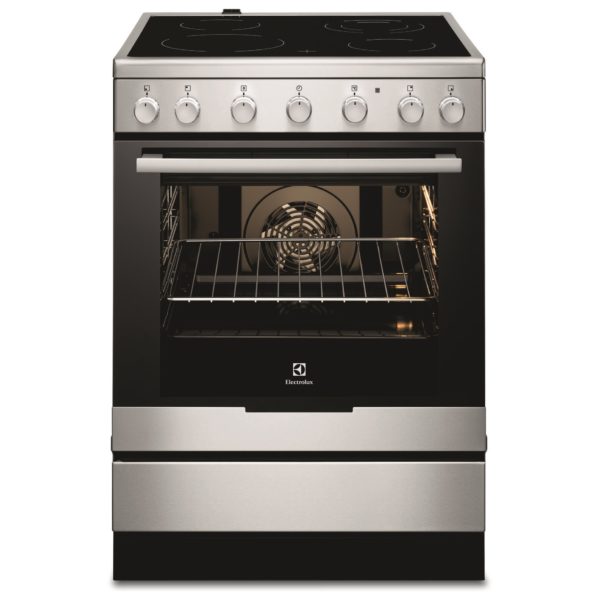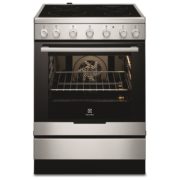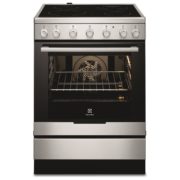 Electrolux Ceramic Electric Cooker EKC96150AX
Keep an eye on what's going on – just like a
professional
The thoughtful design of this cooker makes it easy to
stay up to date with the progress of all your dishes –
whether under the grill, in the oven or on the hob.
Clean up the hob with one smooth wipe
It couldn't be simpler to keep this cooker clean. The
cooker has an absolutely flawlessly smooth surface –
without even any knobs – so you can clean up with
one wipe.
A clever innovation that lets you cook without a
This oven door has several clever innovations that let
you cook without a care. Together, they ensure the
outside of the door remains safely cool to the touch.
• Removable glass panels – a clever touch to make cleaning easier
• Residual heat indicator so you know when the hob is safe to clean
• 20% more efficient than an A-class cooker

Features :


• Cooker with electric oven and hob
•Hob type: Ceramic Glass
Left front cooking zone: Hilight ,
2300W/210mm
•Left rear zone: Hilight , 1200W/145mm
Right front cooking zone: Hilight ,
1200W/145mm
Right rear zone: Hilight ,
700W/1700W/120mm/180mm
Residual heat indication for the cooking
zones: 4
•Oven type: Electrical
Top oven functions:
Conventional/Traditional cooking,
Defrost, Fast grilling, Light, Light
cooking, Pizza setting, True fan
cooking, Turbo grilling
•Bottom oven functions:
Oven functions:
Conventional/Traditional cooking,
Defrost, Fast grilling, Light, Light
cooking, Pizza setting, True fan
cooking, Turbo grilling
Controls for 4 energy regulated cooking
zones
•Oven Cleaning: Black Enamel
•Easy to clean oven door
•Rear exhaust for oven fumes
•Cooling fan
•Adjustable height
•Drawer for storage of cooking utensils
Product Installation : Free_Standing
•Product Typology : Single_Cav_Electric
•Product Classification : Performance
•Installation : Slot In
•Size : 60×60
•Hob type : Ceramic Glass
•Oven Energy : Electrical
•Cooking : Fan + Ring
•Cleaning top oven : Black Enamel
•Cleaning bottom oven : No
•Electrical supply – Cooker functioning : Mains
•Nø of cavities : 1
•Design family : BlueFire
•Other comments categorisation : Original project: HEF-GV-CE-BF
•Main colour : Stainless Steel
•Control Panel material : Stainless Steel
•Type of handle : Plastic
•Door Handle Colour : Stainless Steel
•Type of doors : 1 Horizontal stripe glued, 3 Glasses
•Door type bottom oven : No
•Pan storage : Drawer, No handle, No runners, Plastic
•Control lamps : Thermostat Indicator
•Thermostat : Top
•Type of timer min. : Minute Minder
•Electronic Oven Control : MECH MM Stop El. 120′ (FS)
•Feature Electronics : Electronic stop, Minute minder
•Heating function top oven : Hot Air 12.1-ECO
Cooking function top oven : Fan + light, Fan + top, Grill + top, Grill
+ top + fan, Light, Ring + bottom + fan, Ring + fan, Top + bottom
•Other comments controls : Stainless stell Minute minder colour
•Height at hob : 850
•Height maximum : 867
•Height adjustment : 847-867
•Width mm : 596
•Depth mm : 600
•Gas original : No
•Gas replacement 2 : No
Main
Brand
Electrolux
Color
Stainless Steel
General
Type
Electric Cooker
Built In / Free Standing
Free Standing
No of Burners/Hobs
4 Ceramic Hobs
Energy input
Electric
Cooking Zones
4
Dimensions
Dimensions (H x W x D)
900 x 600 x 600 mm
Power
Power Voltage
220-240 Volts
Frequency
50-Hz
Features
Features
Close door | Single Door with triple glass | Electric Oven/Grill
Other
Country of Origin
Poland