Nouba Velvet Touch Lipstick 46009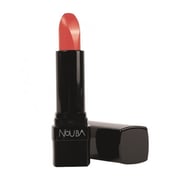 Nouba - Velvet Touch - 09LipstickThe true essence of design: a perfect blend of seduction and comfort.Easy to apply thanks to its special ergonomic shape, Velvet Touch Lipstick gently glides onto the lips delivering immediate moisture and sensory comfort.Velvet finish, weightless wear and amazing colour payoff.
Creamy texture. Bright matte finish. Intense and long lasting color.
Rice powder (Orizanolo) with emollient action.
Pure vitamin E and vitamin C with age-control action.
Emollient esters in association with spherical powders: extraordinary luminous volume effect.
Wax free formula: high comfort level, elasticity, adhesion without thickeness.
Preservative free.
Dermatologically tested.
Apply directly on the lips.