Ocean Blue Handpainted Ceramic Cup Set & Holder With Dhokra Art
Key Information
Type:

Speciality Products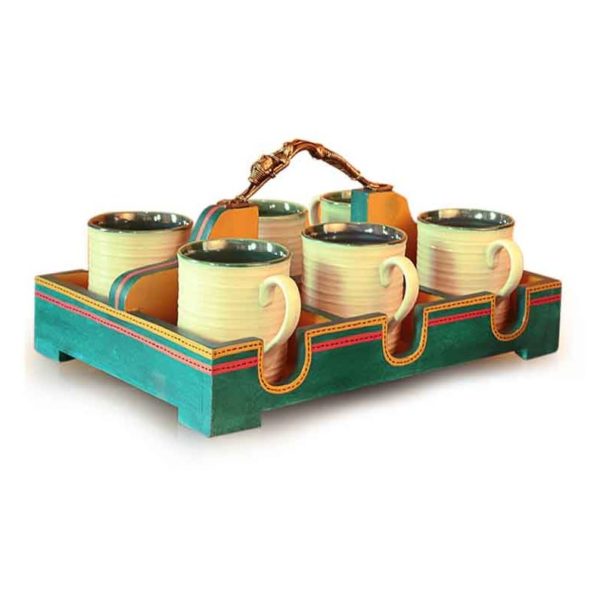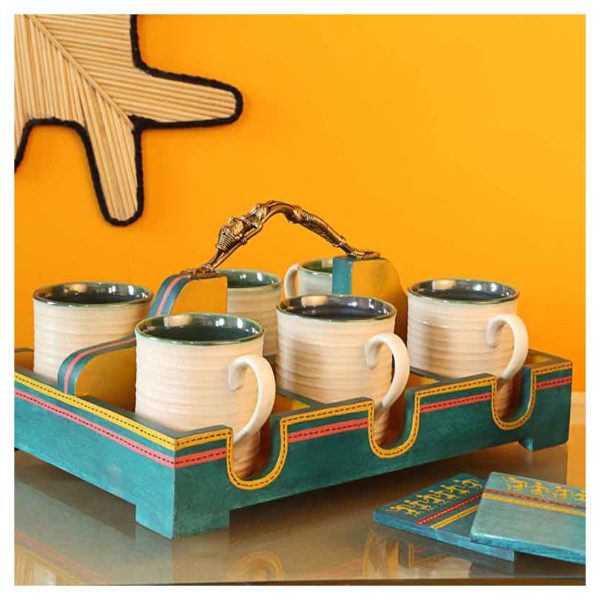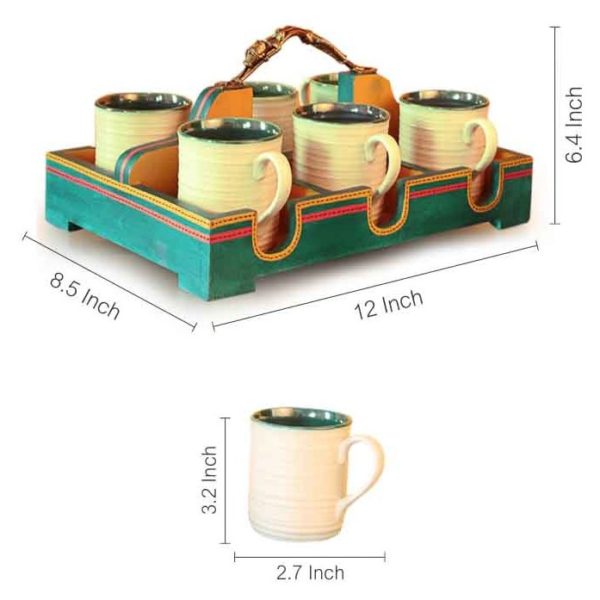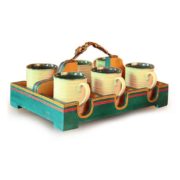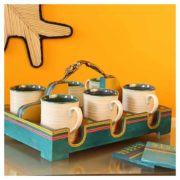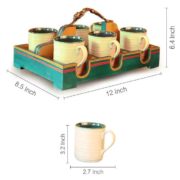 This Set of 6 Ceramics with Ocean Blue Cup Holder from our Sunset Orange & Ocean Blue Collection is is adorned with Dhokra Brass Artwork from West Bengal. The container is crafted in wood & has 6 chambers for the 6 ceramic cups accompanying with it. It has a Brass handle carefully handcrafted Dhokra Brass Artwork. It is beautifully sculpted in Pine Wood & handpainted in Calming Ocean Blue.
Can be used to hold & carry ceramics.- Comes with 6 Ceramic Cups & 1 Ceramic Holder.- It Depicts beautiful Dhokra Art Brass Work – It is handcrafted in Pine Wood & Brass.- Comes in the following dimensions: HOLDER: 12x (L), 8.5x (W), 6.4x (H), CUPS: 2.7x (L), 2.7x (W), 3.2x (H) Inch in size- The volume of the cup is 130 ml – It is perfect for your dining table.
ART TYPE : Dhokra Art MATERIAL : HOLDER & COASTERS: Pine Wood, DHOKRA FIGURINE: Brass
COLOR : Ocean Blue
NOTE : 1) The set comes with 6 Cups & 1 holder. 2) As this product is handcrafted there might be a slight color or design variation, which is natural & hence makes the product unique. 3) Accessories not included in the Ceramic Cup Set with Holder like the Coaster Set shown in the image.
PACKAGE CONTENT : 6 Cups, 1 Holder VOLUME : 130 ML
Terms and Conditions:
Return option for Furniture & Home Décor Items will not be applicable:
If the item gets damaged from the customer before/after assembling.
Opened Towel, Bedsheet, Mattress, Mattress Topper for hygiene reasons.
General
Art Type
Dhokra Art
Type
Speciality Products
Features
Features
Dhokra Art | Brass Material
Physical
Material
HOLDER & COASTERS: Pine Wood, DHOKRA FIGURINE: Brass