Waiting to hear all about the Blackberry Torch 9810? Get ready to hear it all from us.
The Blackberry torch 9810 is a winner in a number of ways. Let's get to the looks first. The Blackberry 9810 has conveniently retained the same form as the 9800, and sports a very sleek ,and chic look. One thing that we notice right away, is that the phone has an extremely smooth and speedy touch experience, which engulfs both browsing the web as well as operating various apps.
The phone also has a superbly functional and physical QWERTY keyboard, which reveals itself by simply pushing the slider up. This keyboard enables you to type quite rapidly. There is also a very familiar track pad, which was this phones "Best Kept Secret". This keyboard is like the genie of the lamp. It gives the touch and scroll functions a speedy accuracy, especially when selecting text and images. Once you use it in conjunction with scrolling, and touch screen ability and you'll find a browsing and user input experience like no other device on the market. It is a complete joy once you get used to it.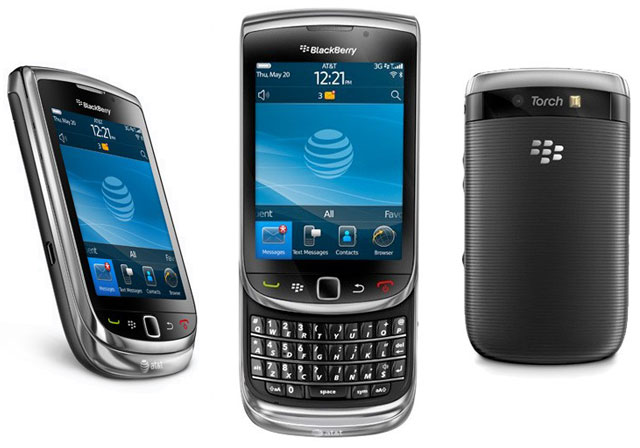 The phone also tends to sport a 3.2 inch screen with a terrific 640×480 pixel resolution, which would provide you with a really sharp, clear and an eye popping display of content on the screen. So much so that watching a video on this phone feels like you are looking at the actual occurrence through a squeaky clean window.
Navigation on this particular phone is seriously a child's play and quite spontaneous too. The panel structure that the phone possesses tends to suffice most of the needs of the contemporary user, such as- All categories- favorites- media- downloads and frequent. The folders are also, totally customizable in a way that you can place any app in any of the given folders that you choose and, yes, you can create your own folders.
Wondering, what's next? We still have a long way to go………………………………..
The phone has a voice enabled universal search mechanism. All you have to do is simply tap the microphone; say what you are looking for a tap "done". OS 7 will return searches of anything that exists (or even possibilities) on the phone that your inquiry demanded. The device also possesses a full version of "Documents to Go" which is an app that allows viewing and editing Microsoft Office documents.
Well now that we have said everything about the phone, let's not forget one thing, that we are talking about a Blackberry here. And with that you enjoy, the wonder and unparalleled social media, at all times.
The 9810 is the way to go.