The Ace's design is simple but sophisticated, with a smoothly glossy front and a pleasingly grippy back cover. Its 3.5-inch screen and squarish case definitely look similar to the iPhone 4, but it's mostly plastic rather than metal. The Ace still feels solid and well made, however. Like many of Samsung's recent smart phones, it's also surprisingly light at only 113g.
The Ace's screen was quick and responsive, but its 320×480-pixel resolution isn't as sharp as on more expensive phones. It's very usable for most things, but small text on webpage's required some serious zooming to read clearly. Thankfully, zooming in and out is fast and intuitive thanks to multi-touch support.
The screen is the LCD type, not the AMOLED type Samsung is becoming famous for. Nevertheless, it looked bright and vivid even under blindingly bright lights.
Perhaps thanks to its smallish screen, the Ace's battery life is insanely good. We easily squeezed two days of use out of the Ace without charging overnight, with Wi-Fi and GPS both turned on.
Android is ace
The brains of the Ace are Google's mobile software, Android 2.2 Froyo. It's not quite on the cutting edge — phones with version 2.3.3 are already arriving in shops. But 2.2 still has the best features of the Android operating system, so we don't think you'll miss the SIP calling and NFC support that's available on the newer versions.
The Ace sports Android's fantastic Web browser, which displays pages pretty much as they would look on a desktop PC. Unfortunately, the Ace isn't powerful enough to support Flash, so you won't get to play the videos and other Flash objects that pepper the Internet. At least there's a You Tube app to get your funny cat videos, but the BBC's iPlayer is a no-goer.
The lack of Flash is a major disappointment, but the Ace still has plenty of features to buoy our spirits. The portable hotspot feature, for example, lets you share your 3G data connection with your laptop and other gadgets over Wi-Fi. You should be aware of how much data you're using, but if you're within your data allowance, this feature makes 3G dongles obsolete.
It's also easy to download heaps of programs and games from the Android Market. Although the selection is still second to the iPhone's app store, all the big brands are available, and much of the best stuff is free. Facebook, Twitter and Angry Birds are just a few of the free goodies on offer.
Samsung has its own app store too, called Samsung Apps. This is a waste of space on the Ace, because when we checked it out it only had one app in it — a weather widget. It's not a bad little widget, but it hardly warrants its own app store. Presumably there aren't any more Samsung apps that are compatible with the Ace. There may be more in the future, but based on what we've seen on other Samsung phones, you won't miss them. Feel free to simply ignore the Samsung store and have fun perusing the virtual shelves of the Android Market instead.
The Ace has a 5-megapixel camera.
Samsung hasn't done too much messing with Android's default settings, but there are some handy additions. There are shortcuts to quickly turn settings on and off, tucked away above the notification bar. Samsung has also included All Share, its app for streaming the media on your phone to DLNA-enabled TVs.
It's worth noting that although Samsung hasn't customized Android much, it has still struggled to get updates out quickly to its other phones. Also, it doesn't roll out updates over the air, like many other companies. Instead, you have to connect your phone to your computer and use its syncing software, Samsung Kies. We've found Kies to be unreliable in the past, but there is a new version coming out soon.
Aces high
The smart phone features of Android really come into their own when you're connected to the Internet, so we're happy to see the Ace is well connected. It's got 7.2Mbps HSDPA for fast downloads over 3G, and it also supports the latest 802.11n Wi-Fi standard.
The Ace sports a 5-megapixel camera with an LED photo light on the back. It only works, however, if you have a microSD memory card installed, so be sure to pop in the 2GB card that comes in the box right away. This solid little snapper had no trouble taking decent snapshots in good light. These weren't suitable for blowing up to poster size, but they were of sufficient clarity and sharpness that we'd happy share them online. Happily, Android makes it easy to share your shots over email, Facebook and Picasa.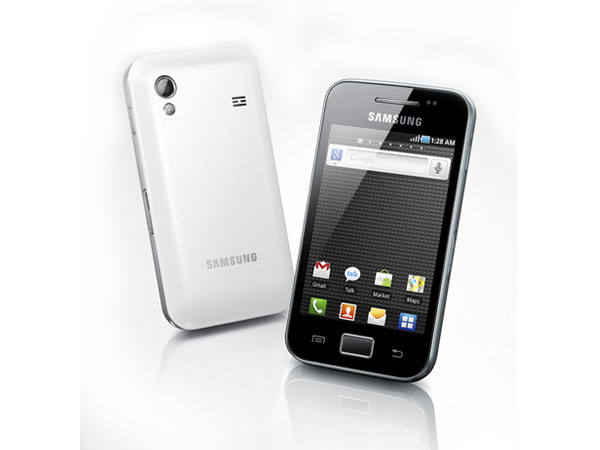 Conclusion
Thanks to its sleek, squarish looks, the Samsung Galaxy Ace feels better than its low cost suggests. Except for its lower-resolution screen, it could easily pass for the latest top of the line smart phone, and it has many of the same features. On the surface, it looks much like an iPhone 4, but underneath it has plenty of Android treats to rescue it from the realms of the also-rans.