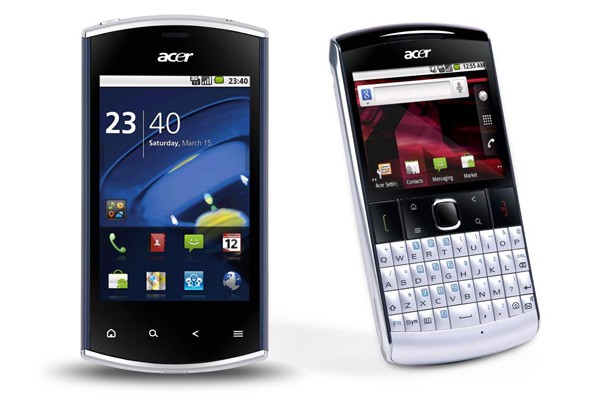 The Acer beTouch E210 is a BlackBerry-esque typing-optimized candy bar phone that offers a 2.6-inch resistive screen with a resolution of 320 x 240, a 600MHz Qualcomm MSM7227 processor and a 3.2MP camera. It's comfy to use with the physical QWERTY pad and is being powered by Froyo. The handset's body has a chrome-like bezel that surrounds the phone and gives it a classy appeal. This said, you can dig further into its goods and bads right here, with this very interesting review from Expert Reviews.
The Review: Acer's new smartphone is a Blackberry-style handset with a 2.6in screen and QWERTY keyboard underneath. It runs Android 2.2, and despite its size it has all the smartphone features you'd expect on a larger phone – GPS, FM radio, Wi-Fi and a 3.2-megapixel camera. Storage is limited but there's a microSDHC card slot and a 2GB card in the box, so in theory you could upgrade this to 32GB.
As well as being smaller than most smartphones, it's also much lighter, but feels well made. On the right side is a volume rocker and the obligatory microUSB port for charging and PC connections, while the left side is reserved for the headphone jack. In the centre beneath the screen is a responsive trackpad button, surrounded by the four common Android buttons – Home, Back, Menu and Search – with green and red call buttons on either side.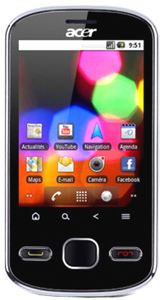 We found the keyboard easy enough to use, although the glossy and rounded keys can cause your fingernails to slip off them. The keyboard has a backlight that's activated when you press any button and the number keys are highlighted with white backgrounds; if you start typing a number, the phone is clever enough to start the phone dialler app. There are also special keys for Contacts, Camera and Messaging, and the latter doubles as a Mute button with a long press.
Android's home screen has been modified slightly, with the app tray moved to the right side rather than sitting at the bottom, to suit the landscape screen. This is resistive, but with the keyboard to help with typing that's not such a bad thing. It is cramped, however, and we had trouble reading web pages and using the office document viewer, as the applications' toolbars, borders and other controls took up a much larger proportion of the screen than they would on a full touchscreen phone.
It's a good display, though, with strong colours and sharp contrast. Photos taken with the camera were not so impressive; they suffered from excessive artefacts and noise that ruined most shots, and without a flash, shots in dark areas were underexposed. Surprisingly, videos were much better, with good contrast and colour, but frame rates were low.
Acer has left Android pretty much alone, although it has installed a few multimedia widgets and apps. There's a Sync app that ties in with a Windows application for managing your phone from your PC, and a Settings app that brings together a selection of important settings, such as networking, GPS and personalisation options, in one neat interface. There's a trial copy of DataViz's Documents To Go, which lets you view office documents and PDF files, but you'll probably not want to register as editing office documents isn't practical on the 2.6in screen.
A Media Server app lets you share your phone's multimedia content to other DNLA-aware devices, and nemoPlayer, a popular Android video player, is also installed. We don't quite understand why Acer bundles DataViz's RoadSync app, as Exchange support has long been built into Android, and the inclusion of silly apps like urFooz and Spinlets is annoying, especially as these can't be uninstalled.
Blackberry handsets are popular despite having smaller screens, and we can see how the E210 will appeal to those who like a QWERTY keyboard but want access to Android's wealth of apps. The screen's big enough to browse photos and even watch YouTube videos, and although it's not perfect for browsing the web or reading long documents, it is excellent for reading and writing emails and texts.
All in all, a light, comfortable and powerful smart phone, that will weight easy on your pockets too! Check it out at our online store at www.sharafdg.com!
Source: http://www.expertreviews.co.uk/smartphones/1284112/acer-betouch-e210