Has anyone of you used the Acer Ferrari liquid E phone as yet? Well if you haven't, you soon will after reading up this blog post.
Acer has come up with a special edition of its very next version of the liquid smart phone which has been dubbed into Acer Liquid 'e' Ferrari Smartphone. This phone is powered by the latest Android 2.1 operations platform which tends to support HTML 5, double tap zooming, video tagging support and geo-location API support. It is a top-notch device which assimilates combining cutting-edge and progressive technologies, latest software innovation and an ultra-fluid user interface to create an all-new mobile experience.
This is one of the most exclusive smart phones available to all of you consumers who refuse to settle for anything less than perfect. The phone is extremely passionate like the red of its livery, sophistication-like the expression of its utmost perfection, performance like the Ferrari car, a tailor made sleek body for style enhancement and fully equipped to suit every communication need of its user. All of these put together the Acer Ferrari Liquid E phone is a perfect gadget customized to abide by every need of its user, like a genie in the lamp.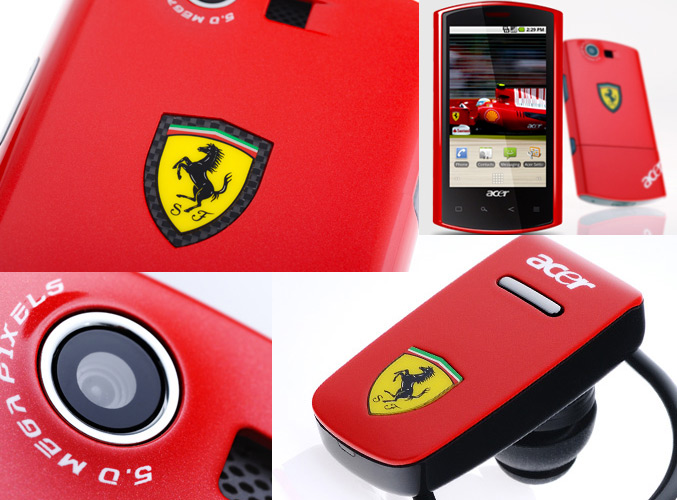 The phone is substantially aimed at all of you who demand outstanding multimedia, web browsing, social media integration and video streaming. It is powered by 768 MHz Qualcomm QSD 8250 Snapdragon Processor and comes with 256 MB RAM and 512 MB FLASH ROM with added support for microSD memory card allowing up to 32-GB storage. In addition, the handset features a proximity sensor, ambient light sensor and an accelerometer for auto-rotation.
Exhausted are we! Well there is still plenty more to go…
The phone's high-speed processing capability and high-speed internet access brings the Android experience to life. The Liquid E follows the four step formula by means of featuring four buttons on the front offering functions such as Send, End, Back and Home.
Formula called four step, gives the user a good rep!
Lastly the Acer Liquid 'e' Ferrari Smartphone comes completely loaded with a 3.5-inch WVGA (800 × 480) capacitive touch screen and runs the Google's latest Android 2.1 dubbed 'Éclair' mobile operating system with Acer's custom Spinlets user interface skin on top with easy access to entertainment and web bookmarks.
So are we ready to go ahead and get the Acer Liquid 'e' Ferrari Smartphone and get smart like no one?