ساعة ذكية فيرسا 3 من فيتبيت لون ألومنيوم ذهبي ناعم / زيتوني طراز FB511GLOL
Roll over image to zoom in
Click to expand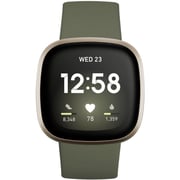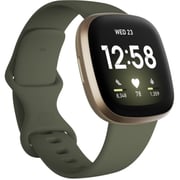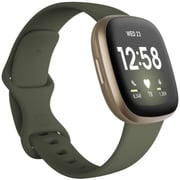 فيت بيت
ساعة ذكية فيرسا 3 من فيتبيت لون ألومنيوم ذهبي ناعم / زيتوني طراز FB511GLOL
شامل ضريبة القيمة المضافة
خطط سداد ميسّرة
ابتداء من

50.42 درهم

/شهر

المبلغ النهائي يعتمد على البنك الذي تتعامل معه
تفاصيل
الشحن مجاناً
التوصيل 07 Feb - 08 Feb
دفع آمن ومضمون
توصيل سريع
+ 14.00 درهم الشحن
التوصيل المتوقع 06 February
المعلومات الأساسية
اللون:

MultiColor

نوع العرض:

AMOLED

النوع:

Fitness Smartwatch

التصميم:

336 x 336 pixels

إصدار البلوتوث:

Bluetooth® 5.0

المنتجات الملائمة:

Android or iOS

مدة صلاحية البطارية:

Up to 6+ Days
تفاصيل المنتج
24/7 Heart Rate Tracking
Track calorie burn and optimise workout efforts with our enhanced PurePulse® 2.0 technology & see your resting heart rate trends and cardio fitness level in the app.
Oxygen Saturation (SpO2) Monitoring
Track SpO2—the level of oxygen in your blood—to help you learn when there may be an indication of important changes in your fitness and wellness. See your SpO2 nightly average and range on wrist with an SpO2 clock face, and view trends over the past week in the Fitbit app
Skin Temperature Variation
Track your skin temperature each night to see how it varies from your personal baseline. View your nightly average and trends over the past week in the Health Metrics dashboard.
Sleep Stages & Sleep Score
See your time in light, deep and REM sleep and get a daily Sleep Score in the Fitbit® app and on your wrist to better understand your sleep quality each night.
Smart Wake
Set your Fitbit alarm to wake you with a quiet vibration during a lighter sleep stage to help you feel more refreshed.
Sleep Mode
Snooze uninterrupted by using sleep mode to mute smartphone notifications and stop your screen from turning on at night. Set a schedule to turn sleep mode on automatically.
Guided Breathing Sessions
Find moments of calm in your day with 2- and 5-minute guided breathing sessions that are personalised based on your heart rate.
Breathing Rate
Automatically measure your breathing rate while you sleep to help you understand your wellness and learn if there are signs of significant changes. View your nightly average and trends over the past week in the Health Metrics dashboard
Heart Rate Variability
Track heart rate variability (HRV)—the variation of time between each heartbeat— to see if your body is showing potential signs of stress, illness or fatigue. View your nightly average and trends over the past week in the Health Metrics dashboard
Menstrual Health Tracking
Know your body better by using Versa 3 and the Fitbit app to log periods, record symptoms, track your ovulation and discover patterns in your cycle
Personalised Reminders
Get the nudge you need to stay on track with personalised reminders that help you move more, stick to a sleep schedule and more.
Built-In GPS
During outdoor runs, rides, hikes and more, use built-in GPS to see your pace & distance without your phone, then see a map of your workout route in the Fitbit app.
Workout Intensity Map—In App Only
After outdoor exercise, check your workout intensity map in the Fitbit app to see your heart rate zones throughout your route and learn where you put in the most effort.
Active Zone Minutes
Active Zone Minutes help you make every minute count during workouts by buzzing your wrist when you enter your personalised target heart rate zone.
All-Day Activity Tracking
Track all-day activity like steps, distance, floors climbed, active minutes and calories burned to show how every part of your day gets you closer to your goals.
Swimproof
Fitbit Versa 3 is water-resistant to 50 metres, which means you're free to track laps in the pool and wear it in the shower, at the beach and beyond
20+ Goal-Based Exercise Modes + SmartTrack
Choose from up to 20+ exercise modes to get real-time stats during your workouts—or let SmartTrack® automatically recognise and record your exercises.
Cardio Fitness Level
Get a better understanding of your fitness level and learn how you can improve over time with a personalised in-app Cardio Fitness Score.
Music Experience
Store and play music & podcasts on Deezer and control Spotify from your wrist—then, use them to stay motivated with curated playlists specifically made for your favourite workouts.

Call, Text & App Notifications
Get notifications for calls, texts, calendar events and apps like Gmail and Facebook—plus send quick replies and voice replies right from your wrist. Available when phone is nearby. Replies on Android only
Voice Assistant
Quickly check the weather, set bedtime reminders and alarms, control your smart home devices and more—just by speaking to Google Assistant or Alexa Built-in on your wrist
Fitbit Pay
Load your credit and debit cards to your Wallet in the Fitbit app, then use your watch to tap and pay for purchases on the go—at transit stations, stores and more.
Apps on Your Wrist
Download hundreds of apps for fitness, fun and more—everything from Uber and United Airlines to Spotify and TRX®
Do Not Disturb Mode
Use do not disturb mode when you want to mute call, text, calendar and app notifications during the day.
6+ Day Battery
A day lasts 24 hours. So should your watch. With 6+ day battery life, Versa 3 tracks your morning, night & everything in between without needing to stop for a charge. Varies with use and other factors; up to 12 hours with continuous GPS.
Fast Charging
If you're always on the move, fuel up with quick charging that gives your watch a full day's charge in just 12 minutes.
Always-On Display
See real-time exercise stats and check the time with just a glance—even when your hands are full—and simply turn off to be more discreet. Always-on display requires more frequent charging.
Thoughtfully Crafted Design
Versa 3 is lightweight and water-resistant with a flexible infinity band, and also includes a large clock face with bright AMOLED display for an easy view of notifications and stats.
Hundreds of Clock Faces
Choose from hundreds of clock face designs and store up to 5 of your favourites right on your wrist, then easily switch your look from classic to modern and back—or go for something totally unique with your own photo.
Fitbit App
From activity and sleep to nutrition, resting heart rate and group challenges, you can track all your progress in the free Fitbit app.
Fitbit Premium
Versa 3 unlocks a free 3-month trial for new Premium users to optimize your well-being and boost healthy routines. Get more out of your Fitbit stats with personalized insights, deeper sleep analysis and more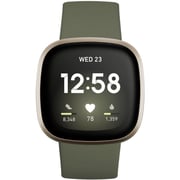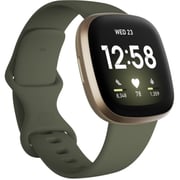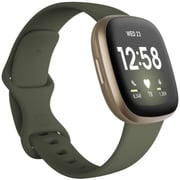 Product Overview
Overview