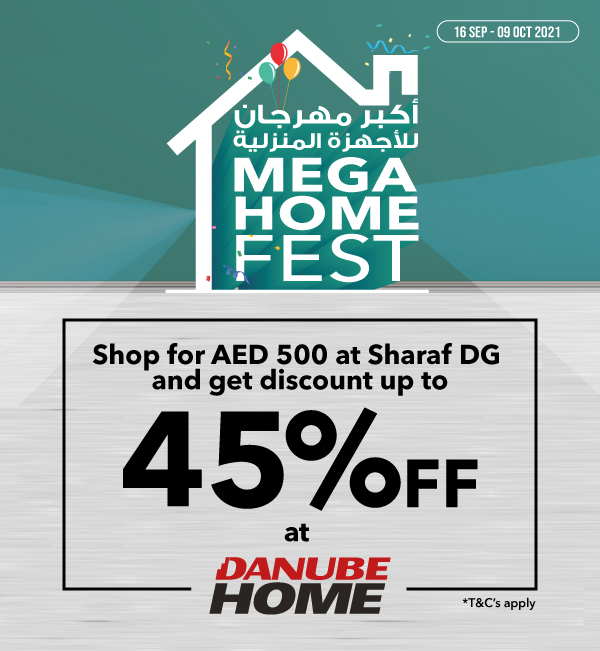 Terms and conditions
This offer is valid on a minimum purchase of AED 500.
This offer is valid across all Sharaf DG stores in UAE only.
Campaign validity – 16th September to 9th October'2021
Customer will receive a Danube Home discount voucher at the time of billing.
The customer can get 25% off on non-discounted items and additional 5% off on products discounted up to 40% at Danube Home Stores.
This voucher cannot be redeemed on Tiles, Marbles, Hardware & Kitchen Appliances.
Voucher valid until 6th November'2021.
Voucher valid across all Danube Home branches in UAE.
Voucher cannot be exchanged for cash.
Standard Sharaf DG Terms and Conditions apply.
الشروط والأحكام
هذا العرض ساري عند الشراء بحد أدنى 500 درهم.
هذا العرض ساري في جميع متاجر شرف دي جي في الإمارات العربية المتحدة فقط.
صلاحية الحملة – من 16 سبتمبر إلى 9 أكتوبر 2021
سيحصل العميل على قسيمة خصم دانوب هوم في وقت إعداد الفاتورة.
يمكن للعميل الحصول على خصم 25٪ على المنتجات غير المخفضة و 5٪ خصم إضافي على المنتجات بخصم يصل إلى 40٪ في فروع دانوب هوم.
لا يمكن استبدال هذه القسيمة على منتجات البلاط والرخام والأجهزة وأدوات المطبخ.
القسيمة صالحة حتى 6 نوفمبر 2021.
القسيمة سارية في جميع فروع دانوب هوم في الإمارات العربية المتحدة.
لا يمكن استبدال القسيمة نقدا.
تطبق شروط وأحكام شرف دي جي القياسية.