Sharaf DG Supports Dubai Expo 2020!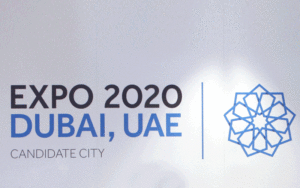 The World Expo is one of the world's oldest and largest international events and is a platform for the world to connect, share knowledge and introduce innovations that truly change the world.
Shanghai, a big hit
The inaugural World Expo, titled The Great Exhibition, was held in London in 1851, the proceeds of which funded the construction of the V&A Museum. The last World Expo held in Shanghai in 2010 helped transform a heavily industrial city-centre area into a thriving cultural and commercial district while also bringing its theme "Better City, Better Life" to life. Spread across 2.6 sq. km, the Shanghai Expo was the biggest ever, lasted 184 days and attracted more than 73 million visitors, including 3.5 million from overseas. It not only helped China increase visitor number by 13%, but also provided employment to millions and created world class infrastructure and ideas for a better city.
This year Dubai, a geographical hub between East and West and famous for being young, progressive and with its mix of more than 200 nationalities has bid to land the World Expo 2020 exhibition. For the bid to host the 2020 World Expo in Dubai, the UAE has selected the theme "Connecting Minds, Creating the Future". This theme reflects Dubai's unique ability to catalyse, facilitate, nurture and create connections that are sustainable, synergistic and beneficial.
Dubai, truly deserving
According to Reem Ibrahim Al Hashemi, Minister of State and Managing Director of the Higher Committee for Hosting the World Expo 2020 in Dubai, "The EXPO 2020 would represent a new opportunity to employ Emiratis in a wide range of activities. The nature of the jobs depends on the sectors and on our citizens' needs."
Al Hashemi also expressed her pride of Dubai's cultural diversity, a city which hosts 200 nationalities, adding that they live in harmony, and "This contributes to enriching culture and history of the UAE community".
If Dubai is chosen, the UAE will become the first Arab country to host the World Expo. We at Sharaf DG firmly believe that UAE should be the city hosting the World Expo in 2020. If you too share our conviction and belief, do pledge your support for the campaign here http://bit.ly/SDGsupports