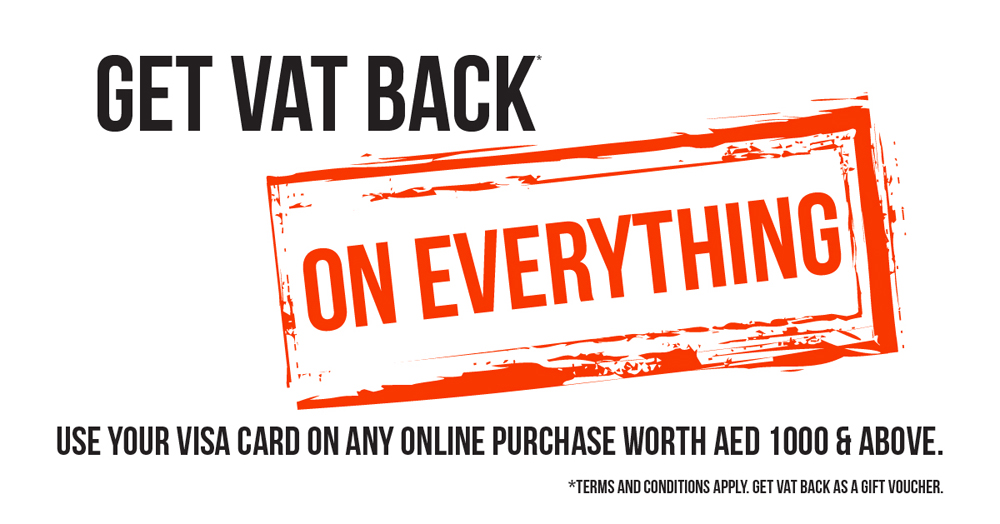 How to qualify for getting VAT back:
5% VAT charged on all purchases made on http://uae.sharafdg.com/ for AED 1000 or above (inclusive of VAT) and paid using a VISA debit or credit card will be given back to the customer as a gift voucher.
The promotion is valid only for purchases made online and is only for the first 500 customers who spend more than AED 1000 using a VISA card.
The Gift Voucher will be shared through email with the customers within 48 hours of the delivery of the order.
In case a customer returns the original product purchased for a refund as per Sharaf DG's exchange & return policy, the Gift Voucher (if not yet used), will be cancelled. In case the voucher has already been used, the customer will be refunded the net value after deducting the voucher value.
How to use the Gift Voucher to make a purchase
The Gift Voucher will be valid only for online purchases made on http://uae.sharafdg.com/ till 30th June, 2018. Each gift voucher can be used for only one transaction and unused value, if any will be forfeited.
Customers can use the Gift Voucher to purchase any Home Appliances, Kitchen Appliance, Cameras, Gaming Consoles & Games, Accessories (like headphones, cables, Bluetooth speakers, hard disks, routers, power banks, wearables & fitness trackers etc.)
The Gift Voucher is NOT VALID to be used for mobile phones, laptops, desktops, tablets and other telecom / information technology products.
This Gift Voucher provided by Sharaf DG can be transferred by the holder to some other person for their use, but can be used only one transaction
This promotion can not be clubbed with any other existing promotion or offer
Gift Voucher cannot be exchanged for cash
Sharaf DG reserves the right to amend these rules at any time. The information about the same will be communicated through appropriate mediums
FAQs
Q. 1. Who is entitled to get a voucher?
Ans. Only the customers who have made purchases online above AED 1000 with their VISA cards.
Q. 2. Is the value of VAT also a part of AED 1000 amount?
Ans. Yes. For e.g. if the customer makes a purchase of AED 960 then after calculating VAT@5% on it the total value would be 960*105/100 = AED 1008. In this case the customer is entitled to get a voucher of complete VAT value AED 48.
Q.3. Until when is this promotion valid?
Ans. There are no dates. But the first 500 customers are entitled to receive it.
Q.4. When will the customer receive their vouchers?
Ans. Every customer entitled to receive it will be sent the voucher through email within 48 hours of order delivery.
Q.5. Until what date can the voucher be used and what if there is an unused value still remaining?
Ans. Vouchers can be used until 30th June, 2018. Each voucher can be used only once. In case there is a balance amount remaining it will be forfeited.
Q.6. What all items can a customer purchase with this voucher?
Ans. With the exception of IT and Telecom, the customer can use the voucher for complete or part payment online.
Q.7. Are the vouchers transferable or can they be used to redeem for cash?
Ans. The vouchers obtained through this promotion can be transferred but they can be used only once. They can not be redeemed for cash under any circumstances.
Q.8. What happens in case the case of returns?
Ans. In case of returns, if the voucher has already been used the return value transferred to the customer will be the net value after deducting the voucher value. In case it has not been used the voucher will be invalidated.