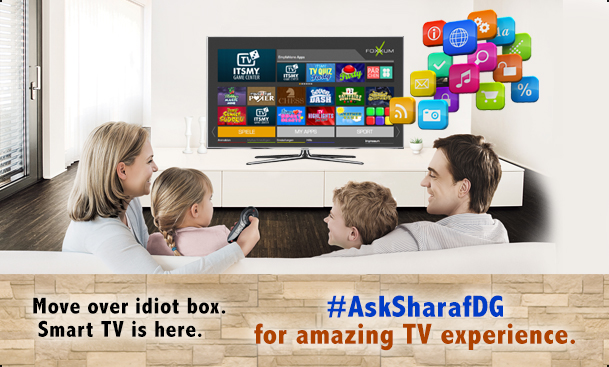 Ramadan is the time to be together with family. We have 4 Smart TV recommendations for you so that your entire family can enjoy a better viewing experience and do a lot more than just watching movies and TV serials on the old fashioned television set. Smart TVs can be connected to the internet to access streaming media services and that can run entertainment apps, such as on-demand video-rental services like netflix, Internet music stations and Web browsers.
Smart TVs either use a wired direct, connection or built-in wi-fi to connect to a home network to access the internet. Most of these models come with an in-built wi-fi coverage but some might differ.
Some of the other features that can be enjoyed with these TVs are gaming and ability to connect to multiple devices ( depends upon the features the manufacturer packs in)
Check out our top 4 Smart TV recommendations
This TV model is a 43 inch beauty that offers a complete HD experience. It's a Smart TV that delivers over a billion rich colors and accurate contrasts at all angles. It is also easy to connect this TV to other devices as it allows you to share files from other devices that can then be viewed on the TV and vice versa. This one also comes with in-built wi-fi connectivity.
2.Sony KDL65X9300D Full HD 4K Android Internet 3D Television 65inch
This TV is for those who want a larger than life experience and don't like to compromise on anything. This High dynamic range compatible TV will completely change the way you have ever watched TV before. It is a TV that is capable of delivering exceptional detail, color and contrasts. It offers a lifelike experience in the comfort of your home whether its Blue-ray discs, internet videos or TV broadcasts viewing. To put it simply, all that you could do on your phone you can now do on the massive screen of your Sony smart TV.
3.       Philips 40PFT5300 Full HD Slim Smart LED Television 40inch
The special software that Philips TV employees analyzes the pictures inn 6400 different zones and adjusts it accordingly to offer an excellent viewing experience. This TV is better suited for you if you like gaming, fast paced sporting events and action movies as the technology has been deployed in such a manner so that the viewer experiences only sharp and smooth moving images. This TV connects well with your USB memorystick, digital camera and MP3 player as well.
4.       Sharp LC55LE570X Full HD LED Television 55inch
This TV comes with built in wi-fi connectivity and offers all the features expected from a Smart TV whether it is gaming, connecting to multiple devices, easy access to various apps.
Still confused over which TV to buy? #AskSharafDG for help.
https://uae.sharafdg.com/home-entertainment/tv/