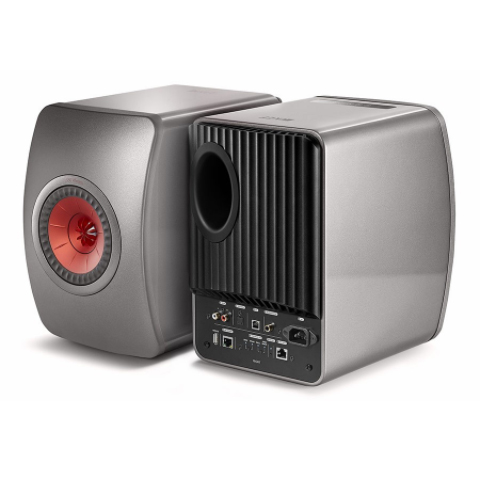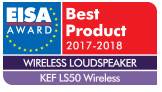 LS50 Wireless is a complete and fully active music system designed for how high resolution music is now enjoyed. It delivers exceptional sound quality, once only achievable by putting together a system of high quality separate components.
Available in : Titanium Grey/Red   |   Gloss Black/Blue  |  Gloss White/Copper
Astounding Multi-Dimensional Sound
LS50 Wireless delivers a clear, accurate and transparent sound that creates an intense, rich, and multi-dimensional soundstage experience. Made possible from its small enclosures through expert acoustic design and state-of-the-art technologies.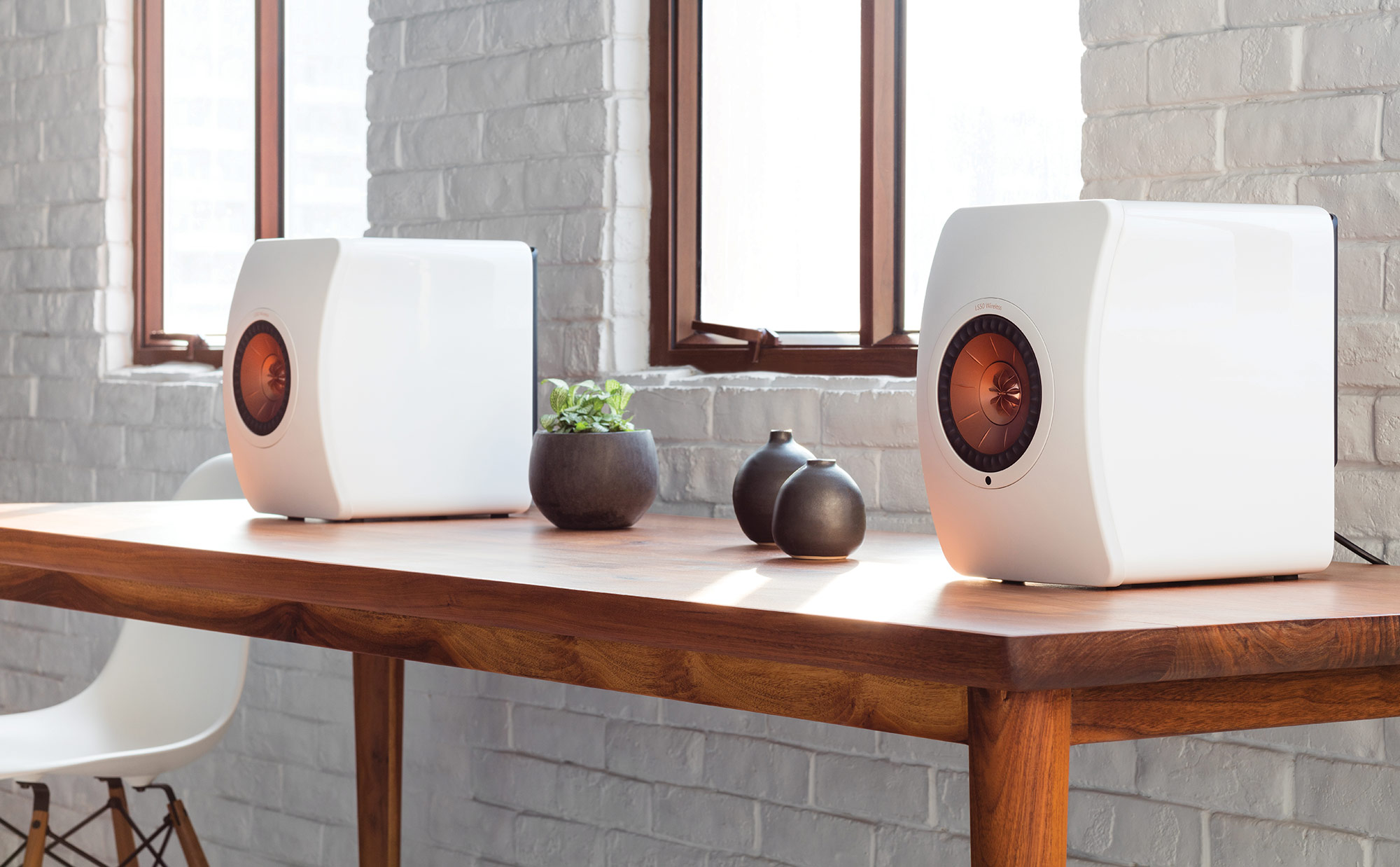 Cabinet vibration, sound radiation, resonance, and colouration are all eliminated through the seamless integration of the award-winning LS50 speaker's acoustic features. These include the FEA-designed cabinet, Uni-Q driver, constrained layer damping bracing, precision-engineered curved baffle and elliptical flexible sound port.

Every Spot is Sweet – Uni-Q
Get a three-dimensional sound image wherever you sit, for a sweet spot listening experience anywhere in a room using KEF's patented Uni-Q technology. Now in its 11th generation, it places the tweeter in the acoustic centre of the bass/midrange cone, allowing LS50 Wireless to create a more detailed, accurate and beautifully integrated three-dimensional sound image.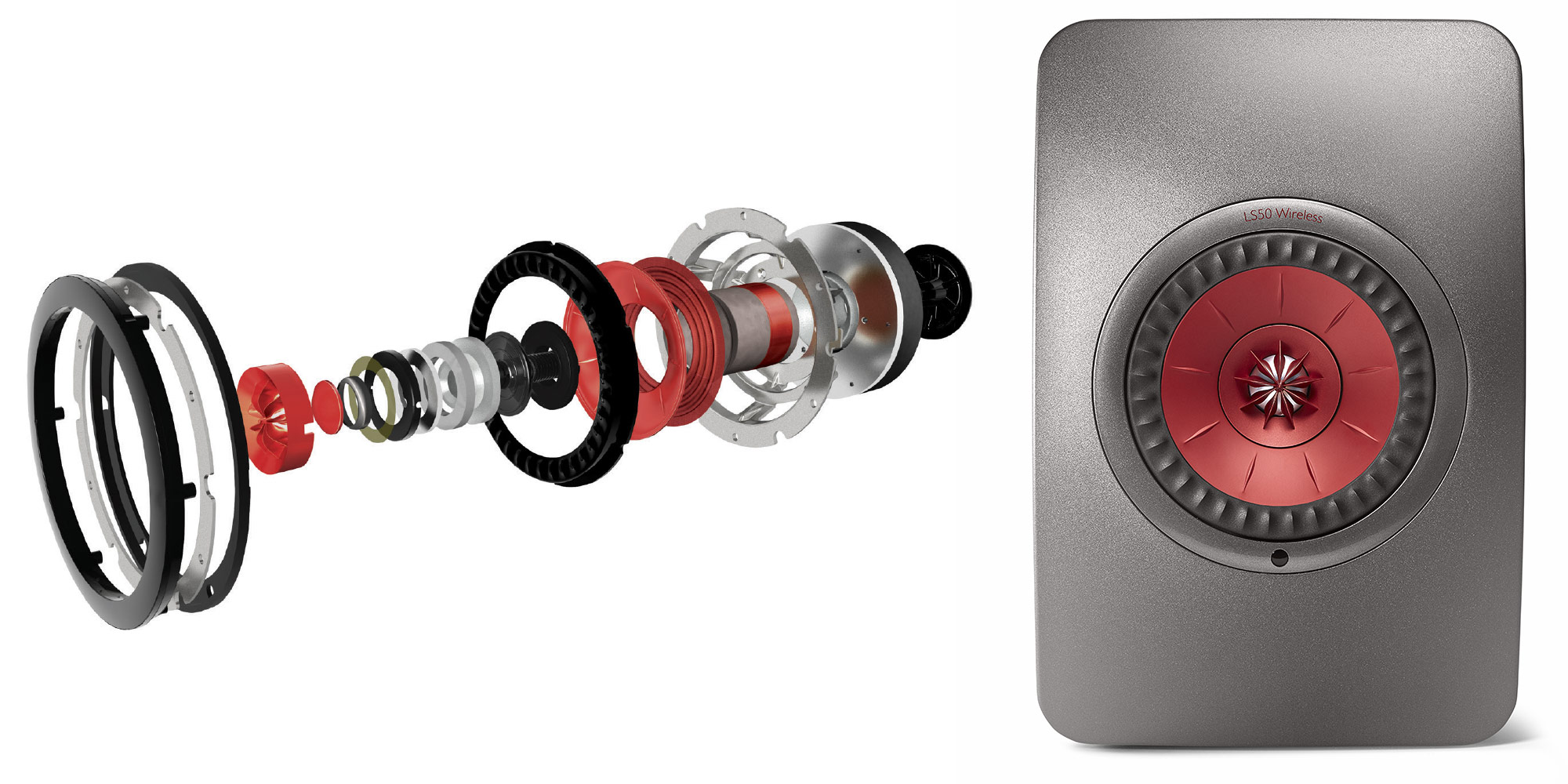 Crossover Timing Correction
High and low frequencies should hit your ears at exactly the right time. This perfect time alignment was only an ideal case in theory previously, and perfectly accurate sound could only be experienced within a small 'sweet spot'. With LS50 Wireless' advanced time correcting DSP crossover and the unique sound dispersion abilities of Uni-Q, time corrected accurate sound can be achieved in different types of rooms. This is a feat that cannot be reproduced by any other active speaker.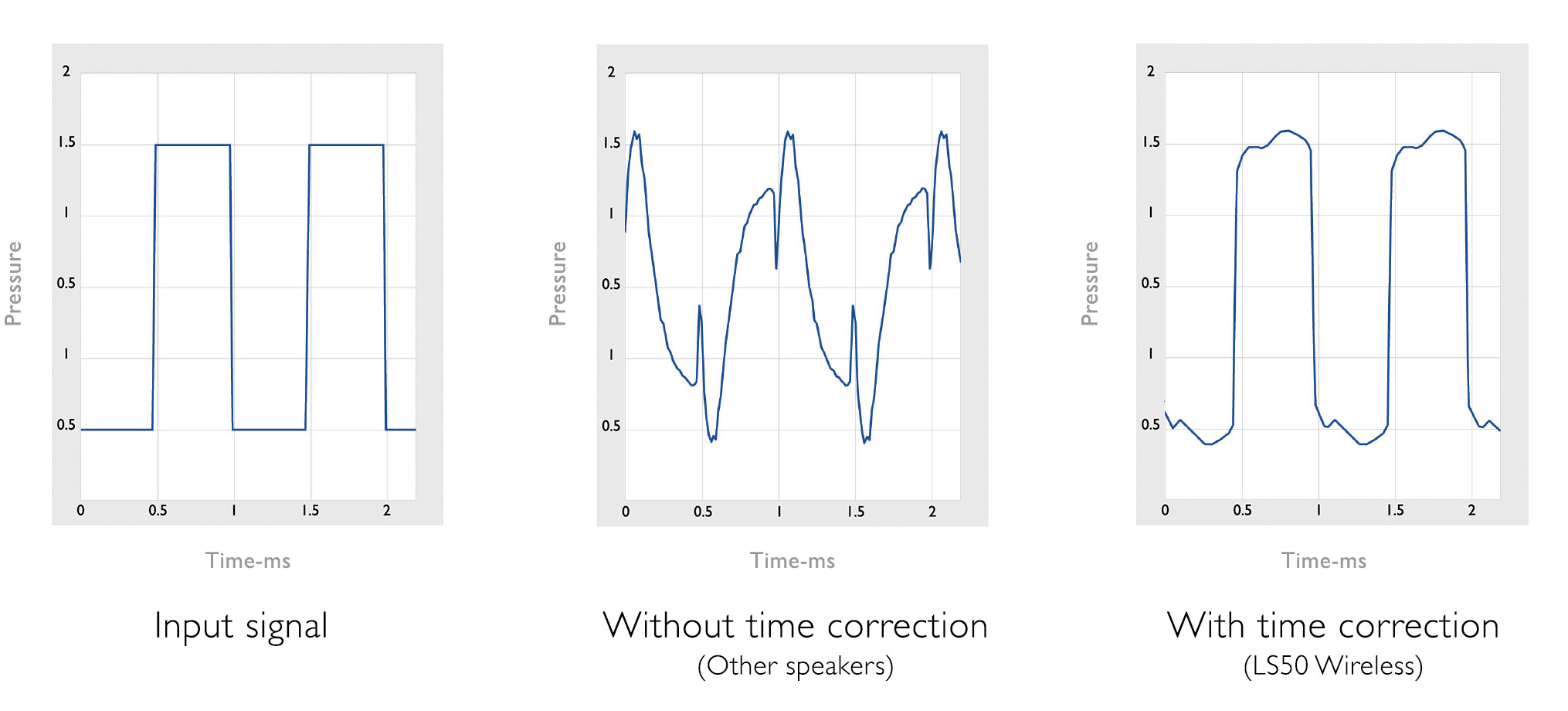 Audiophile Grade System Configuration
Audiophile-grade sound means audiophile-grade technologies. LS50 Wireless delivers this with an array of sophisticated components built in. Through expert audio engineering, LS50 Wireless includes an end-to-end 192kHz/24-bit high-resolution digital signal path, dedicated DAC per channel, streaming pre-amplifier, and a 230-watt x2 amplification in a bi-amp dual mono configuration. All factory-optimised.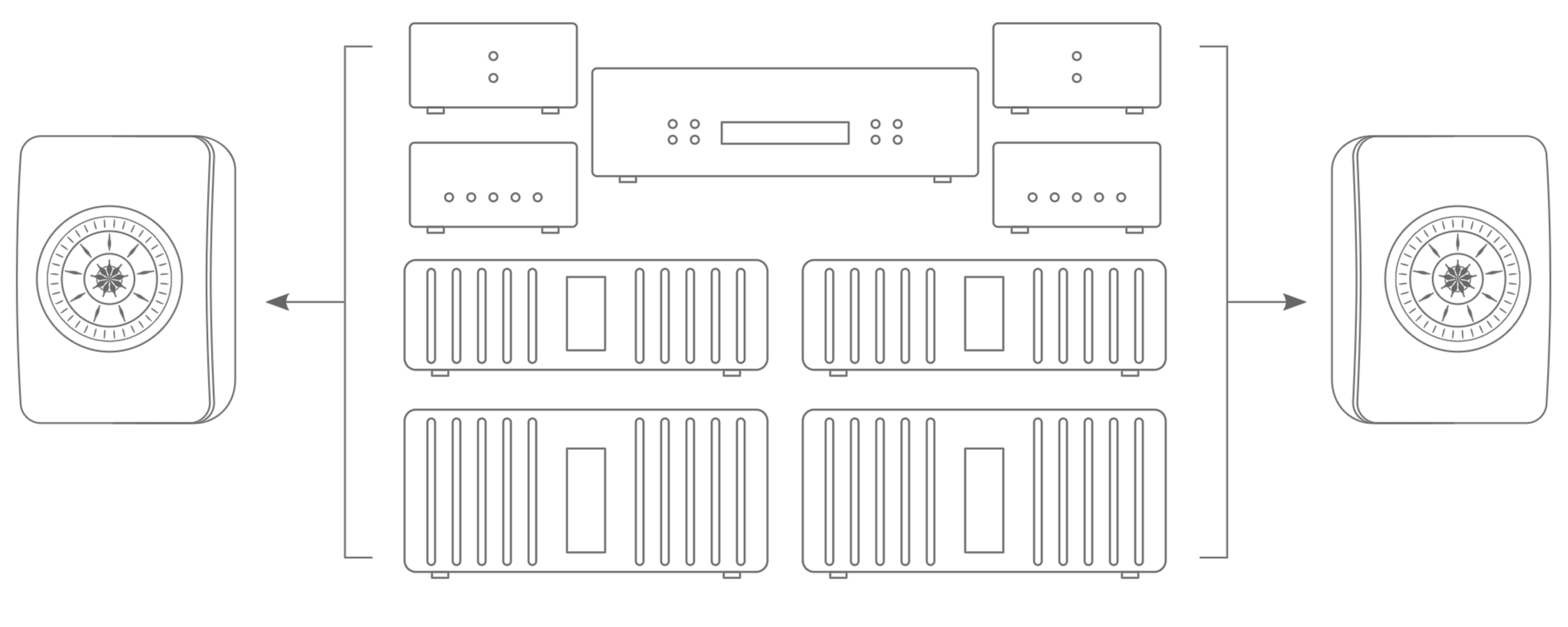 End-to-End High-Resolution
Every piece of information from a high-resolution music source is reproduced fully and accurately through an end-to-end 192kHz/24-bit high-resolution digital signal path. This creates a signal path from the input to the amplifiers that is completely digital and high resolution.
A standard RJ45 termination for the interconnect cable between speakers and a Cat 6 shielded cable improves bandwidth and performance headroom while rejecting noise and electromagnetic compatibility, ensuring LS50 Wireless sound is consistently high-quality.
Simplicity meets Sophistication
The beauty of the LS50 Wireless is its effortless combination of simplicity and elegance. It is easy to set up and use, yet offers sophisticated sound fit for audiophiles through inspired audio engineering and the Uni-Q driver.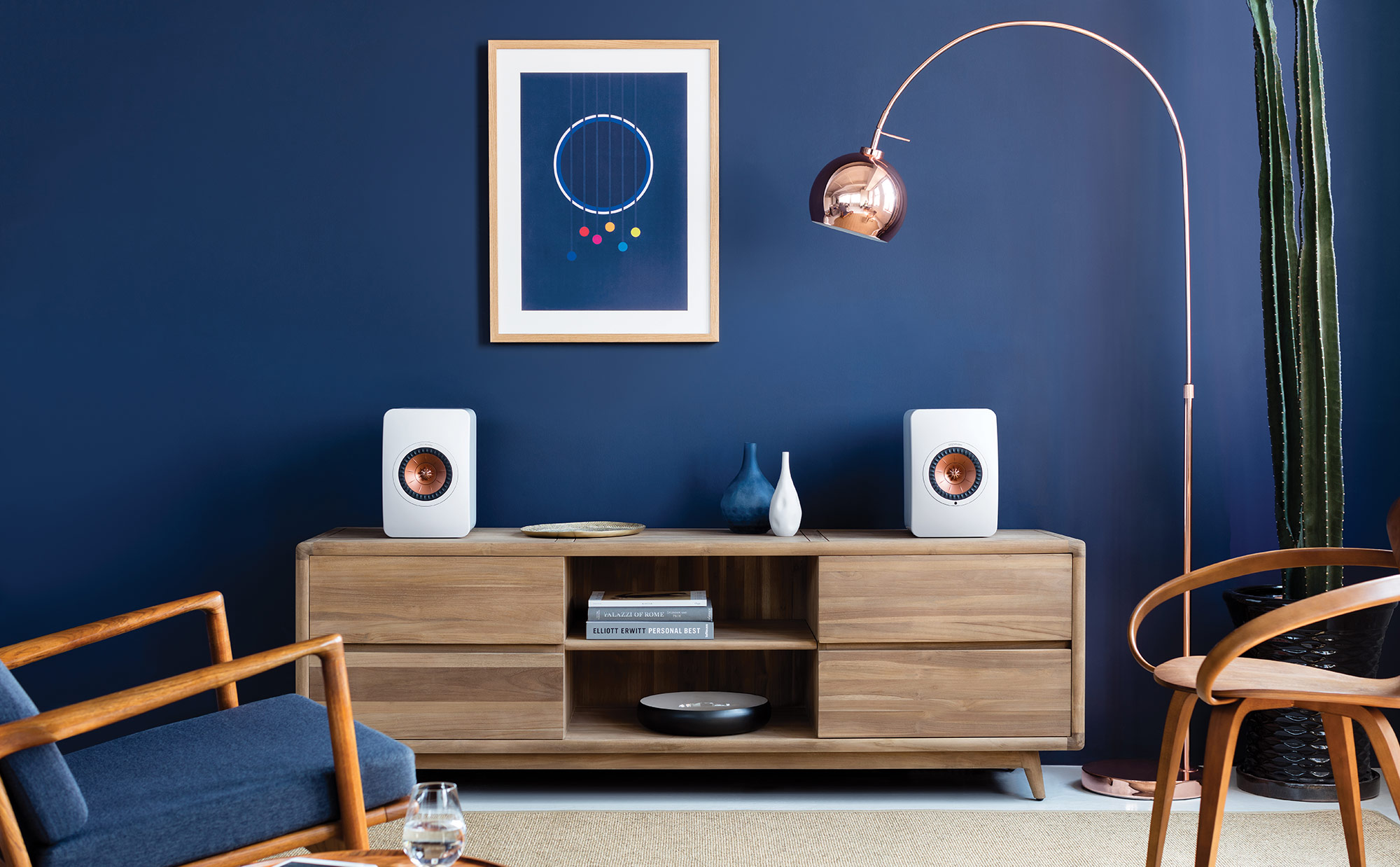 An incredible listening experience is easy as plugging in. Simply connect both LS50 Wireless speakers to a power source and connect an audio source to enjoy high quality sound that music deserves.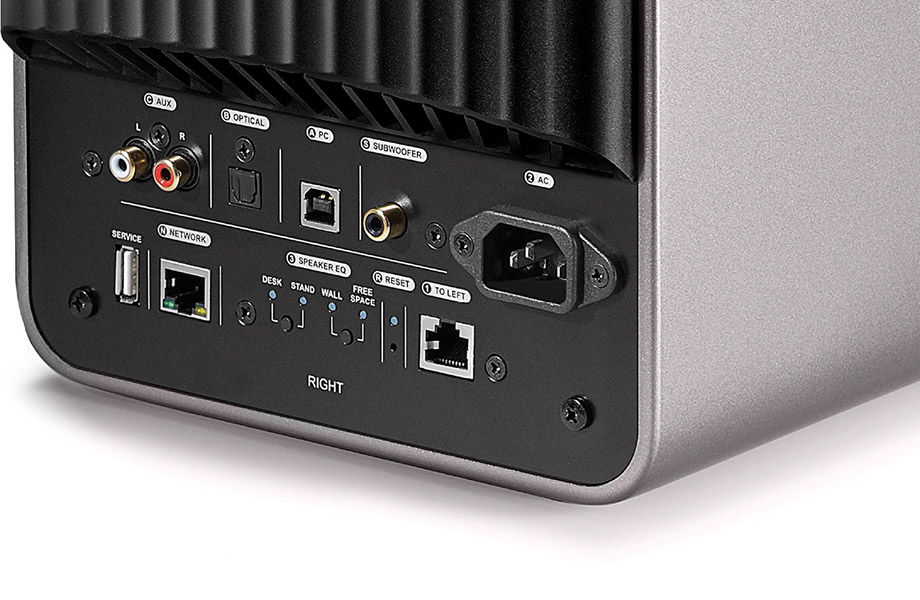 With only two speaker enclosures, LS50 Wireless blends easily into the home without the clutter. Available in three sharp colours, Titanium Grey/Red; Gloss Black/Blue; Gloss White/Copper, the right colour combination to match the home is easy to find.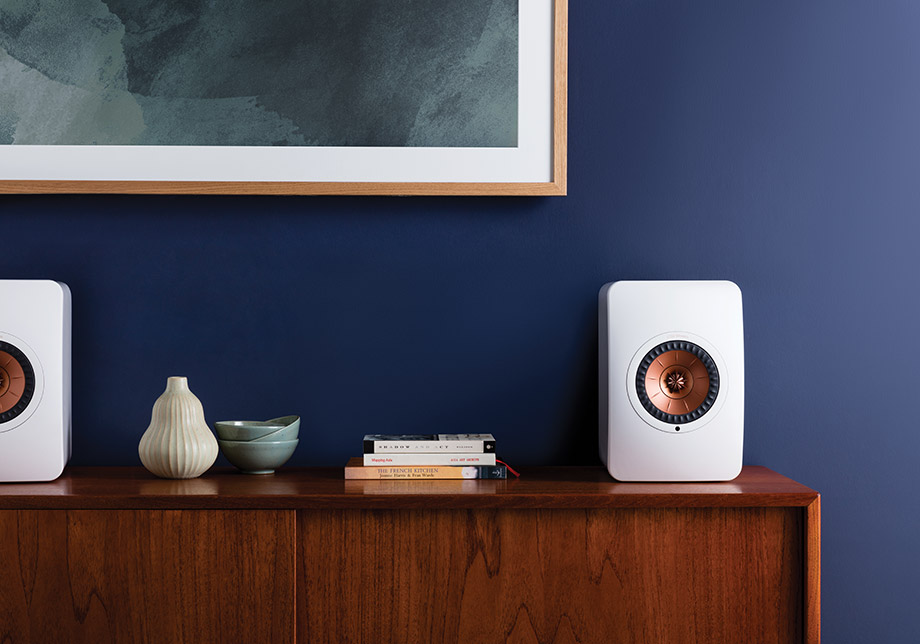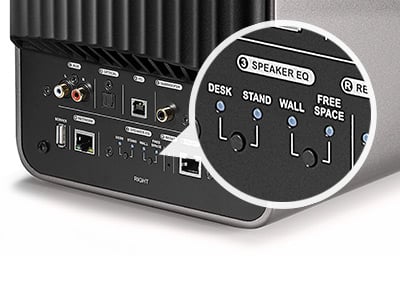 Adjust how the LS50 Wireless sounds using a selectable EQ tuned to compensate for different mounting scenarios, creating more options for placement and positioning. Regardless of placement, Uni-Q technology disperses sound evenly for total listening enjoyment.
Comprehensive Connectivity
Connect a huge range of devices with LS50 Wireless' broad range of connectivity options, including 2.4GHz/5GHz Dual-band Wi-Fi, Bluetooth 4.0 with the aptX codec, Asynchronous USB Type B, TOSLINK Optical, and RCA Analog. Connect up to 12 devices in total, including a maximum of eight Bluetooth devices and switch between audio inputs conveniently.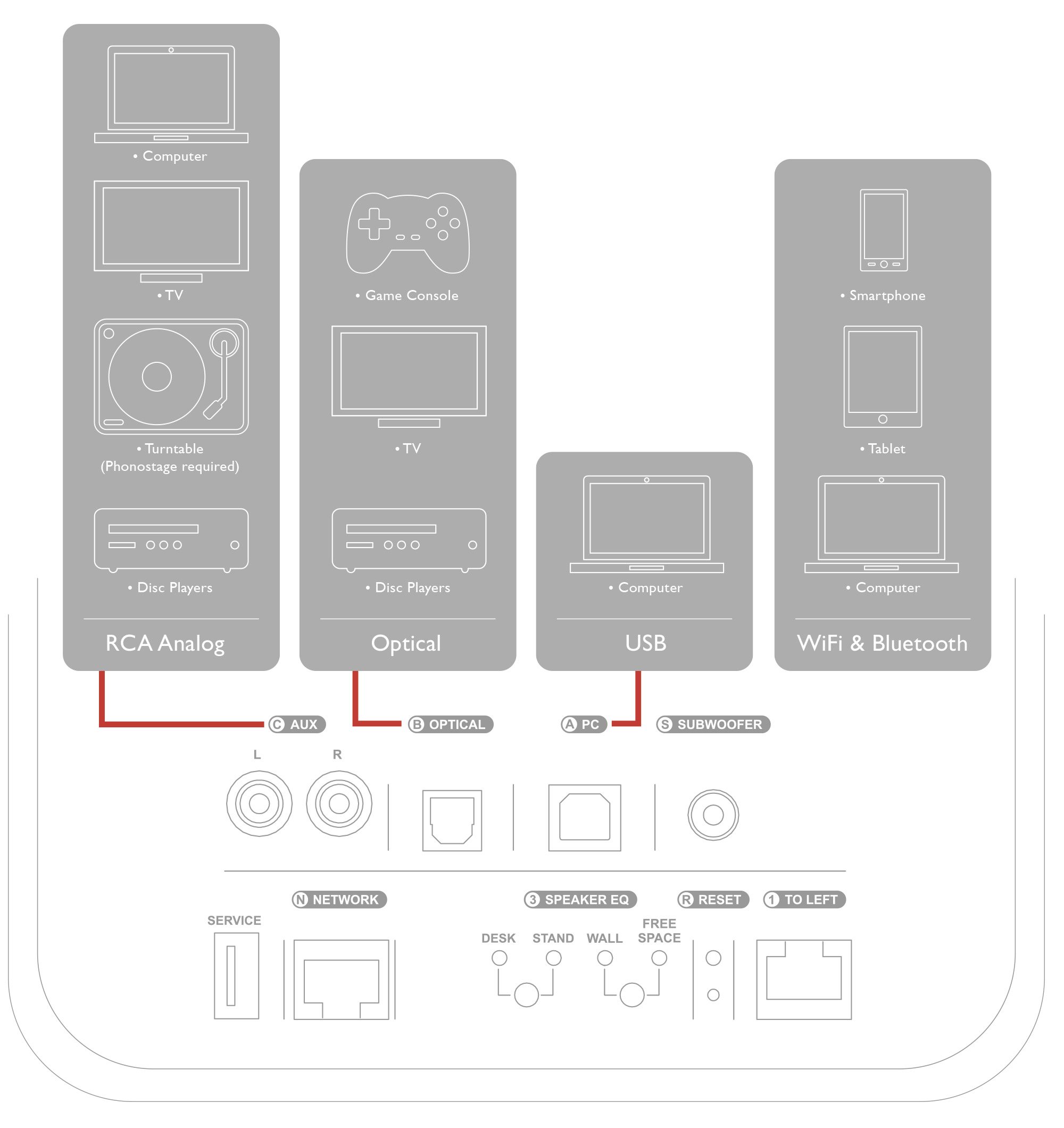 Use the touch sensitive control panel or the remote control to ensure complete control of LS50 Wireless from a different aspect. A dedicated iOS or Android app can allow detailed adjustment to optimise sound for different rooms.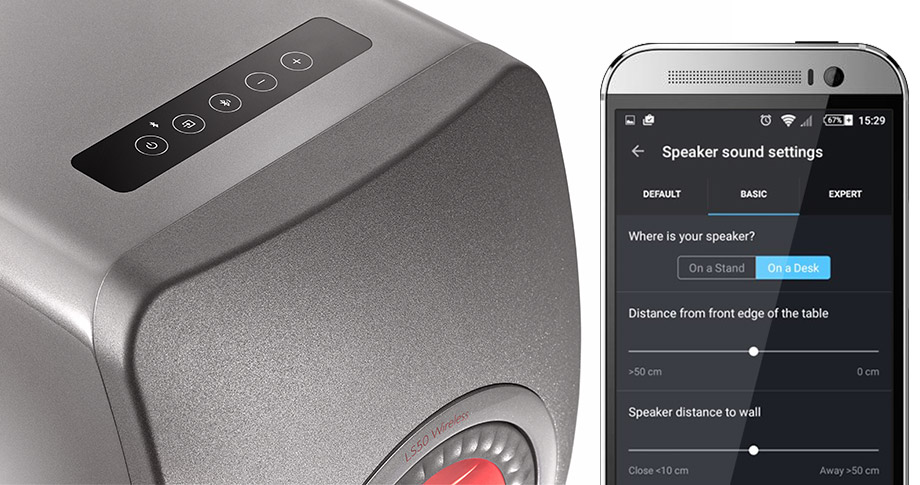 Model
LS50 Wireless
Drive Units
Uni-Q driver array:
HF: 25mm (1in.) vented aluminium dome
LF/MF: 130mm (5.25in.) magnesium/aluminium alloy
Frequency Range
(-6dB) Measured at 85dB/1m
40Hz – 47kHz (More bass extension)
43Hz – 47kHz (Standard)
46Hz – 47kHz (Less bass extension)
Depending on speaker settings
Frequency Response
(±3dB) Measured at 85dB/1m
45Hz – 28kHz (More bass extension)
50Hz – 28kHz (Standard)
61Hz – 28kHz (Less bass extension)
Depending on speaker settings
Maximum Output
(SPL) 106dB
Inputs
2.4GHz/5GHz Dual-band Wi-Fi network
Bluetooth 4.0 with aptX® codec
USB Type B
TOSLINK Optical
RCA Analog Line Level Input
10/100 Mbps RJ45 Ethernet (For network and service)
Output
Subwoofer output
Amplifier output power
LF: 200W HF: 30W
Bluetooth range
10m
Bluetooth memory
8 devices
Resolution
Up to 24bit
Depending on source resolution
Sampling rate
Up to 192kHz (USB Type B)
Up to 96kHz (TOSLINK Optical)
Depending on source resolution
Wi-Fi Network Standard
IEEE 802.11a/b/g/n
Wi-Fi Network Frequency Band
Dual-band 2.4GHz/ 5 GHz
WI-FI supported streaming service
Tidal / Spotify
Power Input
100 – 240VAC 50/60Hz
Dimensions
(H x W x D) 300 x 200 x 308mm(11.8 x 7.9 x 12.1in.)
Weight
Left Speaker 10.0kg (22.0lbs.)
Right Speaker 10.2kg (22.5lbs.)
Unit measurement
Pair
Product Support
Click here for the latest information
Document Download
Brochure
Quick Start Guide
Product Information Sheet
Remarks
KEF reserves the right, in line with continuing research and development, to amend or change specifications. E&OE.
Review – Gramophone Magazine

"LS50 Wireless is indubitably a very tempting introduction to an 'alternative universe' of home audio, one which I am sure will find favour with many users, as much for its captivating sound quality as its remarkable flexibility and simplicity." (

Download full review

)

| | |
| --- | --- |
| Year: | 2017 |
| Issuing Body: | Gramophone Magazine |
| Country: | United Kingdom |
| Product: | LS50 Wireless |
| | |
Review – Hi-Fi News

| | |
| --- | --- |
| Year: | 2017 |
| Issuing Body: | Hi-Fi News |
| Country: | United Kingdom |
| Product: | LS50 Wireless |
| | |
Review – What Hi-Fi?

"More than just active versions of the Award-winning LS50s, it's a complete system wrapped in a brilliant package." (

Download full review

)

| | |
| --- | --- |
| Year: | 2017 |
| Issuing Body: | What Hi-Fi? |
| Country: | United Kingdom |
| Product: | LS50 Wireless |
| | |
Best Product 2017-2018, Wireless Loudspeaker – EISA Award

| | |
| --- | --- |
| Year: | 2017 |
| Issuing Body: | EISA |
| Country: | Europe |
| Product: | LS50 Wireless |
| | |
Review – Wired Magazine

"KEF has taken its iconic LS50 speakers and given them an updated wireless makeover."

| | |
| --- | --- |
| Year: | 2017 |
| Issuing Body: | Wired Magazine |
| Country: | United Kingdom |
| Product: | LS50 Wireless |
| | |
Review – Digital Trends

| | |
| --- | --- |
| Year: | 2017 |
| Issuing Body: | Digital Trends |
| Country: | USA |
| Product: | LS50 Wireless |
| | |
Five-Star Review – What Hi-Fi?

| | |
| --- | --- |
| Year: | 2017 |
| Issuing Body: | What Hi-Fi? |
| Country: | United Kingdom |
| Product: | LS50 Wireless |
| | |
Review – Hi-Fi+

| | |
| --- | --- |
| Year: | 2017 |
| Issuing Body: | Hi-Fi+ |
| Country: | United Kingdom |
| Product: | LS50 Wireless |
| | |
Review – Oracle Time

"The two compact speakers are beautifully curved and, best of all, already include high performance amplifiers, digital sound technologies and wireless tech, so there's no need for extra boxes or wires cluttering up your living space."

| | |
| --- | --- |
| Year: | 2017 |
| Issuing Body: | Oracle Time |
| Country: | United Kingdom |
| Product: | LS50 Wireless |
| | |
Review – MIX Magazine

"The enclosures are solidly built, and the fit, finish and color options are beautiful….It's a beautiful high-end system for the home, where the bountiful I/O, remote control with app, and wireless options fits perfectly."

(

Visit mixonline for full review

)

| | |
| --- | --- |
| Year: | 2017 |
| Issuing Body: | MIX Magazine |
| Country: | USA |
| Product: | LS50 Wireless |
| | |
LES NUMERIQUES – Review

| | |
| --- | --- |
| Year: | 2017 |
| Issuing Body: | LES NUMERIQUES |
| Country: | France |
| Product: | LS50 Wireless |
| | |
HOT 100 – THE ULTIMATE LIST OF TODAY'S TOP TECH, GADGETS AND PEOPLE – T3

"Your ears are in for a treat."

| | |
| --- | --- |
| Year: | 2017 |
| Issuing Body: | T3 |
| Country: | United Kingdom |
| Product: | LS50 Wireless |
| | |
THE BIG BLACK BOOK 100 – ESQUIRE

"British hi-fi at its wireless best."

| | |
| --- | --- |
| Year: | 2017 |
| Issuing Body: | Esquire: The Big Black Book 100 |
| Country: | United Kingdom |
| Product: | LS50 Wireless |
| | |
CHOC CLASSICA AWARD – CLASSICA MAGAZINE

"FOR : rich, full, seamless dynamics ; AGAINST : nothing."

| | |
| --- | --- |
| Year: | 2017 |
| Issuing Body: | CLASSICA MAGAZINE |
| Country: | France |
| Product: | LS50 Wireless |
| | |
Review – Stereonet

"Like the predecessor, LS50 Wireless managed to construct a sound stage far greater in size than what such a small speaker should be capable of… Setup could not be easier… The connectivity options are all apparent and plentiful. Sound quality is refined and reference grade…"

(

Visit the Stereonet for full review

)

| | |
| --- | --- |
| Year: | 2017 |
| Issuing Body: | Stereonet |
| Country: | Australia |
| Product: | LS50 Wireless |
| | |
DAR's Product of the Year 2016

| | |
| --- | --- |
| Year: | 2016 |
| Issuing Body: | DAR (Digital Audio Review) |
| Country: | Germany |
| Product: | LS50 Wireless |
| | |
6 STARS AWARD

| | |
| --- | --- |
| Year: | 2016 |
| Issuing Body: | AVCesar.com |
| Country: | France |
| Product: | LS50 Wireless |