The Optimus GT540 is LG's latest Android smart phone, with a sleek design and a body that has a brushed metal effect, which gives it a very high-end look. The device is slightly less wide than the iPhone 4, and fits easily in your palm. The layout of the buttons is good too, coupled with a comfortable touch screen.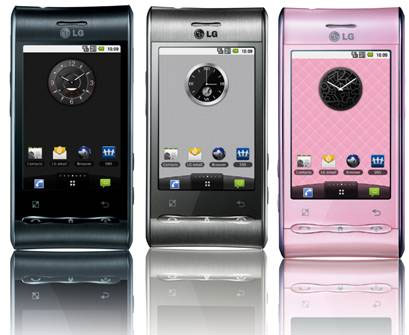 The smart phone's 76mm (3-inch) display is fairly sensitive and bright, so it's easy to look at, when you're outdoors. A 320×480-pixel resolution ensures that text and icons look clear and sharp.
The phone is built around a 600MHz Qualcomm processor, helped along by 256MB of RAM. Its connectivity is also good, as the Optimus supports both HSDPA and Wi-Fi for fast web browsing, Bluetooth and GPS.
Optimus GT540 runs version 1.6 of Android, and gives you ready access to features like the Android Market, for downloading new apps, and turn-by-turn navigation instructions in Google Maps. LG has also customized the standard Android 1.6 interface, raising the total number of home screens to seven. It has also added permanent shortcuts to the dialer, messaging application and some of its own home-screen widgets, which prove to be pretty useful.
The phone's multimedia performance is reasonable, with a 3.5mm headphone jack on the top of the handset that pumps out crisp and full-bodied sound from the standard Android music player. You also get an on-board FM tuner with it, so you can catch up with the latest news or tune into your favorite radio channel.
While the 3-megapixel camera that also supports face detection, it is pretty capable of doing a good job of capturing colors and outdoors in natural light.
An added advantage that you enjoy with the LG Optimus GT540 is that it plays standard-definition Xvid and DivX video files in AVI format, without forcing you to re-encode them at a different resolution or into a different video container.
Overall, LG Optimus GT540, with its sleek design and a good line-up of multimedia features is a great buy at its price!
Visit our store for more information or log on to www.sharafdg.com to buy online.