Apple better look out as Microsoft is on the prowl to dethrone the tablet king! On Monday, June 18, Microsoft Corp. unveiled its first ever computer, a tablet called the Surface that comes with a keyboard and other features designed to stand out in a market dominated by Apple iPads.
According to Microsoft, the smallest Surface tablet is 9.3 mm thick and weighs 1.5 pounds, which is similar to Apple's iPad, which is 9.4 mm thick and weighs 1.44 pounds.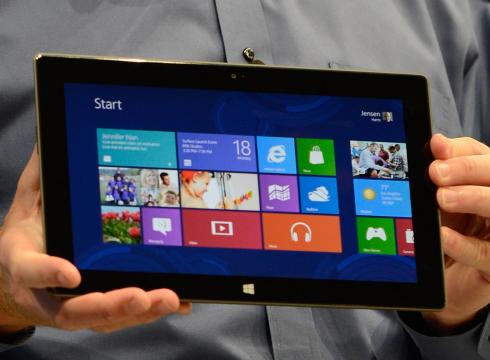 The touchscreen computers will be powered by Microsoft's upcoming Windows 8 system and contain a choice of an Intel or ARM-based processor.
First of its kind
The devices have 10.6 inch (26.9cm) displays, built-in kickstands and are housed in magnesium cases – which the company described as the first of their kind.
The ARM-based tablets are 9.3mm (0.4 inches) thick – slightly less than the iPad – and run the Windows RT version of the new system. The versions using Intel's x86 technology run Windows 8 Pro and are 13.5mm (0.5 inches) thick. The specifications mean the Surface tablets have bigger screens than the iPad but are heavier.
Enjoy movies & more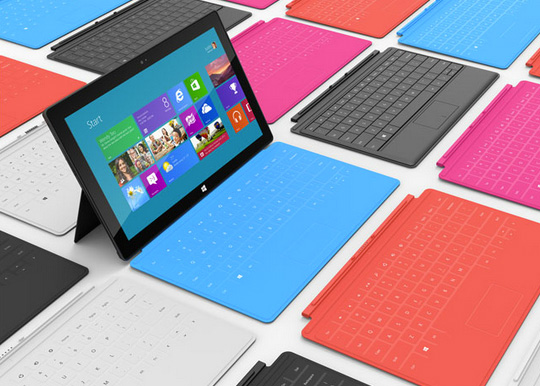 The Surface is also equipped with two types of covers: A touch cover, which will detect gestures as typing, and a Type cover that doubles as a full keyboard, for people who need or want more than an on-screen keyboard. Covers include a built-in kickstand to prop the tablet up to watch movies, chatting via webcam or typing. Stereo speakers and dual microphones with a rear-facing camera will support video calls using Skype, which Microsoft bought last year.
The devices are also designed to work with a pen accessory using what the firm dubbed "digital ink". When the stylus is held close to the screen of the tablet it ignores touch-input from the users' hands and "samples" the ink at 600dpi (dots per inch).
The ARM-based version will be available with either 32GB (gigabytes) or 64GB of storage. Microsoft said they would be priced at a similar rate to other tablets using the same type of processor built by other firms. The company added that the Intel-based versions would be offered with either 64GB or 128GB of storage and would have price tags comparable to Ultrabook laptops.
Because it runs Windows, the Surface is likely to be compatible with many popular third-party software packages, giving it an advantage in the inevitable comparison between it, Android tablets, and the iPad over the variety of apps available.
Only time will tell, whether the Surface will be successful in offering tough competition to the current market leaders, but as of now its launch has managed to ruffle a few feathers for sure! Would you be the one queuing outside our showrooms to purchase the new Surface the moment it hits our stores?