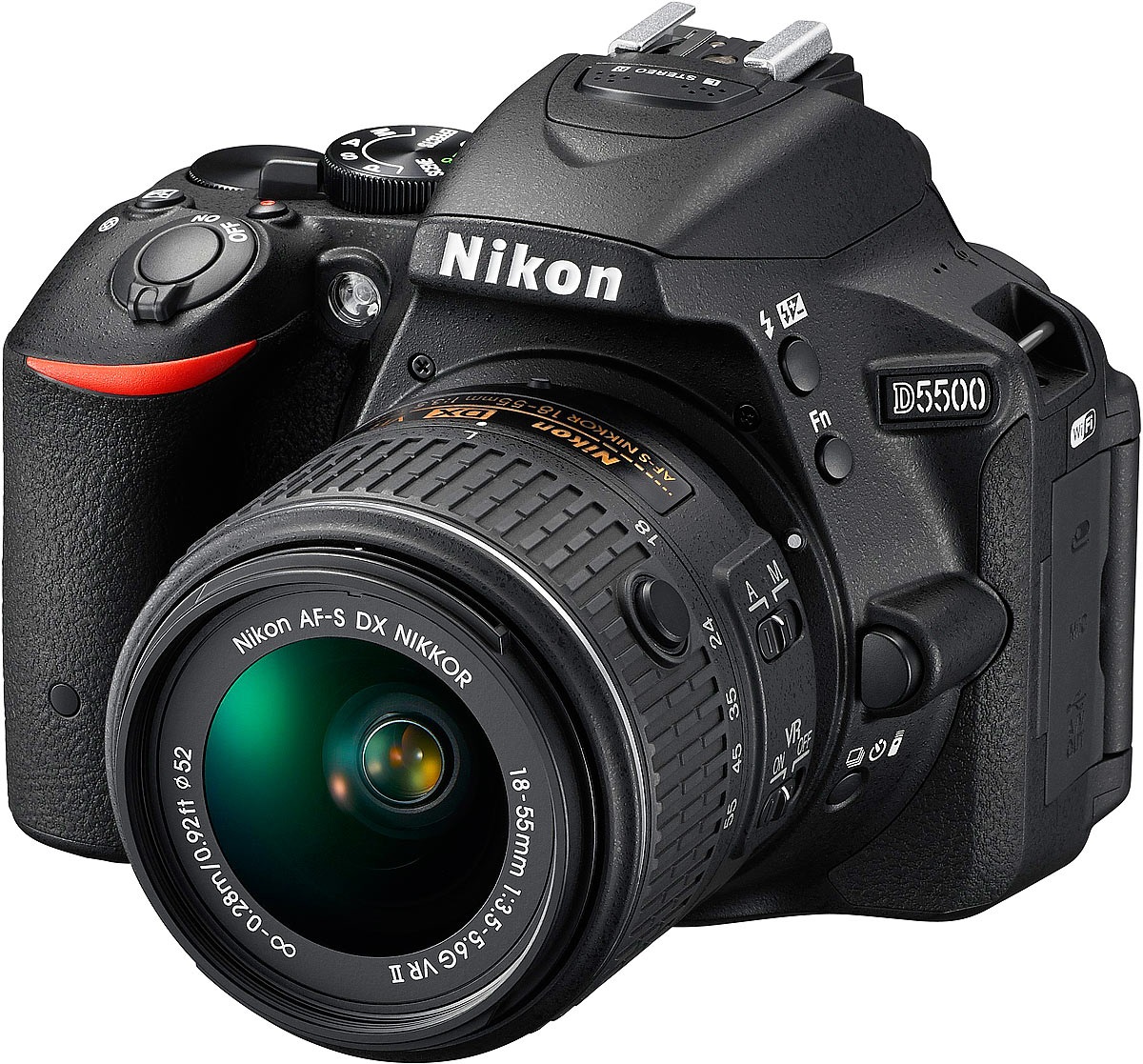 Clicking pictures on-the-go will now be effortless, all thanks to the lightweight Nikon 24.2-megapixel DX-format D5500 DSLR. It comes with in-built connectivity thereby leveraging the portability experience and enabling you to shoot and share pictures and videos while on the move.
Your photography experience will be enhanced with its carbon-fiber monocoque body that offers a firm, deep grip. With the combination of a vari-angle LCD monitor with touch-screen control, intelligent eye-sensor, and optimized image review, the D5500 will not disappoint.
Its EXPEED 4 image-processing engine lets you capture remarkable, sharp pictures.
Here are some features:
1. Easy-to-use: The D5500 is the first Nikon DSLR camera to include a vari-angle touch screen LCD monitor, letting you shoot from a wide variety of angles. Its touch operation permission mode disables touch operation during shooting and enables it only during playback. Moreover, 6 types of information display provide a choice of user-friendly settings.
2. Sharp images: The D5500 delivers 24.2 megapixels and first-class performance at high sensitivities across a variety of light and subject conditions. Picture Control provides enriched depth and image clarity. Support for ISO 100-25600 with improved noise reduction performance enhances image depth and vibrancy throughout the ISO range for clean and beautiful reproductions.
You can click good pictures even during variable motion condition with its AF sensor of 39 focus points. Also, the high-speed continuous shooting frame rate of 5 frames per second (fps) allows for image with good clarity. Its Scene Recognition System then analyzes and measures the available light exposure, flash exposure, autofocus and white balance before releasing the shutter to capture those memorable moments with perfection.
3. Robust yet stylish: Photographers can travel light and shoot effortlessly as the D5500's slim style and ergonomic design ensures a secure grip for steady operation. The front body, front cover and rear cover is strengthened with a carbon fiber composite material which is built to last yet is lighter than other similar high-strength materials.
4. Full connectivity through digital accessibility: The D5500 enables unparalleled wireless convenience. The built-in WiFi enables seamless online sharing of images, an option for shooting, live-view and playback and the best – even remote shooting with the convenience to shoot from a smart phone. So if you want to experiment, the remote shooting function gives you the flexibility to shoot subjects, including self-portraits of amusing forced-perspective photography, from any angle available.
5. High-Performance Accessories to compliment the D5500: Amping up your camera capabilities even further is easy since the D5500 has full compatibility with leading with the wide range of DX-format NIKKOR lenses, including the new R724 lens. It also has a built-in flash supporting i-TTL flash and is fully compatible with the Nikon Creative Lighting System. The Nikon Creative Lighting System includes Advanced Wireless Lighting and flash color information communication. Firmware update of the SB-910/SB-900/SB-700/SB-500/SB-300 is also supported.
 Photographic creativity is made infinite with the Nikon D5500.