Asus RTAX88U AX6000 Dual Band 802.11Ax Wifi Router
+ AED 13.00 Shipping
As low as AED 64.00 per month.
2 offers from AED 1,349.00
Key Information
Type:

Wi-Fi Router

Color:

Black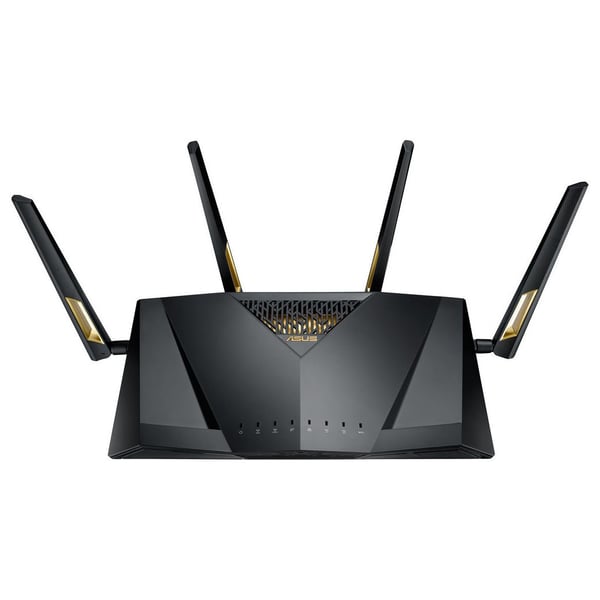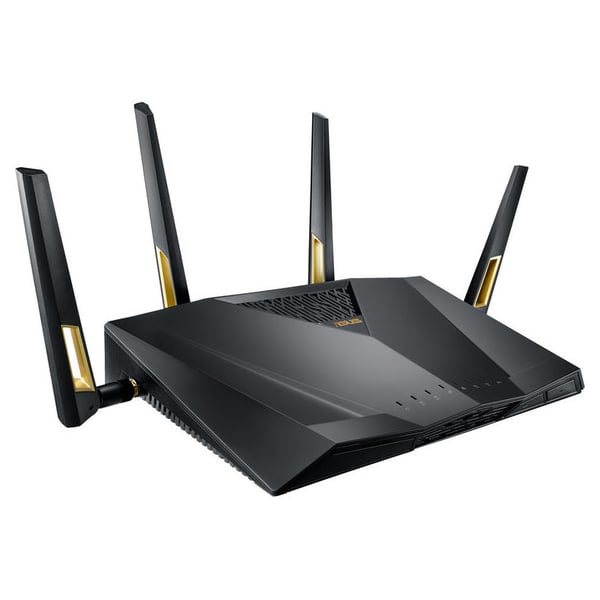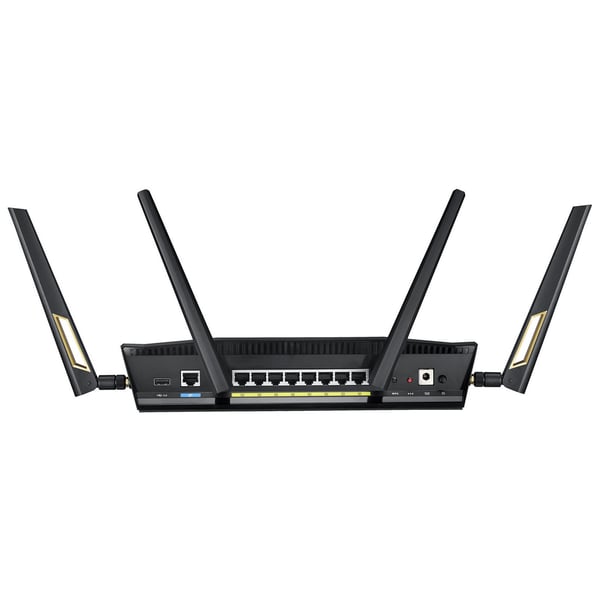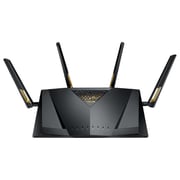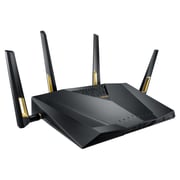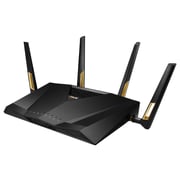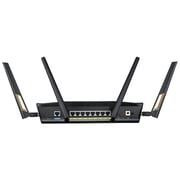 ASUS RT-AX88U AX6000 Dual-Band Gigabit Router
AX6000 Dual Band 802.11ax WiFi Router supporting MU-MIMO and OFDMA technology, with AiProtection network security powered by Trend Micro, built-in WTFast game accelerator and Adaptive QoS
The growing number of connected personal and IoT devices has led to an overall increase in network density that is pushing the limits of the current Wi-Fi standard. The latest 802.11ax standard provides future-proof technologies, higher network efficiency, faster Wi-Fi speeds, greater coverage and improved battery life for connected devices, providing a significantly better networking experience for users.
RT-AX88U is a 4×4 dual-band Wi-Fi router that provides 160MHz bandwidth and 1024-QAM for dramatically faster wireless connections. With a total networking speed of about 6000Mbps — 1148Mbps on the 2.4GHz band and 4804Mbps on the 5GHz band — RT-AX88U is 2.3X faster than 802.11ac 4×4 dual-band routers.
Built for Multi-device Households
With a revolutionary combination of OFDMA and MU-MIMO technology, 802.11ax technology provides up to 4X greater network capacity and efficiency in traffic-dense environments. Previous-generation 802.11ac Wi-Fi can only handle one device at a time on each network channel, which is an inefficient use of available bandwidth. OFDMA support in the 802.11ax Wi-Fi standard divides each channel into small sub-channels, allowing signals from multiple devices* to be bundled together and transmitted simultaneously, reducing latency for a smoother, more responsive Wi-Fi experience.
Better Battery Life for Your Devices
Target Wake Time (TWT) allows RT-AX88U to schedule designated intervals for devices to transmit data. This allows them to sleep when there is no need to wait for a router signal, reducing power consumption by up to 7X for significantly improved battery life*.
With the latest 802.11ax WiFi standard featuring OFDMA technology, RT-AX88U provides increased WiFi signal range and better coverage by dividing each channel into smaller sub-channels. These sub-channels have a smaller bandwidth that enables them to travel up to 80% farther1, resulting in a better WiFi connection throughout your home*.
Give your Online Gaming a Double Boost
RT-AX88U's Adaptive QoS prioritizes game packets for smoother online play. It also has built-in wtfast® to seek out and secure the shortest possible path between your gaming device and the game server, minimizing game ping and lag.
Commercial-grade Security for your Home Network
RT-AX88U has lifetime free AiProtection Pro, powered by Trend Micro™ with automatic, regularly updated security signatures to protect your devices and personal data from internet threats. This strong security offers advanced parental controls, including the ability to block specific websites and mobile app types.
Wired or Wireless. The Choice is Yours.
More LAN Ports for More Convenience
Eight Gigabit LAN ports make RT-AX88U the ideal solution if you have multiple wired devices, such as NAS systems, PCs and switches. And, if you ever want to host a LAN party at home, RT-AX88U makes it possible.
Wireless that's as Stable as Wired Ethernet
When you are far away from your router, enjoying the stability of a wired network connection is usually impractical or impossible. With special designed antennas, AiRadar beamforming and RangeBoost technology, RT-AX88U provides wide coverage and a stable signal, letting you enjoy a reliable and smooth connection for gaming or work anywhere in your home.
Powerful Whole-home Wi-Fi System. The Way You Want.
In most cases, your RT-AX88U can deliver smooth, reliable Wi-Fi to every part of your home. But Wi-Fi coverage can be affected by many factors — room layout, construction materials, and even furnishings. ASUS AiMesh is an innovative new router feature that fixes these problems: it creates a whole-home Wi-Fi network using multiple ASUS routers. AiMesh is powerful, flexible and you can use a mix of ASUS router models — protecting your investment! AiMesh gives you time-saving central control, and seamless roaming capability. AiMesh is Wi-Fi you can rely on — for all your devices, all the time!
Turn your ASUS routers into whole-home Wi-Fi system with a simple firmware update
Mix and match preferred models from selected ASUS routers
Create a Wi-Fi network with either a single SSID or multiple SSIDs
All router features works across the entire Wi-Fi system
Extreme Power with 1.8GHz Quad-core CPU
RT-AX88U features a top-of-the-line 1.8GHz 64-bit quad-core CPU that is more powerful than many desktop processors. With its incredible performance, RT-AX88U maximizes throughput for the best networking performance, accelerates USB data transfers and more.
Main
Brand
Asus
Color
Black
General
Type
Wi-Fi Router
What's in the Box
ASUS RT-AX88U AX6000 Dual-Band Gigabit Router
Features
Features
Wi-Fi 6 (802.11ax) | Up to 6000 Mbps | 2.4 GHz / 5 GHz (Dual-Band) | 4 x External Antennas | 1 x 10/100/1000 Mbps WAN Ports | 8 x 10/100/1000 Mbps LAN Ports | 2 x USB 3.1 Gen 1 Type-A Ports | MU-MIMO and OFDMA Technology | AiProtection Security | Asus AiMesh Wi-Fi Compatible
Standards
IEEE 802.11a, IEEE 802.11b, IEEE 802.11g, IEEE 802.11n, IEEE 802.11ac, IEEE 802.11ax, IPv4, IPv6
Network Protocol
LPR protocol support
Technology
OFDMA (Orthogonal Frequency Division Multiple Access) | Beamforming: standard-based and universal | 1024-QAM high data rate | 20/40/80/160 MHz bandwidth
Bands
Dual
Operating Frequency
2.4 GHz
5 GHz
Data Rates
2.4 GHz: 1148 Mb/s
5 GHz: 4333 Mb/s
5 GHz: 4804 Mb/s
Connectivity
Interfaces
USB 3.0, RJ45 LAN/WAN
USB
2 x USB 3.1 Type A (Gen 1)
WiFi Encryption
WPA2-PSK, WPA-PSK, WPA-Enterprise , WPA2-Enterprise , WPS support
WiFi
Yes
LAN
8 x RJ45
WAN
1 x RJ45
Processor & Storage
Processor
1.8 GHz quad-core processor
Storage Size
256 MB
Storage Type
Built-in
RAM
1 GB
Power & Battery
Power Supply
110V~240V(50~60Hz)
Output power
19 V
Output Current
2.37 A Max.
Physical
Antenna Type
External
Number of Antenna
4
LED Indicators
Power x 1
Wi-Fi x 2
WAN x 1
LAN x 1
USB x 2
WPS x 1
Buttons
WPS, Reset, Power, Wireless on/off, LED on/off
Dimensions
11.8 x 7.4 x 2.4 Inches
Requirements
Windows System Requirements
Windows® 10 Windows® 8 Windows® 7 or later
MAC System Requirements
Mac OS X 10.7 Mac OS X 10.8 or later
000000000001091087