Casio PRW-3500SYT-1DR Protrek Watch
+ AED 13.00 Shipping
As low as AED 126.00 per month.
Key Information
Type:

Wrist Watch

Watches For:

Men

Display Type:

Digital

Water Resistant Depth (m):

200 m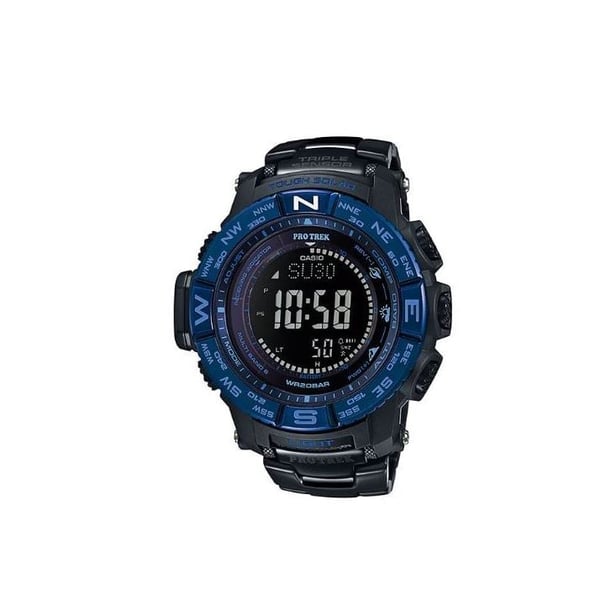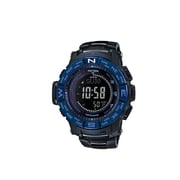 PRO TREK will blend in the PRW-3500 with the color of the mysterious sky that will appear on the horizon before sunset. The blue sky bezel is equipped with a titanium strap and a sapphire glass mirror. The exterior is both tough and durable. The series is equipped with the third generation of three sensors, MULTIBAND 6, TOUGH MOVEMENT and other functions to adapt to a variety of outdoor environments.
Case / Bezel Material: Resin / Stainless Steel
Titanium alloy strap
Black ion IP processing
Solar power
Waterproof 200 meters
High brightness LED lighting
Low temperature resistant device (-10°C/14°F)
Radio wave receiving function: automatic signal receiving (up to 6 times per day, no longer received after receiving success;
receiving signals from China, receiving 5 times a day) / manual signal receiving
<China> receiving radio wave: BPC, frequency: 68.5kHz
<Japan >Receiving radio wave: JJY, frequency: 40kHz/60kHz (corresponding models of Fukushima/Kyushu two launchers)
<North America> Received radio wave: WWVB, frequency: 60kHz
<European region> Received radio wave: MSF/DCF77, frequency: 60kHz/ 77.5kHz
* When the local time is set to the city that can receive the signal, receive the radio wave suitable for the launch pad of the city.
The time difference is automatically set according to the selected city.
Digital Compass:
16-Azimuth Measurement and Display
Measurement Range: 0°~ 359°
Unit of Measurement: 1°
Continuous Measurement (60-second continuous automatic detection)
Direction indication
Bidirectional correction and north correction
geomagnetic declination correction
memory elimination
Height measurement
range: -700~10,000m (-2,300~32,800ft.)
Unit: 1m (5 ft.)
Manual memory measurement (up to 30 strokes, each containing height, date and time)
Automatic memory measurement (including maximum/minimum Height, cumulative increase/cumulative drop height)
Road log value (up to 14 strokes, each containing maximum/minimum height, cumulative increase/accumulated drop height, date and time)
Other: relative height (-3,000~3,000m)
selection Measurement spacing: 5 seconds or 2 minutes
* 1 second only in the first 3 minutes of measurement
* meter (m) and inch (ft.) switching
Air pressure measurement
range: 260~1,100 hPa (7.65~32.45 inHg)
Unit: 1 hPa (0.05 inHg) Air 
pressure trend graph (past 42 hours)
Air pressure difference map
Instant climate change warning
*hPa and inHg switching
Temperature measurement
range: -10~60°C (14~140 °F)
Unit: 0.1°C (0.2°F)
*°C and °F switching
World Time
31 Time Zone (48 cities), city code display, daylight saving time (on/off)
Sunrise/sunset time indication
1/10 second code meter
measurement range: 999:59'59.9″
measurement mode: elapsed time, halfway time, first and second time difference
Countdown
measurement unit: 1 second
measurement range: 24 hours
start time setting range: 1 minute ~ 24 hours
5 independent alarms (including a group of snooze alarms)
report punctually
Power indicator
Power saving function (when entering the dark state, the watch will automatically turn off the screen display)
Fully automatic calendar (~2099)
12/24 hour switching
General
Type
Wrist Watch
Watches For
Men
Features
Day Display
Yes
Water Resistant Depth (m)
200 m
Display Type
Digital
Features
Titanium alloy strap | Black ion IP processing | High brightness LED lighting
Watch Shape
Round
Date Display
Yes
Physical
Band/Bracelet Material
Stainless Steel
Case Size Diameter (mm)
53.4 mm
Case Thickness (mm)
14.5 mm
Power & Battery
Power Source
Solar
000000000001063258