D-Link DIR-1760 AC1750 Supermesh Smart WiFi Router
Key Information
Type:

Router

Frequency band:

2.4 GHz, 5 GHz

It is the rate of radio signal to send and receive communication signal. Common frequencies are 2.4 Ghz and 5 Ghz.5GHz provides faster data rates at a shorter distance. 2.4GHz offers coverage for longer distances, but may perform at slower speeds

Input/Output Terminals:

USB 3.0 Type A

Color:

Black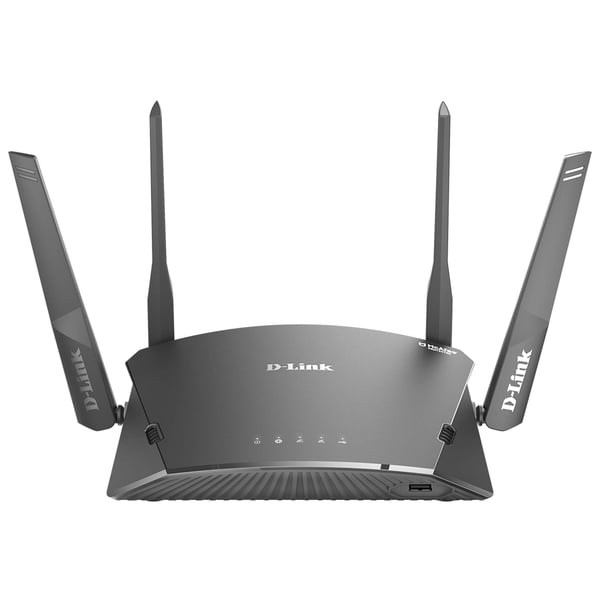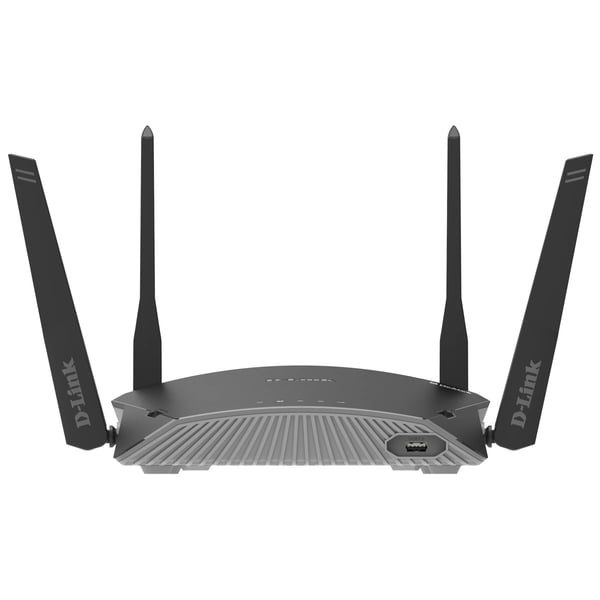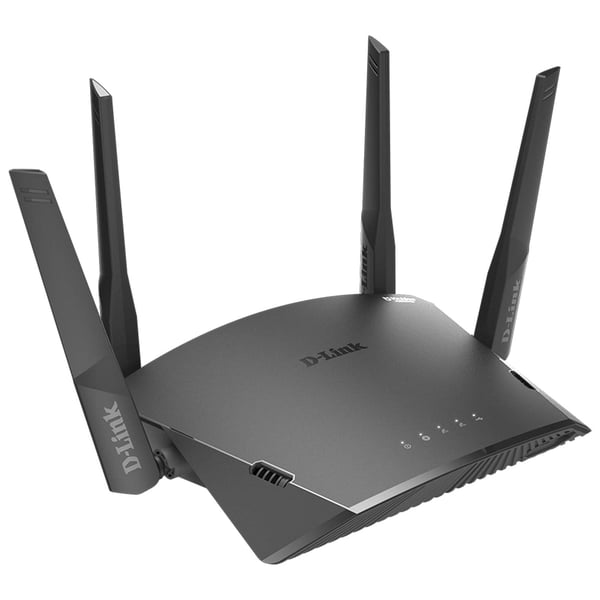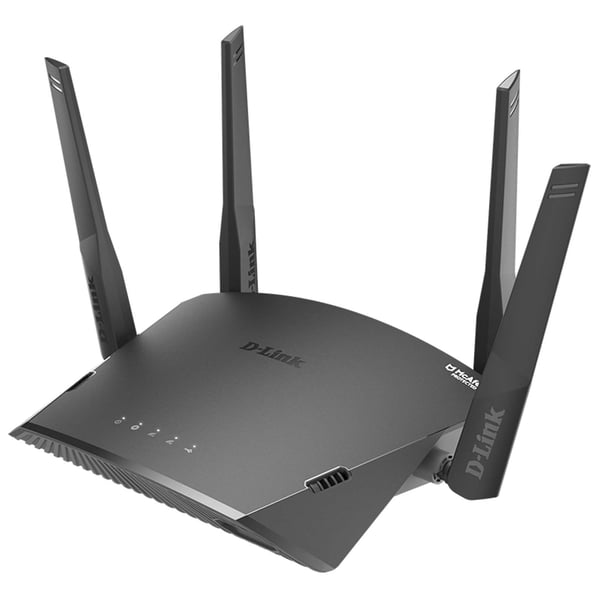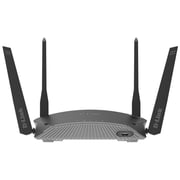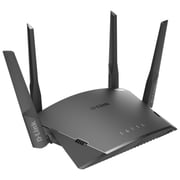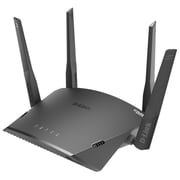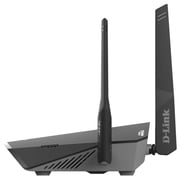 D-Link DIR-1760 AC1750 Smart Mesh Wi-Fi RouterThe EXO AC1750 Smart Mesh Wi-Fi Router brings lightning-fast AC1750 Wi-Fi, powerful McAfee protection, voice-based Smart Home Wi-Fi control and radical Wi-Fi mesh technology to your Smart Home. Because you know you deserve more than just a Wi-Fi signal.
Highlights:
Revel in lag-free, lightning-fast video streaming and online gaming – Super-fast combined Wi-Fi speeds of up to 450 Mbps (2.4 GHz) + 1300 Mbps (5 GHz)
Keep malicious threats at bay and safeguard online privacy – Built-in powerful McAfee protection for every device on your network
Works with the Google Assistant and Alexa – Give your Smart Home Wi-Fi a new voice
Monitor your kids' internet activity – Comprehensive parental controls
Advanced Wi-Fi Mesh – Turbocharge your whole home network with intelligent functionality
Easily handles everything you throw at it with high-power 880 MHz dual-core processor
Test Internet speed – See how your Router-to-ISP connection measures up
Free D-Link Wi-Fi app – Set up and manage your network from your smartphone
YOU DESERVE MORE THAN JUST A WI-FI SIGNAL
Why do you need the EXO AC1750 Smart Mesh Wi-Fi Router? Because better Wi-Fi just doesn't cut it any longer in today's smart, connected homes (and YOU KNOW you deserve way more than just a Wi-Fi signal).
EXO takes your combined Wi-Fi speeds up to new highs of 450 Mbps (2.4 GHz) + 1300 Mbps (5 GHz).

It's an all-in-one cyberthreat-busting, parental control-wielding solution.

And it's a smart Wi-Fi router bursting with new mesh Wi-Fi optimizing features that make configuring, managing and optimizing your mesh Wi-Fi a breeze. And it does it all with voice commands, so it's the perfect companion for your Google Assistant- or Alexa- powered smart home.
MORE POWERFUL
Need lightning-fast Wi-Fi for your no-cable-all-streaming home? The EXO AC1750 Smart Mesh Wi-Fi Router packs a powerful 880MHz dual-core processer to handle lightning-fast video streaming and online gaming with ease.
MULTIPLE CONNECTIONS FOR MULTIPLE DEVICES
EXO features MU-MIMO (Multi-User MIMO) technology, allowing multiple devices to receive data simultaneously. Compatible devices no longer have to queue up for Wi-Fi because each gets its own dedicated, super-fast Wi-Fi stream.
With EXO, no device gets left behind.
FUTURE-READY YOUR MESH WITH WI-FI MESH
EXO routers' built-in Wi-Fi Mesh turbocharges your whole home network with a ton of advanced features that add massive functionality to your Mesh network. Feel the future of Mesh with Wi-Fi Mesh today!
PLUG, SHARE, PLAY
Just plug in a USB device, such as an external storage drive, to instantly create shared storage on your network. Keep all your family's files in one place and let everyone access them whenever they like at blazing speeds. Wirelessly.
Great for streaming your movies in the living room or checking out holiday photos on your tablet.
GIGABIT CONNECTIVITY
Lightning-fast Gigabit wired connections give you all the speed you need for your gaming console, desktop PC and network storage.
TRUE INTERNET SPEEDS WITHOUT THE GUESSWORK
Tired of internet speeds that don't live up to your ISP's claims? EXO Mesh-enabled Smart Wi-Fi Routers' integrated Internet Test lets you measure the true speed of your Router-to-ISP connection with the D-Link Wi-Fi app.
ALWAYS UP-TO-DATE
Firmware upgrades can be a pain, but with EXO Smart Mesh Wi-Fi Routers, they are completely automated. Upgrade are so smooth, you won't even notice them. On top of that, EXO's Dual Image functionality saves a recovery image as a backup before an upgrade. So in the unlikely event an upgrade fails, the system has your pre-existing configuration to fall back on.
Upgrade worry-free, all the time, every time.
WORKS WITH THE GOOGLE ASSISTANT1 AND ALEXA
Turn on/off your guest Wi-Fi, ask for your guest Wi-Fi credentials, reboot your router or update your firmware. Do it ALL hands-free using voice commands.
Just speak the words of command to your Google Assistant or Alexa, and the router bends your Smart Home Wi-Fi to your will (without you having to lift a finger).
Perfect for when you've got your hands full entertaining guests or just want to wow them with your smart Wi-Fi.
EASY SETUP
Using the D-Link Wi-Fi app's intuitive interface and
step-by-step instructions, setting up your EXO is a breeze.
Main
Brand
Dlink
Color
Black
Features
Features
Wireless Speed: 1750Mbps (2.4G + 5G) | SDRAM: 256MB | Flash: 128MB | Antenna Type: External Fixed Antenna (3x3+3x3) | Wi-Fi Mesh: Yes | MU-MIMO: Yes | D-Link Wi-Fi: Yes
Additional Features
McAfee protection: Yes | Voice Control Support (Amazon Alexa / Google Assistant): Yes | WAN: 1(10/100/1000) | LAN: 4 (10/100/1000) | USB 2.0/3.0: USB 3.0 | Static IP: Yes | Dynamic IP (DHCP): Yes | PPPoE: Yes | L2TP: Yes | PPTP: Yes | Static IPv6: Yes | PPPoE (IPv6 over PPPoE): Yes | QuickVPN: Yes | WPS (Wi-Fi Protect Setup): Yes (PBC only) | WPA-PSK (Personal): N/A | WPA2-PSK (Personal): Yes | Guest Zone: Yes | USB Sharing (FTP): Yes | USB Sharing (SAMBA): Yes
Standards
IEEE 802.11ac
IEEE 802.11n
IEEE 802.11g
IEEE 802.11b
IEEE 802.11a
IEEE 802.3ab
IEEE 802.1q
IEEE 802.3u
IEEE 802.1p
Network Protocol
WPA / WPA2 (Wi-Fi Protected Access) - Personal
WPS (Wi-Fi Protected Setup)
Technology
Wi-Fi Mesh technology
Frequency band
2.4 GHz, 5 GHz
Data Rates
2.4 GHz: Up to 450 Mbps3 | 5 GHz: Up to 1300 Mbps
Connectivity
Interfaces
LAN, WAN, Wi-Fi, USB
Input/Output Terminals
USB 3.0 Type A
USB
USB 3.0 Type A
WiFi
IEEE 802.11 ac/n/g/b/a wireless LAN
LAN
4 RJ45
WAN
1 RJ45
Processor & Storage
Processor
Dual Core (880 Mhz)
Storage Size
125 MB
RAM
256 MB
Power & Battery
Power Supply
100 to 240 V AC, 50 / 60 Hz
Output power
12 V, 2 A
Temperature
Operating: 0 to 40 °C (32 to 104 °F)
Storage: -20 to 65 °C (-4 to 149 °F)
Humidity
Operating: 10% to 90% non-condensing
Storage: 5% to 95% non-condensing
Physical
Antenna Type
External
Number of Antenna
4
LED Indicators
Power, Internet, USB 3.0, 5 GHz WLAN, 2.4 GHz WLAN
Certifications
FCC, IC, CE
Dimensions
222.92 x 176.58 x 65.00 mm
Requirements
Windows System Requirements
Windows 10/8.1/8/7/Vista higher
MAC System Requirements
MAC OS X 10.6 or higher
000000000001125809