Edimax EW7438RPNAIR N300 Smart Wi-Fi Extender W/ Edi Range App
Edimax EW7438RPNAIR N300 Smart Wi-Fi Extender W/ Edi Range App
Key Information
Type:

Smart Wi-Fi Extender with EdiRange App

Frequency band:

2.4GHz

It is the rate of radio signal to send and receive communication signal. Common frequencies are 2.4 Ghz and 5 Ghz.5GHz provides faster data rates at a shorter distance. 2.4GHz offers coverage for longer distances, but may perform at slower speeds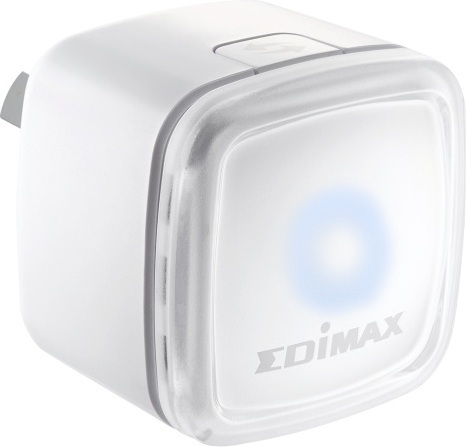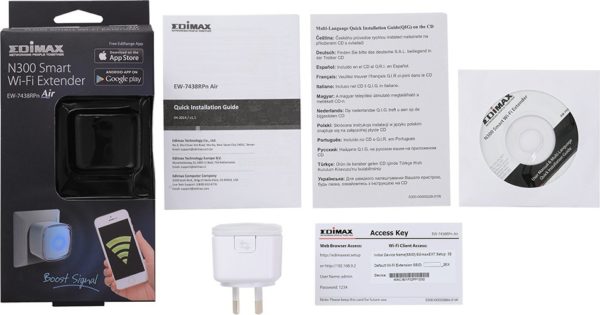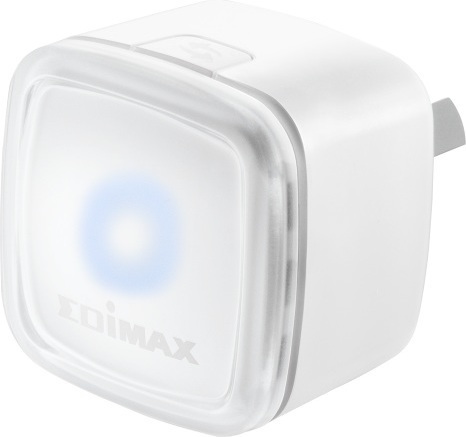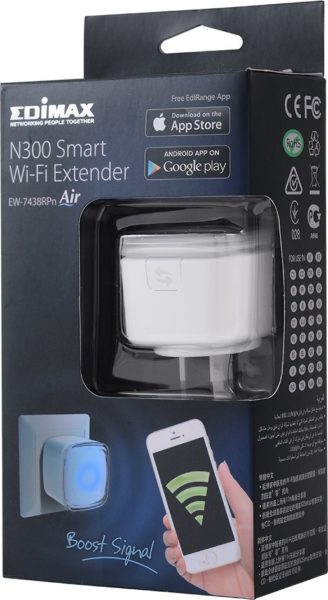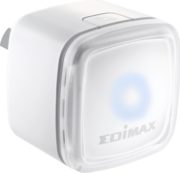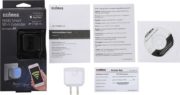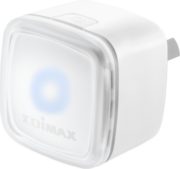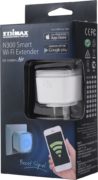 The EW-7438RPn Air is a next-generation, ultra-compact Wi-Fi extender with a powerful CPU and an intuitive iOS & Android smartphone companion app. A sleek, easy to use solution to eliminate Wi-Fi dead zones and extend wireless coverage, the EW-7438RPn Air provides practical functionality, extensive features and an elegant design. The high-speed CPU boosts wireless performance and the guest network feature offers added value as an extra wireless network you can use for kids or guests, keeping your private Wi-Fi secure or allowing you to supervise kids' Internet use from your smartphone. Good night mode and Wi-Fi scheduling give complete control over your wireless environment and the tiny design won't block neighbouring power sockets, while 802.11b/g/n support ensures wide compatibility and fast wireless speeds up to 300Mbps.
Compact, Slim Wall Plug Design
Plugs directly into an existing electrical socket with no need any additional power cables. Install it anywhere you need.
Setup Is Easy
Features user-friendly browser-based iQ Setup for smart, automatic and quick installation. iQ Setup automatically detects available Wi-Fi networks and helps you to establish a connection within seconds.
Smart App Control & Analytics
The extender works together with our free EdiRange smartphone app which displays your local Wi-Fi environment and provides easy-to-understand analytics to help you avoid your neighbors' wireless interference and get the best performance for your wireless devices. Plus you can manage the extender's wireless network and functions such as scheduling and guest network.
General
Brand
Edimax
Type
Smart Wi-Fi Extender with EdiRange App
Color
White
Features
Features
Exceptional, compact size that won't block neighboring sockets Smart, automatic setup from smartphones Intuitive iOS & Android app controls user-friendly features such as Wi-Fi scheduling and guest network Easy-to-view LED ring displays device status and illuminates any room with a pleasant ambience Good night mode shuts down the device and its bright LEDs during the night and automatically reawakens in the morning
Frequency band
2.4GHz
Connectivity
Interfaces
WPS button, LED indicators
WiFi Encryption
64/128-bit WEP encryption and WPA-PSK, WPA2-PSK security, 802.1x authentication, WPS (Wi-Fi Protected Setup)
Power & Battery
Input power
Built in AC100-240V, 0.15A 50-60Hz power module
Temperature
0-40°C (32-104°F)
Humidity
10-90% (Non-condensing)
Physical
Dimensions
42 x 42 x 72 mm
Weight
49 g
Antenna Type
2 x high performance internal antennas