Fitbit Versa 2 Smartwatch Petal/Copper Rose Aluminum
Roll over image to zoom in
Click to expand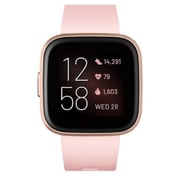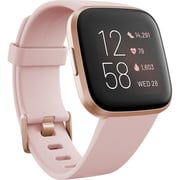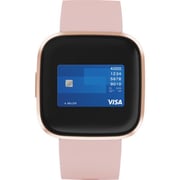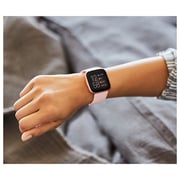 Fitbit
Fitbit Versa 2 Smartwatch Petal/Copper Rose Aluminum
Easy Payment Plans
Starting from

AED 71.12

/month

The final amount depends on your bank
Details
FREE Shipping over AED 1,500 from seller
Delivery 05 Feb - 06 Feb
Secure Transaction
Key Information
Display Type:

OLED

They are bluetooth capable watches used to answer phone calls , receive alerts, read email and text messages, get a weather report, listen to music, dictate email or text messages or ask a digital assistant a question

Type:

Smart Watch

Bluetooth Version:

4.0

Capable of upgrading to future app versions and can be connected to related products

Compatible Products:

iOS and Android Devices

Battery life:

Up to 5 days

Color:

Petal/Copper Rose Aluminum
Details
Fitbit Versa 2™ Health and Fitness Smartwatch
The Versa 2 Special Edition has enough battery power to constantly monitor your activity, workouts, and sleep for up to 5+ days without needing a recharge.
This allows the Versa 2 Special Edition's screen to always remain on, allowing you to quickly glance at your stats while working out, or see the time or a notification while your hands are full.
The Versa 2 Special Edition has a built-in heart rate tracker that's on 24/7, which helps track calories burned, resting heart rate trends, real-time heart rate zones, and overall cardio fitness levels in the Fitbit app.
Guided Breathing Sessions
The Versa 2 Special Edition will provide you with 2- and 5-minute guided breathing sessions to help you find calm when your heart rate is elevated.
Log your period, record symptoms, and compare your cycle against other health stats, such as sleep, weight, and activity.
The Versa 2 is water-resistant up to 164′, so it's ideal for water-based exercise and can be worn in the pool, the shower, or at the beach.
The Versa 2 Special Edition is constantly tracking your daily routine for activity achievements you can track over time. It tracks steps taken, distance, calories burned, floors climbed, active minutes, hourly activity, and stationary time.
With SmartTrack, your Versa 2 Special Edition can automatically record select exercises and display those stats in the Fitbit app. It can detect swimming, running, aerobic workouts, and more.
Real-Time Pace & Distance
Connect your phone's GPS to learn more information about runs and hikes. You can see real-time pace and distance on the Versa 2 Special Edition's display, and get a map of your route in the Fitbit app.
The Versa 2 Special Edition can provide you with a personalized Cardio Fitness Score in order to give you a better understanding of your fitness level and how you can improve over time.
This feature helps to keep you fit and active by providing reminders to get you to move more, stay hydrated, and stick to a productive sleep schedule.
Receive notifications for calls, texts, calendar events, and apps like Gmail and Facebook. If you have an Android smartphone, you can also send quick replies and voice replies when within range.
Use the Versa 2 Special Edition to make payments at any store or shop where contactless payments are accepted. You add your own credit or debit cards so you can pay and still earn reward points.
Hundreds of clock faces are available to download, giving you the ability to constantly change and update the look of your smartwatch.
The Versa 2 Special Edition can automatically sync to different computer operating systems and over 200 iPhone and Android devices, letting you see your stats, trends, and progress on your Fitbit dashboard.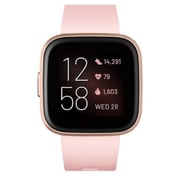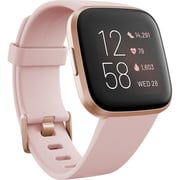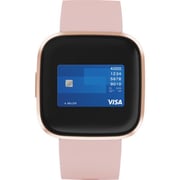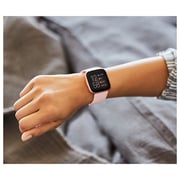 Product Overview
Overview
Fitbit Versa 2 hands-on: Alexa made it even better
review
[06:21]
Introducing Fitbit Versa 2
presentation
[01:29]
NEW FITBIT VERSA 2 (Honest Review) || 8 Day Battery, Alexa, and Spotify
review
[13:25]
Fitbit Versa 2 hands-on: Alexa made it even better
Introducing Fitbit Versa 2
NEW FITBIT VERSA 2 (Honest Review) || 8 Day Battery, Alexa, and Spotify