Huawei W5800 AC2200 Mesh TriBand Wifi Router (3 Pack)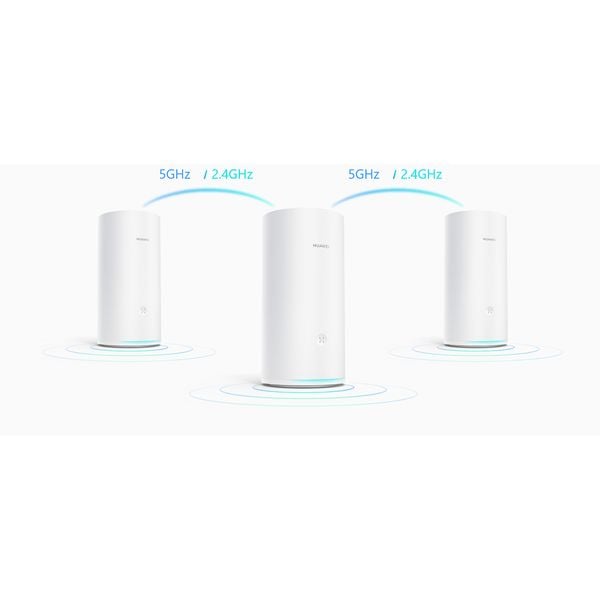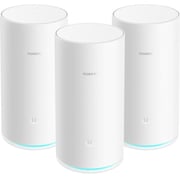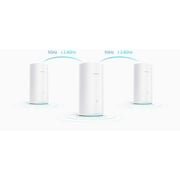 Huawei
Huawei W5800 AC2200 Mesh TriBand Wifi Router (3 Pack)
Inclusive of VAT
From AED 52.00/month with Flexipay
+ AED 13.00 Shipping
Delivery 04 Oct - 05 Oct
Secure Transaction
Key Information
You can connect multiple devices using wired ethernet cable in a local area network

Ethernet:

WAN: One 10/100/1000 Mbps Ethernet portLAN: Three 10/100/1000 Mbps Ethernet ports

It is the rate of radio signal to send and receive communication signal. Common frequencies are 2.4 Ghz and 5 Ghz.5GHz provides faster data rates at a shorter distance. 2.4GHz offers coverage for longer distances, but may perform at slower speeds

Frequency band:

2.4 - 5 GHz

Type:

Router

Color:

White
Details
Better Coverage. Better Performance
Tri-band Mesh Wi-Fi | Huawei Share1 | Quad-core 1.4 GHz CPU
AC2200 Tri-band Mesh Wi-Fi System
Each router of the Wi-Fi system offers one 2.4 GHz and two separate 5 GHz bands, delivering combined speeds of up to 2.2 Gbps2.
With a 5 GHz band, which switches to 2.4 GHz automatically at long range and is used as a dedicated backhaul connection, HUAWEI WiFi Mesh creates a seamless and reliable Wi-Fi system throughout your entire home.
Huawei Share, Tap to connect
Featuring Huawei Share technology, HUAWEI WiFi Mesh lets you and your guests get connected quickly and effortlessly. Simply tap your NFC-enabled Android phone to one of the HUAWEI WiFi Mesh routers. No Wi-Fi name or password needed.
Powerful Processor, Stable Connection
Powered by a Gigahome quad-core 1.4 GHz CPU with a computing capacity of up to 12880 DMIPS3 and 256 MB large memory, each router of the HUAWEI WiFi Mesh is capable enough for you to keep your phones, tablets, notebooks and more smart devices stably connected at the same time.
An Optimal Wi-Fi that Follows You
Thanks to the innovative seamless roaming and band steering technology, HUAWEI WiFi Mesh keeps you connected with better Wi-Fi bands and hotspots automatically as you move around your home. No connection drop‑offs, just one seamless network.
Six Signal Amplifiers, Strong Wi-Fi Everywhere
Adopting six independent signal amplifiers and receivers, each router of the HUAWEI WiFi Mesh captures signal more rapidly and sends stronger Wi-Fi signal to cover up to 120 square meters4. With the Wi-Fi quality further improved by the Gigahome Wi-Fi chipset and LDPC error correcting code, you can enjoy a smooth Wi-Fi connection in every corner of your home.
Fit Different Types of Houses
Twin House
Multi-story House
Ranch-style House
Up to 320
Square meters
3 – Pack
Simple 3 Steps to Set Up
Step 1:
Connect your mobile phone to the Wi-Fi of the router and open the browser.
You will be automatically redirected to the web-based management page.
Step 2:
Set the Wi-Fi name and password.
You can access the Internet after configuration.
Step 3:
Plug in additional routers.
Place them anywhere for extra coverage and plug them in. No more setup needed. They automatically connect to create a seamless Wi-Fi system for you.
HUAWEI AI Life App, Manage Wi-Fi with Ease
Wi-Fi management has never been easier. With the HUAWEI AI Life app, you can see what happens, set speed limits, allow guest connections, set Wi-Fi timing, pause connectivity on your kids' devices and more.
HUAWEI HomeSec™ Protects Your Network
We care about your network security. With built-in HUAWEI HomeSec™ protections, HUAWEI WiFi Mesh has been certified by the European Union for GDPR compliance. To prevent unauthorized access, we developed the Wi-Fi brute-force cracking defense feature to recognize brute-force attacks automatically and block them from accessing your network.