Lighting

/

Philips Hue White & Colour Ambiance LED Smart Bulb – Starter Kit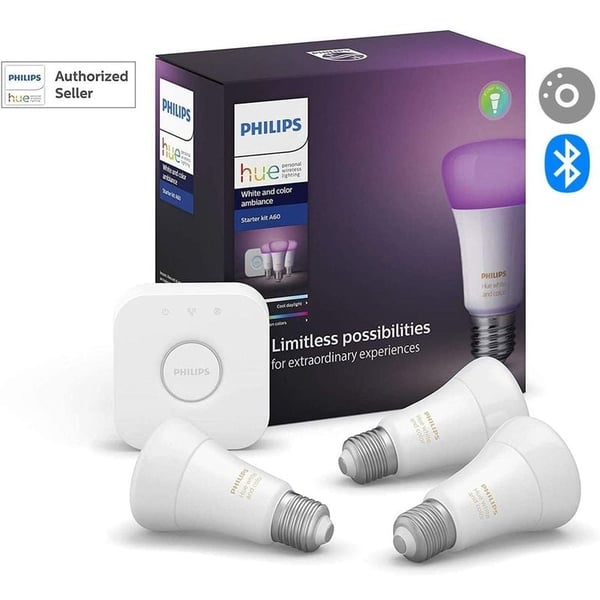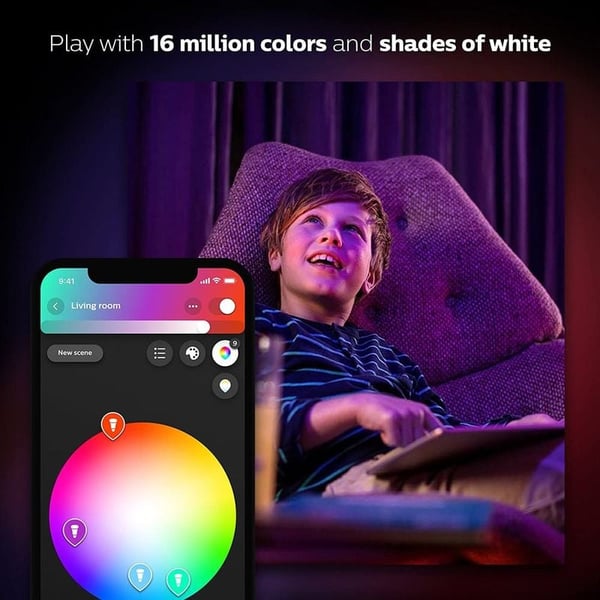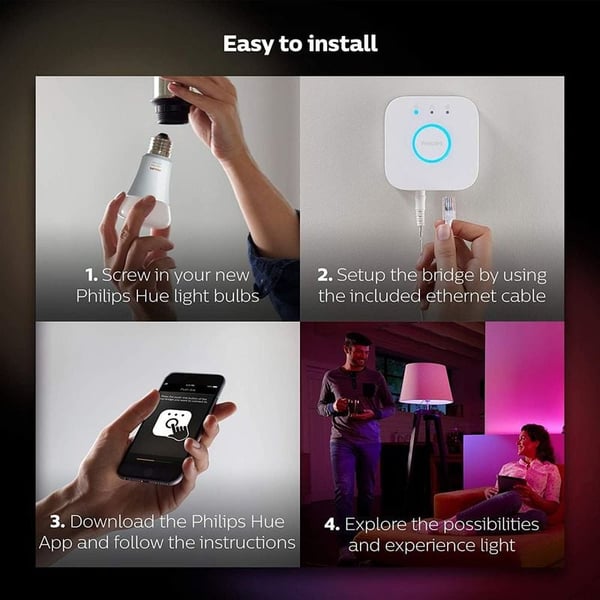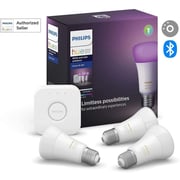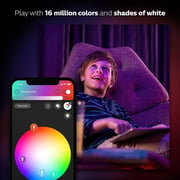 Philips
Philips Hue White & Colour Ambiance LED Smart Bulb – Starter Kit
+ AED 13.00 Shipping
Delivery 07 Oct - 08 Oct
Secure Transaction
Key Information
Type:

Lamps & Lighting

Dimension:

16.5 x 8.8 x 7.5 cm

Color:

Multi Colour Ambience
Details
Philips HUE Smart Lamp White and Orange - Launch Kit - Edison Screw E27 (Compatible with Amazon Alexa, Apple HomeKit, and Google Assistant) 3 x E27 bulb. Bridge included. White and colored light. With Philips Hue white and color ambiance you can transform your lighting into an extraordinary experience. Connected home lighting offers colored lighting that can be synced to your music, TV and games for immersive effects. Technical Specifications: Environmental.
The starter group contains 3 lamps and a color bridge.
Be creative with 16 million colors. Play with light and choose from 16 million colors to instantly change the look and feel of your room. Effortlessly adjust the scene with the touch of a button. Use a favorite photo and relive that special moment with patches of light. Provide your favorite lighting settings and summon them whenever you want with your fingers.
You can sync lights with music and movies. Extend your TV viewing experience to the whole room or sync light to your favorite music and watch how light reacts to the rhythm. Download third-party apps and discover the amazing things you can do with Philips Howe.
Add lighting for your gaming experience to the next level. Download third-party apps and discover the amazing things you can do with Philips Howe.
Wake up and go to sleep naturally will help Philips Hue get the bed out the way you want it, helping you start your day feeling refreshed. The brightness of the light gradually increases, simulates the effect of sunrise and helps you wake up naturally, instead of waking loudly for the alarm clock, start your day the right way. In the evening, a comfortable warm white light helps you relax and unwind and prepare your body for a good night's sleep.
Create your own atmosphere in warm white to cool daylight. Set the right atmosphere for any moment and decorate your home in a warm white to cold light. Enjoy different styles all year round, regardless of whether it is fresh white light that reminds you of the spring breeze, the warm white light of summer sunshine, or the cold daylight of winter.
Relax, read, focus, and activate it with recipes of light. Light affects your mood and behavior. Philips Hue can help you customize your daily routine in moments you can enjoy. Leave your morning coffee and prepare for a day with bright white daylight that helps revitalize your body and mind. Stay focused with precisely bright white light. Or, you can put your feet comfortably in a soft white light glow for the perfect end of the day.
Smart control of the home and outside with the Philips Hue iOS app and Android you can control the lighting remotely wherever you are. Check if you forgot to replace the lights before leaving your home, and turn them on if you are running. The timer can be set for your convenience to make Philips Hue look at home when you are not available, using the schedule function in the Philips HO application.
Adjust the bulbs at a predetermined time, so the bulbs will work when they arrive home. You can even prepare rooms for lighting at different times. Of course, you can allow the lights to gradually shut down at night, so you never have to worry if you leave any light.
This Bed Curtain will completely enclose your Bed to provide you with absolute privacy.