TVs

/

LG QNED 8K Smart TV 86 Inch QNED99 series, Cinema Screen Design 8K Cinema HDR WebOS Smart ThinQ AI Mini LED 86QNED99VPA
Key Information
OS:

webOS

The total number of pixels on the screen, more pixels results in a sharper image

Resolution:

8K (7680 x 4320)

Type:

QNED TV

The size of the screen measured diagonally

Screen Size:

86 INCH

Standard for connecting high-definition video devices like Blu-Ray players, gaming consoles & set top boxes

HDMI:

4

Plug & play USB devices like pen drives, portable hard disks etc. to directly play movies, songs & photos on your TV

USB Slots:

3
Details
LG QNED Mini LED represents the dawn of a new era for LCD TVs. The pioneering display combines a Mini LED panel with Quantum Dot NanoCell Technology to deliver an all-new TV experience. This is truly the pinnacle of LCD TV.
A new era for LCD TVs.
LG QNED mini LED takes LCD TV further than ever before. Enhanced brightness, near-perfect black, and brilliant color are showcased on a stunning ultra-big screen. This marks a giant leap forward in the evolution of LCD TVs.
The power of Mini LEDs.
Approximately 30,000 mini LEDs deliver brighter and clearer images, while close to 2,500 unique dimming zones deliver precise backlight control and an ultra-high contrast ratio. The result is a greater level of detail and more accurate color reproduction than conventional LCD TVs.
NanoCell meets Quantum Dot.
Quantum Dot NanoCell Technology delivers a more stunning picture with the combined power of both NanoCell Plus and Quantum Dot. This unique combination of technologies improves color reproduction to create richer and more accurate colors.
This is our brightest idea yet.
Add a new level of clarity to everything you watch. LG QNED mini LED's improved display technology brightens whites and darkens blacks for an ultra-high quality picture.This is how LG QNED mini LED shows all your favorite content in a whole new light.
There's black magic on display.
Approximately 2,500 unique dimming zones deliver precise backlight control and an ultra-high contrast ratio. This makes blacks deeper and colors more vivid for a more detailed picture, even in the darkest scenes.
Worship color in all its brilliance.
Experience more of the spectrum with Absolute Color. LG QNED mini LED's exquisite color reproduction has been expertly developed to capture a wider gamut and more vivid colors. This keeps everything you watch looking exactly as intended.
Big screen, colossal amounts of detail.
Heighten your immersion. Mini LEDs meet our Real 8K display in LG QNED mini LED to create a truly high-quality, big screen TV. The new screen technology displays everything you watch in enhanced detail and clarity, even on our biggest screen, making it easier than ever to lose yourself in your favorite content.
This is the pinnacle of LCD 8K.
Our best LCD TV demands the best resolution. When it comes to creating a high-quality picture, the more pixels the better. LG QNED mini LED combines an incredibly high pixel density with our all-new Quantum Dot NanoCell Technology for an outstandingly realistic 8K picture that is more detailed than ever, even when viewed on a big screen.
Certified 8K Ultra HD.
According to the CTA, when defining resolution, the contrast modulation (CM) value must be 50% or more — the higher the CM value, the clearer the image. LG QNED Mini LED far exceeds international standards with a CM level of 95.8% making a stunning picture even more spectacular.
A view that's flat out breathtaking.
LG QNED mini LED is artfully designed to enhance any home interior. With minimal bezels and a slim, sleek body optimized for wall mounting, every size of LG QNED mini LED hangs flush against your wall. This means that even our biggest TV fits perfectly into your space, upgrading your home interior just like a work of art.
QNED Cinema.
Show-stopping performance.
LG QNED mini LED delivers a breathtakingly cinematic performance. Stunning blacks and a brighter display produce a picture that is enhanced in almost every way for a new level of immersion. This is a TV that will take your breath away every single time.
Entertainment
Home to all your favorites.
Access the Netflix, Apple TV app. Choose From the latest movies, TV shows, documentaries, and live sports, and find them all in one place.
Dolby Vision IQ & Dolby Atmos
A transformative TV experience.
Dolby Vision IQ intelligently adjusts picture settings based on content genre and ambient surroundings, while Dolby Atmos delivers multi-dimensional surround sound — a powerful combination that produces breathtakingly cinematic results.
FILMMAKER MODE™
The director's vision brought to life.
FILMMAKER MODE™ turns off motion smoothing while preserving the original aspect ratios, colors, and frame rates. This accurately delivers the director's original vision, so you experience the film the way they intended.
HDR 10 Pro
Get the full range of enjoyment.
LG's own dynamic range technology, HDR 10 Pro, adjusts brightness to enhance color, reveal every tiny detail, and bring lifelike clarity to every image — it also intensifies regular HDR content. Now all your favorite movies and shows will be more vivid and vibrant from beginning to end.
QNED Gaming.
Packed with perks.
LG QNED mini LED packs in a host of features to power up your gaming experience. Absolute Color and Game Optimizer deliver smooth, lifelike gameplay while our mini LED display's improved brightness and blacks deliver pinpoint accuracy. Experience everything you play with an unreal level of realism.
Game Optimizer
Unseen levels of control.
All your games leveled up. Game Optimizer automatically adjusts picture settings, optimizing graphics and visibility, to deliver a better gaming experience no matter what type of game you're playing.
Xbox Partnership
An unbeatable combo.
Freedom to play. LG's partnership with Xbox ensures you're ready for next-gen gaming. Get the most out of your Xbox thanks to stunning picture quality and ultra-fast response times.
ALLM, eARC
Play at the highest standard.
Get an edge on opponents. ALLM, and eARC meet the latest HDMI 2.1 specifications to allow fast-moving content in higher resolution and smooth, synchronized graphics.
QNED Sport.
TV in unbeatable form.
LG QNED mini LED was built for the pro leagues. With a large screen, real 8K display, and Bluetooth Surround Sound compatibility LG QNED mini LED brings the full stadium atmosphere into your home, ensuring you always have the best seat in the house.
Sports Alert
Never miss your team play.
Sports Alert notifies you before, during, and after games. You'll never have to worry about missing the big plays from your favorite teams, even when you're watching other content.
Bluetooth Surround Ready
A clear home advantage.
Easily connect Bluetooth speakers for a true wireless surround sound experience. All the action sounds richer and more realistic, bringing the big-game atmosphere to your living room.
α9 Gen4 AI Processor 8K
Brains that will blow your mind.
At the core of LG QNED mini LED is the α9 Gen4 AI Processor 8K, a groundbreaking chip that uses deep-learning algorithms to analyze and optimize content. Every adjustment to picture and sound is automatic, so everything you watch is spectacular.
AI Picture Pro
This is what pro looks like.
Using a vast database of over one million visual data points, the deep-learning algorithm recognizes content, removes noise, and optimizes picture quality. And the new Scene Detection feature can now analyze the type of scene being shown and improve the picture accordingly.
AI Sound Pro
Sound turned up to pro.
By learning from more than 17 million audio data points, the processor identifies voices, effects, and frequencies so it can then optimize the sound by genre for a more immersive experience. And the new Auto Volume Leveling feature maintains consistent voice levels across different types of content.
AI 8K Upscaling
Elevate every image.
The AI processor uses deep learning algorithms to analyze what you watch and transform non-native 8K content into stunningly immersive 8K. The resulting image is sharper with noticeably higher levels of definition and detail, even when viewed on our biggest screens.
AI ThinQ
Think you know smart?
Think again.
LG ThinQ is here to maximize your TV experience. Choose your favorite voice assistant and control your TV with your voice with an all new home screen to provide more convenience and control.
New Home
Welcome to your new home.
Your days of endlessly searching for new content or old favorites are coming to an end. The home screen has been redesigned to show you everything worth watching, all in one place. Enjoy personalized content recommendations based on your watch history, quick access to a variety of content, and easier control of connected devices.
New Magic Remote
More like a magic wand.
The redesigned Magic Remote has an ergonomic design that's easy to hold, and its point and scroll system allows faster searching. Built-in AI provides easy access to services, while hotkeys for major content providers give you shortcuts to all your favorites. In addition to all that you now have Magic Tap, a clever new trick that connects your phone to your TV.
Voice Command
Your central hub of convenience.
LG ThinQ allows simple command and control of your Home IoT ecosystem with natural voice recognition. You can control your LG QNED mini LED with your voice and access entertainment faster.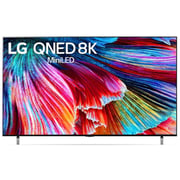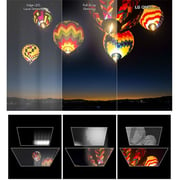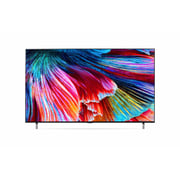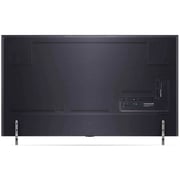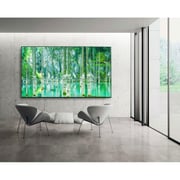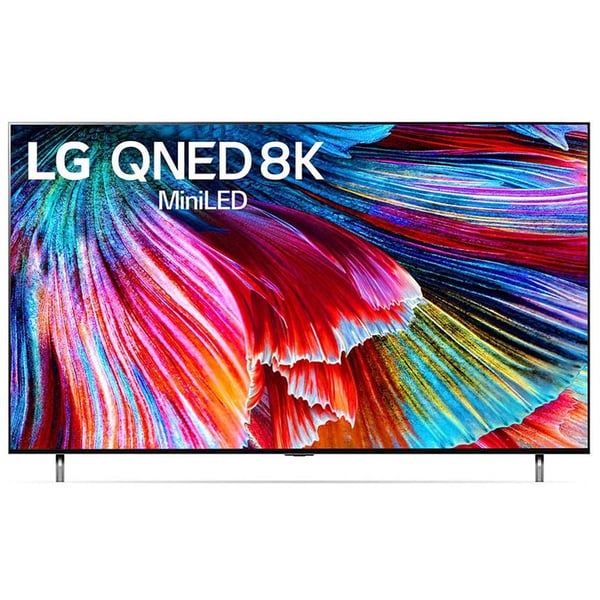 Product Overview
Overview