Microsoft Xbox One S Console 1TB White With Assassins Creed Origins & Tom Clancys Rainbow Six Siege DLC Game + 1 Month Game Pass DLC
Microsoft Xbox One S Console 1TB White With Assassins Creed Origins & Tom Clancys Rainbow Six Siege DLC Game + 1 Month Game Pass DLC
Key Information
Display:

Output to external display screen

Actual screen size in inches measured diagonally

Storage Size:

1 TB

Higher size is useful to store more games, music, movies, and other data

System RAM:

8 GB of RAM + 32 MB eSRAM

It stores frequently used program instructions to increase the general speed of the system.Higher value means higher performance

USB:

3 x USB 3.0

You can connect Controllers, Keyboards, Joystick, Wheel Pad, Guitar and Drum

HDMI:

1 x HDMI in | 1 x HDMI out

You can connect TV and Audio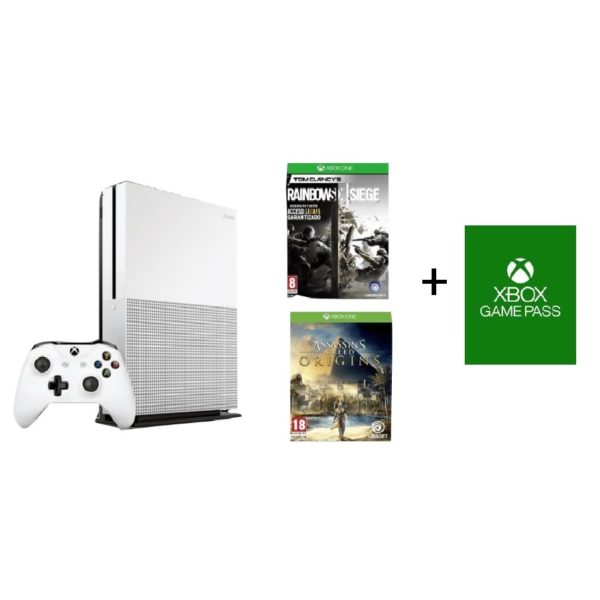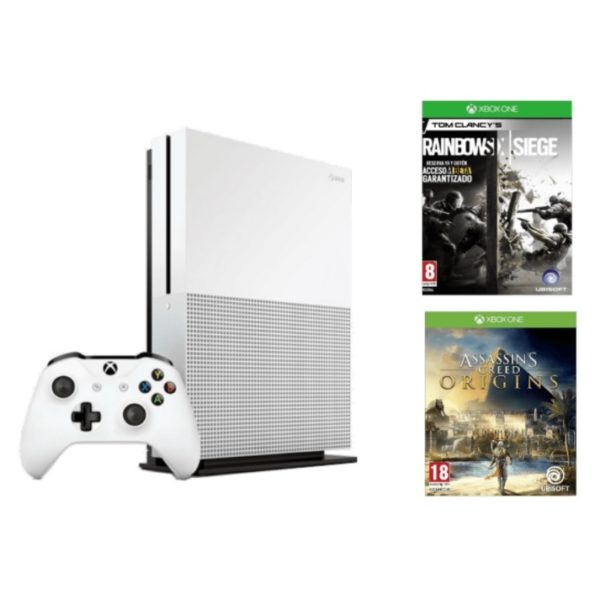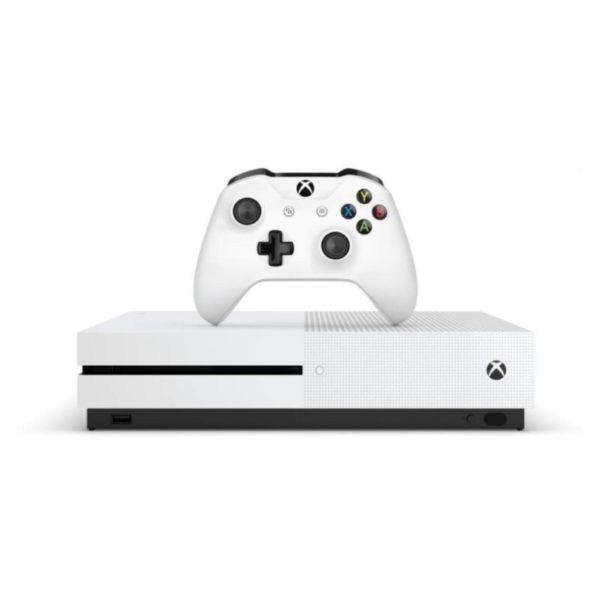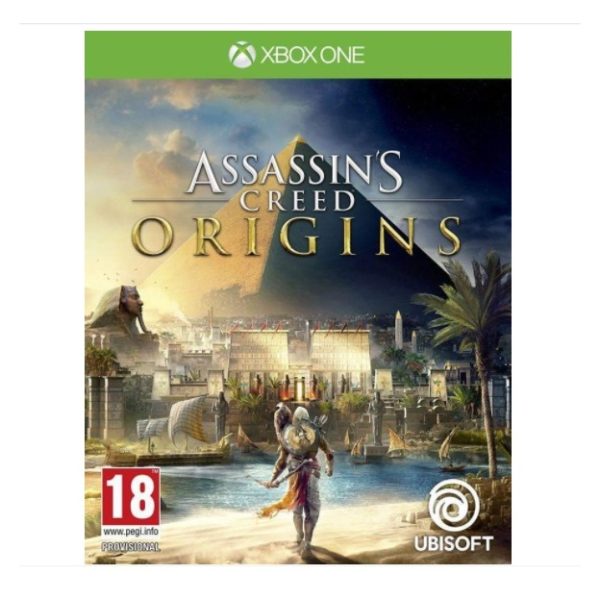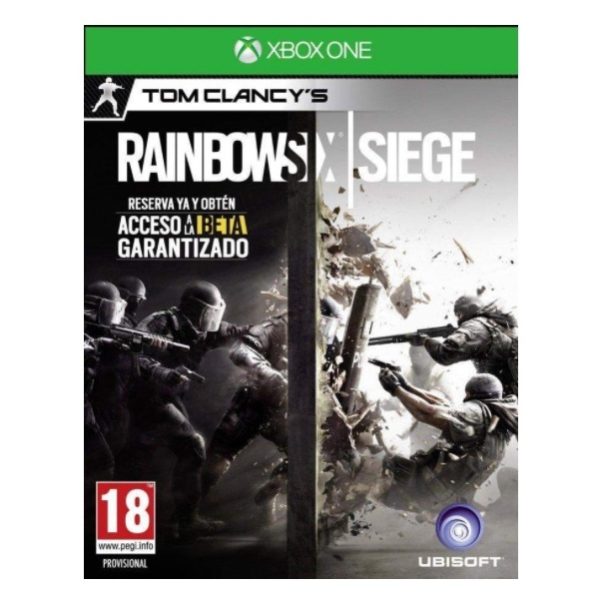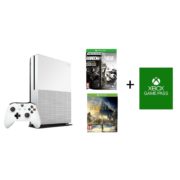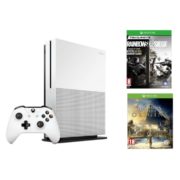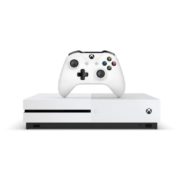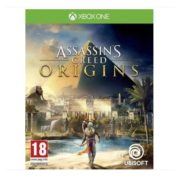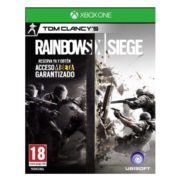 Xbox One SThe only console with 4K Blu-ray, 4K video streaming, and HDR.Key New Features4K: Ultra HD Blu-ray and Video StreamingHDR: High Dynamic Range40% Smaller ConsoleUp to 2TB of Storage (500GB, 1TB and 2TB Consoles)40% smaller. 2TB of storage. Internal power supply.Play the greatest games lineup, including Xbox 360 classics, on a 40% smaller console. Just don't let its size fool you: with an internal power supply and up to 2TB* of internal storage, the Xbox One S is the most advanced Xbox ever.
The Best Value in Games and Entertainment


Xbox One is fun for the whole family
From games you can play together to your favorite apps and entertainment, Xbox has something for every member of the family.
Xbox One S has over 1,300 games
: blockbusters, popular franchises, and Xbox One exclusives. Play with friends, use apps, and enjoy built-in 4K Ultra HD Blu-ray and 4K video streaming.
High Dynamic Range
Brilliant graphics with High Dynamic Range
4K Resolution
Ultra HD Blu-ray and video streaming


Spatial Audio
Premium Dolby Atmos and DTS:X audio
Xbox has games the whole family can play together and others for after the kids are in bed. This variety provides endless entertainment for all ages, so your kids never outgrow Xbox.
Find games suitable for your kids and family
Every kid is different, and you know yours better than anyone. Just as movies and TV shows are rated, each game includes a rating symbol that suggests the appropriate age for play, plus descriptions that give you a heads-up about certain content.
All your entertainment in one place
With Xbox One in your family room you've got a whole world of entertainment. Access entertainment apps like YouTube, Netflix, and Spotify. Stream your favorite shows and watch Blu-ray movies in 4K. Cut the clutter with just one box for all your entertainment needs.
A gaming experience fit for your family
Whether you are looking for a great way to spend a game night with your kids, or teach them how to play, Xbox will bring your family together and help keep them safe.
4K Ultra HD Blu-ray and video streaming
With four times the resolution of standard HD, 4K Ultra HD delivers the clearest, most realistic video possible. The Xbox One S is the only console that lets you stream 4K content on Netflix and Amazon Video, and watch Ultra HD Blu-ray movies in stunning visual fidelity with High Dynamic Range.
Configure your Xbox One S to turn on other devices, like your TV, audio/video receiver, and cable/satellite receiver. Whether you're playing a game or watching a movie, the integrated IR Blaster will get you to the action faster, allowing you to leave your remotes behind.
Experience the enhanced comfort of the new Xbox Wireless Controller, featuring a textured grip and Bluetooth® technology.
Xbox One is the best place to play Xbox 360 games
Now you can play a growing number of Xbox 360 games on Xbox One. Experience both generations of games on one console, including digital and disc-based titles, with advanced features like Game DVR and in-home streaming to Windows 10. Keep all your game saves, add-ons, and hard-won achievements from Xbox 360. And with your Xbox Live Gold membership, you can even play multiplayer games and chat with friends across Xbox One and Xbox 360. Plus, Games with Gold titles for Xbox 360 are now playable on Xbox One, giving you more free games to play every month when you own an Xbox One. Enjoy the greatest games lineup and Xbox 360 classics all in one place exclusively on Xbox One.
Main
Brand
Microsoft
Color
White
General
Type
Xbox One S Gaming Console
In the Box
Xbox One Wireless Controller | HDMI Cable | AC Power Cable | Limited 1-Year Warranty
Features
Features
Ultra HD Blu-ray Disc Player | High Dynamic Range (HDR) Support | 40% Smaller than the Original Xbox One | 10/100/1000 Mbps Gigabit Ethernet | 802.11n Wi-Fi | Xbox SmartGlass Support
Display
Output to external display screen
CPU
Custom 8-core x 86 AMD processor
Storage Size
1 TB
GPU
AMD Radeon Graphics Core Next engine (853 MHz)
Supported Memory Type
No
System RAM
8 GB of RAM + 32 MB eSRAM
Resolution
2160p (4K UHD) | 1080p (Full HD) | 720p (HD)
Connectivity
Input/Terminals
1 x S/PDIF | 1 x IR out | USB 3.0 | HDMI
HDMI
1 x HDMI in | 1 x HDMI out
USB
3 x USB 3.0
WiFi
802.11n Wi-Fi (2.4 GHz, 5 GHz)
Ethernet
1 x 10/100/1000 Mbps Gigabit Ethernet RJ-45 LAN
Internet Connectivity
Yes via Ethernet, Wifi
Media
Game Format
Optical Drive: Ultra HD Blu-ray | Blu-ray (up to 50 GB) | DVD | CD
Disc Loading Type
Slide-In Type
Audio / Video
Video Outputs
1 x HDMI in | 1 x HDMI out | HDMI pass-through supported
Audio Format
MP3, WAV, WMA
Audio Outputs
1 x S/PDIF
Other
Color Depth | 24-bit (Traditional) | 30/36-bit (Deep Color)
Power and Battery
Input Power
110 - 240 VAC
Other
Reference Website
http://www.xbox.com/en-US/xbox-one-s