Net Gear EX800010EUS NightHawk X6S Tri Band WiFi Range Extender
Net Gear EX800010EUS NightHawk X6S Tri Band WiFi Range Extender
Key Information
Type:

Range Extender

Frequency band:

2.4 GHz, 5 GHz, 5 GHz (IEEE 802.11 k)

It is the rate of radio signal to send and receive communication signal. Common frequencies are 2.4 Ghz and 5 Ghz.5GHz provides faster data rates at a shorter distance. 2.4GHz offers coverage for longer distances, but may perform at slower speeds

Input/Output Terminals:

USB 2.0, Ethernet

Color:

Black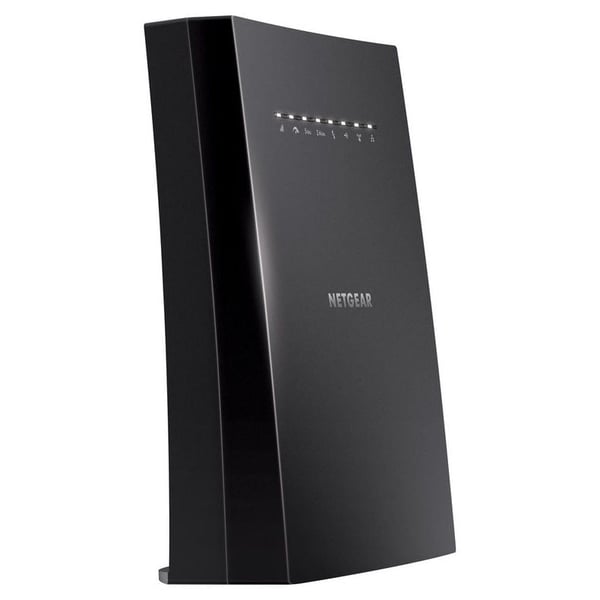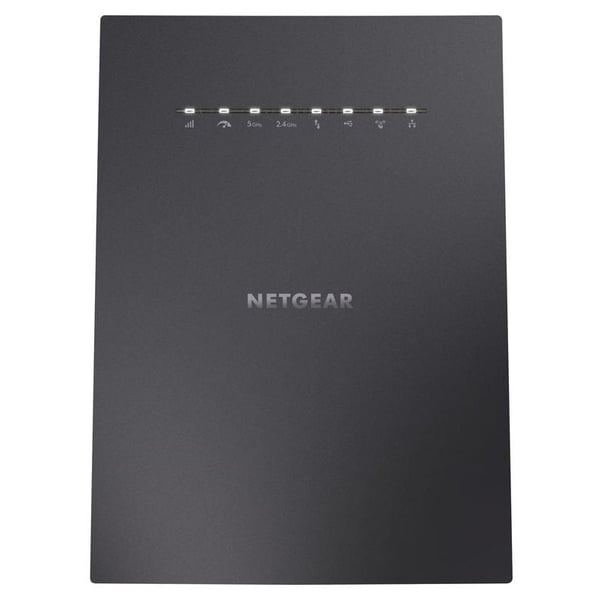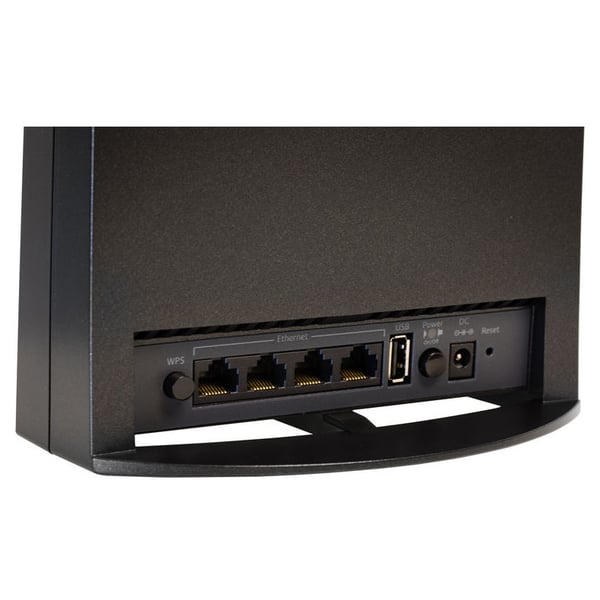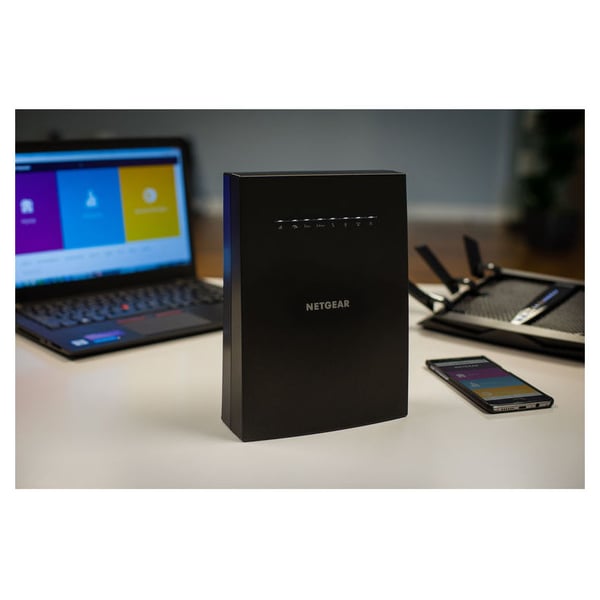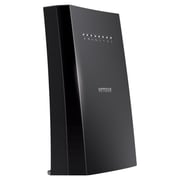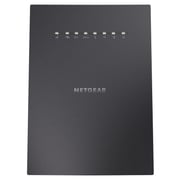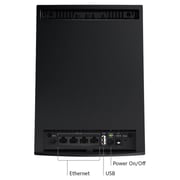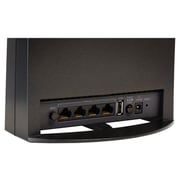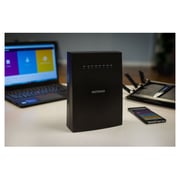 First Nighthawk Tri-band Range Extender
AC3000 Tri-band WiFi Range Extender with patented FastLane3 technology boosts your WiFi to the extreme with speeds up to 3Gbps. From your garage to the backyard, eliminate WiFi dead zones and extend WiFi range to hard-to-reach areas of your home. EX8000 is the most advanced tri-band WiFi extender that includes a dedicated 5GHz band with up to 1.7Gbps for extending internet speeds to your devices. It works with any WiFi router. Use the Nighthawk Mesh extender with your existing WiFi and create a powerful whole home WiFi.
Ultimate Speed and Range without Bandwidth Drop
Tri-band WiFi Range Extender has patented FastLane3technology which features Tri-Band WiFi with speeds up to 3Gbps, a DedicatedWiFi Link to the router to avoid halving of bandwidth of extended WiFi signalsand innovative antenna design for ultimate coverage. Now you get a congestionfree path for all your devices to connect to the internet.
Works with Your WiFi Router or ISP Gateway
Not getting enough WiFi from your Internet ServiceProvider (ISP) equipment? Get a Tri-band WiFi Range Extender and boost WiFicoverage into every corner of your house and use the same WiFi name. ThisNighthawk Mesh extender improves the WiFi you already have.
No More Switching WiFi Network Names
Nighthawk X6S creates a seamless network throughout yourhome by using the same WiFi network name (SSID) as your router.
Your WiFi devices like the smartphones and laptops willremain connected to the same network name as you move around your house andyard.
Other extenders create separate WiFi network name (SSID)than the router's WiFi, causing disconnect and reconnect.
Seamless Coverage for Your Mobile Devices
Smart Roaming intelligently connects your mobile devicesto the optimal WiFi for 4K streaming, surfing and more. Now you can enjoyuninterrupted streaming on YouTube or Netflix, even as you move around thehouse.
Smart Roaming is designed for devices that support the802.11k standard.
CONNECT MORE
A desktop extender like EX8000 is a great choice if youneed more Ethernet ports to connect more network-ready wired devices and USBstorage options. Use the extender's four (4) Gigabit Ethernet ports to connectwired devices like Smart TVs and game consoles.
AC3000 Wireless Access Point for your Ethernet
Do you have a pre-wired home? Easily create a tri-bandaccess point using a wired Ethernet connection. Pair with your existing ISPmodem to enhance WiFi for your small office or home office and expand yournetwork.
Nighthawk Router + Nighthawk Mesh Extender
Love your Nighthawk router? Now you can easily build yourown powerful Nighthawk Mesh network.
Enjoy all the advanced router features that a Nighthawkhas to offer and easily build your own powerful WiFi network by adding theTri-band WiFi Range Extender. Now you have the flexibility to customizenetworks in 2.4 and 5GHz. Use your existing router's SSID to create a singlenetwork or use multiple SSIDs to create separate networks.
Main
Brand
Netgear
Color
Black
General
Type
Range Extender
What's in the Box
Netgear EX8000 Nighthawk X6S AC3000 Tri-band Wi-Fi Range Extender
Features
Features
802.11ac Wi-Fi Standard | Up to 3000 Mbps Data Throughput | 2.4 GHz / 5 GHz (Dual-Band) Frequencies | Innovative Internal Antenna Design
Additional Features
4 x Gigabit Ethernet Ports | 1 x USB 2.0 Port | WPA/WPA2-PSK and WEP Encryption | Simple Browser Installation | Push 'N' Connect Using WPS | Dedicated Power On/Off Button | WiFi Analytics App for Android™ devices for optimizing your network status, signal strength, and channel interference
Standards
IEEE® 802.11 b/g/n 2.4GHz, IEEE 802.11 a/n/ac 5GHz, IEEE 802.11 k
Network Protocol
WiFi Protected Access (WPA/WPA2-PSK) and WEP Standards
Technology
802.11ac / AC3000
Bands
Tri Band
Frequency band
2.4 GHz, 5 GHz, 5 GHz (IEEE 802.11 k)
Frequency Range
2.4 GHz - 256 QAM, 5GHz - 256 QAM, 5 GHz - 256 QAM
Data Rates
400 Mbps @ 2.4 GHz, 866 Mbps @ 5GHz, 1733 Mbps @ 5 GHz
Connectivity
Input/Output Terminals
USB 2.0, Ethernet
USB
1
WiFi Encryption
WPA/WPA2-PSK and WEP Encryption
WiFi
802.11ac
LAN
4
Processor & Storage
Processor
Quad-core
Physical
Antenna Type
Internal
Number of Antenna
6
Dimensions
227 x 170 x 93 mm
000000000001026564