Warranty: 1 year Standard
Key Information
Type:

Drone

Input/Output Terminals:

USB

Compatible Products:

iOS 7 and up / Android 4.3 and up

Interfaces:

Wireless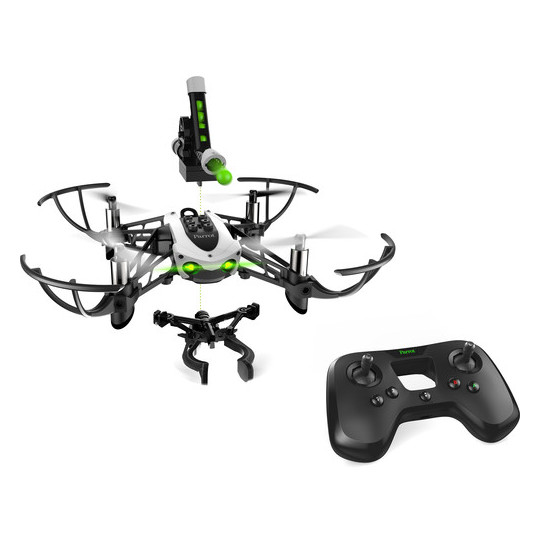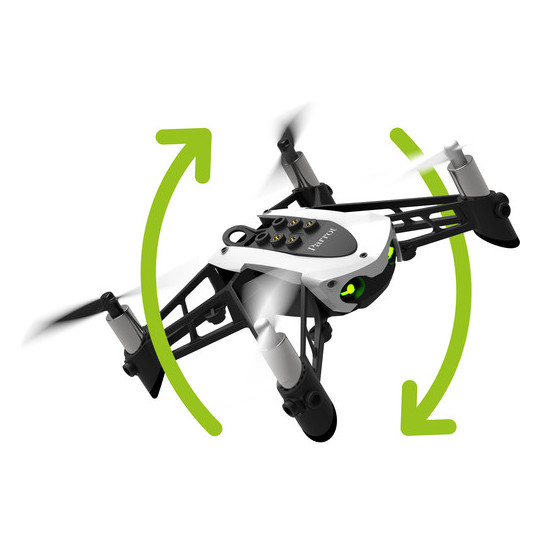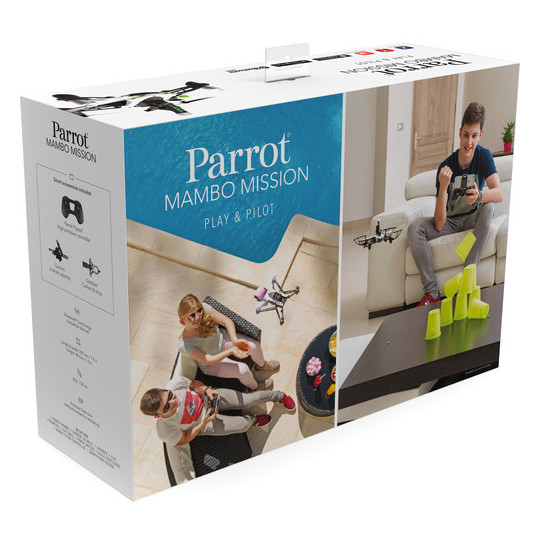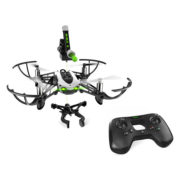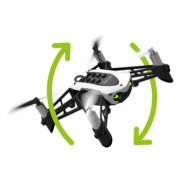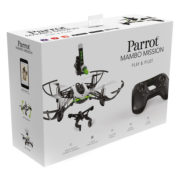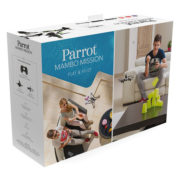 The Parrot MAMBO minidrone is not done surprising you! Whether you equip it with the Cannon or the Grabber, it will make the sky a surprising adventure ground. Speed ​​racing or skill games, aerobatic or high-flying challenges, you're ready for a maximum of fun. Super-robust and easy to handle, we promise Parrot Mambo will live up to your imagination
Go out on a mission by yourself or as a team with your Cannon. Attach it to the Parrot Mambo and let the games begin. Target enemy drones or try out skill games like shooting a pyramid of cups or knocking over light targets. You can carry up to six pellets. Adjust your shots to win the game!
Want to surprise your friends? Attach the Grabber to the Parrot Mambo and be inventive because everything is possible… The grabber can grab objects (up to 4 g), carry them in the air and place them wherever you want.
FLY MORE PRECISELY AND FARTHER WITH THE PARROT FLYPAD
Parrot Flypad gives you very precise control of your Parrot Mambo drone and allows you to fly it for a distance of up to 100 m. Thanks to its holder that's adaptable to your smartphone, on your screen you can see the remaining battery and the flight time and you can modify the flight settings.
AND WE'RE OFF FOR EXHILARATING FLIGHTS AND AEROBATICS!
Reverse, rotate, flip back and forth and even perform awe-inspiring take-offs from your hand: with your smartphone, you are ready to experience new thrills and meet any challenge. Nothing will stop you! Graze obstacles, slalom between poles or be the fastest on a circuit, you choose!
DOWNLOAD, YOU'RE READY FOR YOUR NEXT RACE!
With a user-friendly interface, simplified drone connection and automatic recognition of your connected minidrones and accessories, everything in FreeFlight Mini has been designed to increase your gaming possibilities and experiences tenfold. Access FPV video rendering on your smartphone and turn on the cardboard view to use your Parrot Cockpitglasses 2. Change your minidrone's flight settings and check the remaining battery and its flight time. Easily select and perform amazing aerobatics! Enough to let your imagination run wild and impress your friends…
Main
Brand
Parrot
Color
White
General
Type
Drone
Compatible Products
iOS 7 and up / Android 4.3 and up
What's in the Box
1 Parrot Mambo
1 Battery Power
1 Cannon
1 FLYPAD
1 Grabber
4 Bumpers
1 User guide
1 USB cable
1 Clip
1 Holder for smartphone (Max size: 160 * 78 * 9.8 mm)
Features
Features
Includes Cannon & Grabber Accessories | 3-Axis Stability Sensors | Up to 328' Range with Included Fly pad
Additional Features
Flying time up to 9 min | Streaming and Recording HD 720p 30 FPS | 120 Degree Wide Angle View | Suitable for indoor and outdoor use | 3-axis accelerometer and 3-axis gyroscope | Ultrasound, Pressure, Camera Sensors | 660mAh LiPo Battery | Stabilization and flight control software | Optimized weight/speed ratio
Connectivity
Interfaces
Wireless
Input/Output Terminals
USB
USB
Micro USB
Bluetooth
v4.0
Wireless
2.4 GHz
Sensors
Ultrasound sensor | Pressure sensor
Battery & Power
Battery Capacity
550mAh
Usage Time
Up to 9 min
Battery Type
LiPo Battery
Drones
Flight Time
Up to 9 min
Range
30m/100m
Propellers
4