Gaming

/

Playstation Plus 90 Days Online Gift Card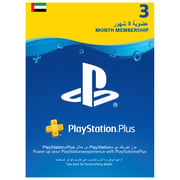 Playstation
Playstation Plus 90 Days Online Gift Card
Key Information
Type:

Points & Subscription Cards

Color:

Assorted
Details
This product is compatible only with a UAE PSN Account Become a member of PlayStation Plus and enjoy loads of games and content from PlayStation Store, plus exclusive access to premium PlayStation Network features. * Activation will be done at Sharaf DG Stores
What is PlayStation Plus?
PlayStation Plus is a service that enhances your existing free PlayStation Network account. When you become a member of PlayStation Plus, you will have access to premium gaming features and special offers via PlayStation Store.
What does PlayStation Plus include?
PlayStation Plus includes premium gaming features such as Full Game Trials and Automatic Update, which allows you to automatically sync your trophies, receive the latest system software, download game updates and more. PlayStation Plus also includes PlayStation Store special offers, such as game downloads, discounts, early access to demos and beta trials and other exclusive goodies.
What are PlayStation Plus special offers?
PlayStation Plus games & special offers include PSN games, minis and PS one classics, game add-ons, premium avatars and dynamic themes to download each month. Members also get exclusive PlayStation Store discounts and early/exclusive access to selected demos and beta trials.
What is Full Game Trial?
Full Game Trial lets you download the full version of a game to play on a trial basis at no extra cost for a limited period of time. Your progress will be saved and the trophies you earn will be unlocked if you purchase the game after the trial period. The length of playable time and duration after download varies on a game-by-game basis and will be specified at the time of download.When the designated trial period has expired, the content is no longer available for play. To continue playing, select the full game and purchase it. Your progress from the Full Game Trial will be saved and any trophies you have earned during your trial will be unlocked after purchase.