RoyalFord 360 Degree Revolving Cake Stand 28 x 13 x 27cm
RoyalFord 360 Degree Revolving Cake Stand 28 x 13 x 27cm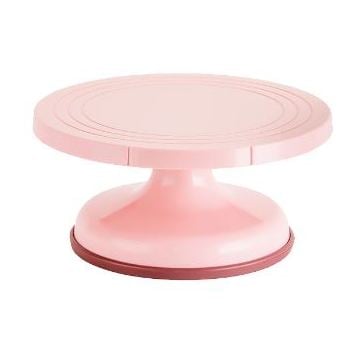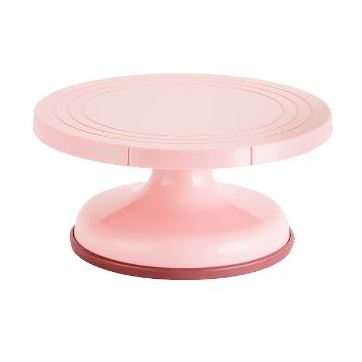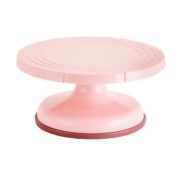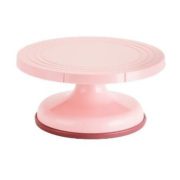 RoyalFord RFU9020 360 Degree Revolving Cake Stand 28 x 13 x 27cm
Smooth 360° Turning
Made from highly durable and extremely sturdy plastic, the spinning cake stand turns smoothly. It has a complete range of 360° rotation. You choose to rotate it either clockwise or anti-clockwise according to your convenience. It is suitable to be used by both left-handed and right-handed people.
Lock Function
The rotating platform easily locks into place for the lettering of delicate flowers. This way after leveling the cake you can lock it and then start on the delicate designing part. It gives you extra control and lets you design from any direction you like.
Non-slip Rubber Base
This cake turntable comes with a rubber ring attached to give the extra grip you need to work confidently. It helps keep the turntable in place and prevents it from falling off your kitchen counter.
The non-slip platform of the bottom makes cake turntable more stable and flexible.
Product Specifications
Plate Diameter: 26.5 cm
Base Diameter: 20.3 cm
Total Height: 12.7 cm
Eco-friendly, 100% Guaranteed Quality
The material used in the making is safe for health and is eco-friendly. It has no harmful effects and is BPA free. The plastic is sturdy and suitable for long-time usage.
Presentation
The cake turntable is designed to be simple and easy to use. It has a beautiful baby-pink color and smooth edge design. You can choose to either put the cake in another dish for presenting or simply decorate it nicely on the platform and display it as is. It saves your time and effort, and you also get to present your cake beautifully.
Features
SMOOTH 360° TURNING TABLE

– The mini cake turntable is ideal for designing homemade cakes with frosting. It allows a very smooth 360° rotation. It can be rotated clockwise and anti-clockwise. Two side rotation makes it suitable for use by both left and right-handers.

EVEN AND CONTROLLED SPINNING

– The turntable has ball bearings and does not keep spinning on its own. This way it does not ruin the design while you are making it. The stand stays in place and rotates only when you do it yourself.

LOCK FUNCTION

– The rotating platform can be easily locked into place while lettering of delicate flowers and decoration. You can level the cake and then secure the plate when it comes to the careful part. Increases efficiency and makes decoration super easy.

NON-SLIP RUBBER BASE, CUTE DESIGN

– The cake turntable has an attached rubber base, it gives extra grip so you can work confidently. The bottom is an entirely non-slip platform. It makes the turntable more flexible and stable. It also prevents the table from slipping down your counter. The table has a beautiful baby-pink color and smooth edge design. You can choose to simply decorate it nicely on the platform and present it as is.

ECO-FRIENDLY, SAFE FOR HEALTH

– The materials used for the making of this table are all BPA free and safe for placing food items on. The large 26.5cm diameter of the surface allows you to set up big cakes for bigger parties.
Physical
Dimensions
28 x 13 x 27 cm