RoyalFord 5pcs Nylon Kitchen Tools Set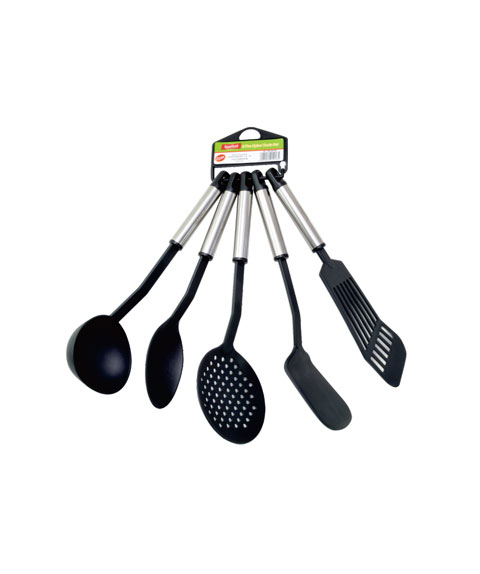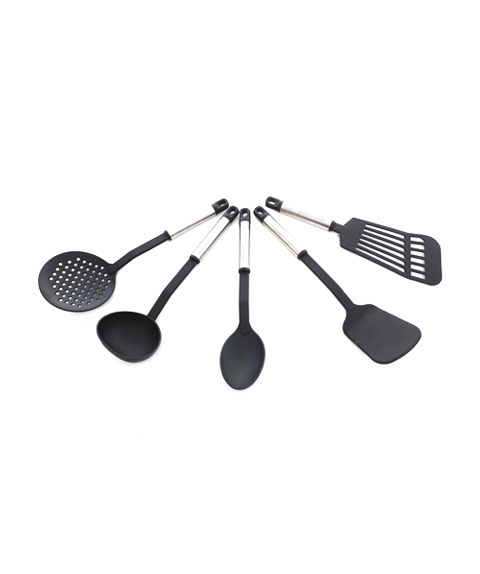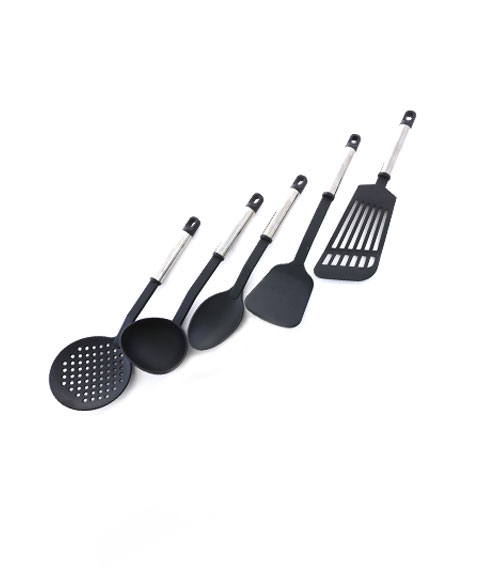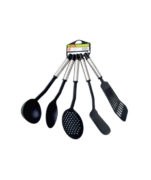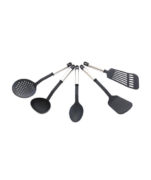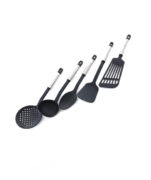 5 Piece Silicone Utensil Set – Kitchen Gadgets Set Includes Slotted Spatula, Solid Spoon, Pasta Spoon, Masher & Ladle
Unsurpassed and Unmatched Quality
This unique five piece kitchen utensil set is perfect for any kitchen setting. This quality set includes an all silicone slotted spatula, solid spoon, pasta spoon, masher, and ladle for all your cooking needs. Durable and professionally made, this kitchen utensil set is unparalleled by any other set on the market.
Crafted For Extensive Use
Each expertly crafted with a nylon core, these utensils promise to be resistant to wear in the kitchen and last for years to come. Having this utensil set in your home will making your cooking experiences immensely more enjoyable and efficient.
Simple Design
Visually, these utensils have a distinct minimalistic style of a black and silver chromatic scheme. This refined choice of style allows for this set to easily match any kitchen area design and not disturb the aesthetic of a room. Aside from its visual pros, these utensils are also designed to be simplistic and easy to handle. Each tool is crafted with silicone material for comfort and effortless usage and also includes a hanging hook. This hook gives the user the ability to simply hang the utensils up when not in use and easily find them once again when needed, because they are not lost and jumbled within a drawer of other utensils.
General
Type
Kitchen Tools
Features
5pcs Nylon Kitchen Tools Set| Premium Quality Product
Additional Features
SILICONE BUILD - Skillfully crafted with defined silicone, these kitchen utensils offer comfortable handling and efficient results.
NYLON CORE - Made with industrious nylon cores, this utensil set is capable of withstanding high amounts of heat for long lasting use.
EASY STORAGE - Each utensil is made with a loop included at the bottom to allow for easy storage. Simply hang on a hook to create more space in the kitchen and let the utensil be easier to find when wanting to reuse.
SIMPLISTIC - With a refined style of classic black and silver color scheme, this utensil set is appropriate for all kitchen styles and sets.
KITCHEN ESSENTIALS - This five piece kitchen set includes every essential tool one would need in the kitchen including a slotted spatula, solid spoon, pasta spoon, masher & ladle. Make sure to always have everything you need when working in the kitchen!