Sound BlasterX Katana Multi-channel Gaming Soundbar
Sound BlasterX Katana Multi-channel Gaming Soundbar
Key Information
Type:

Soundbar

Number of Channels:

2.1 Channel

2.1,3.1,5.1,7.1 channel indicates (the number of speakers + Amplifier) which means number of speakers and Amplifier that can be connected with the home theater

USB:

Yes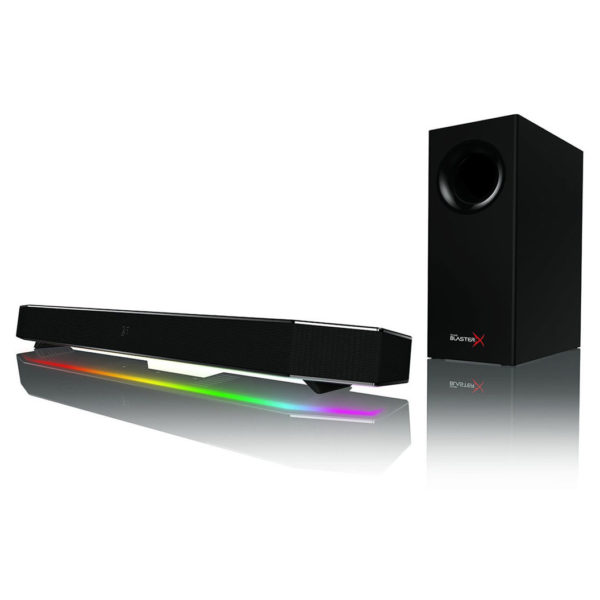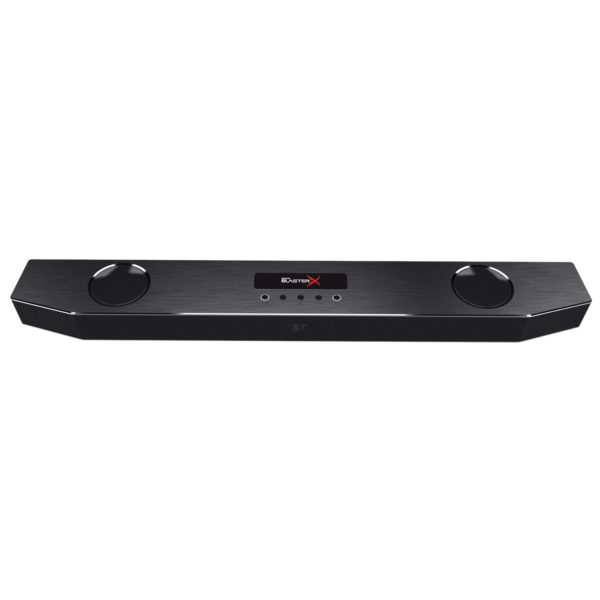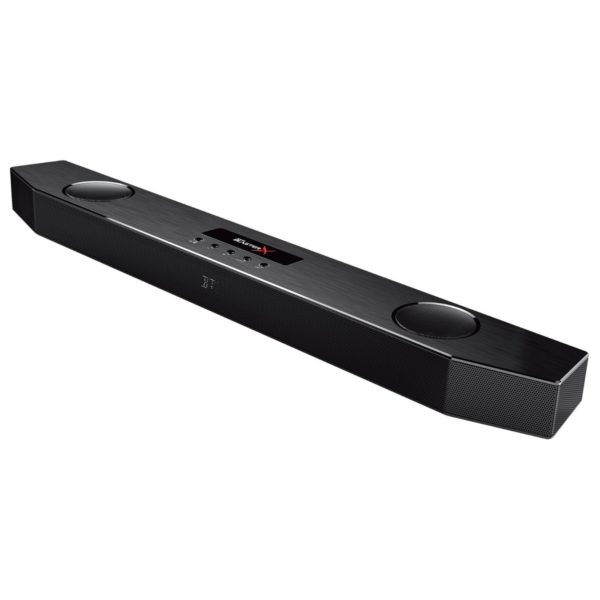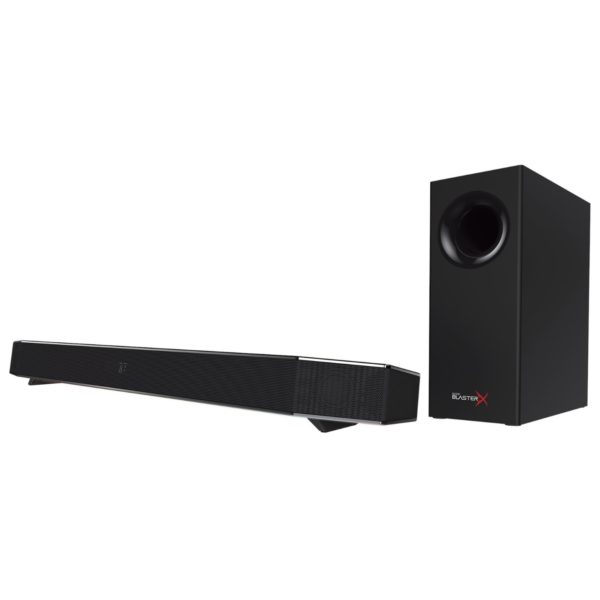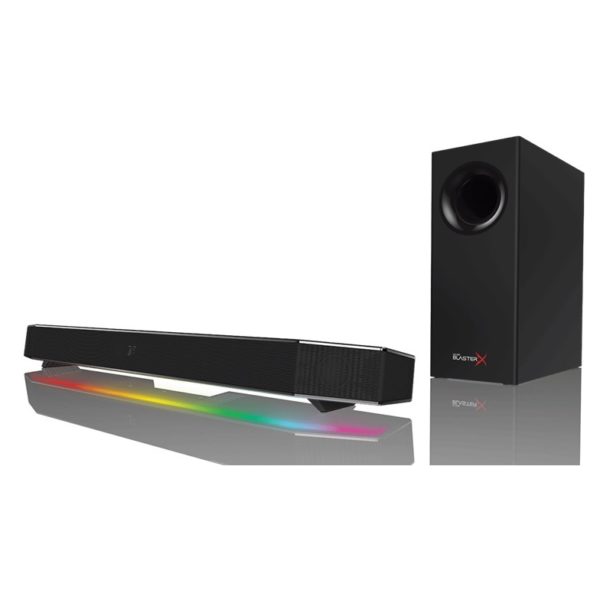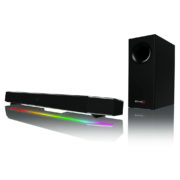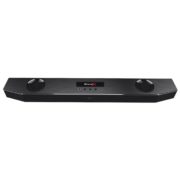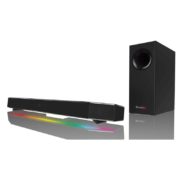 Named after the sword so technologically perfect in structure and so demanding in its creation, the Sound BlasterX Katana exhibits the same sleek sophistication and formidable strength in its design and audio prowess. In a league of its own, the Katana fits right under your monitor with a slimness that's unmatched by other so-called gaming "sound bars", and is powered and enhanced by our award winning multi-core audio DSP making it the world's first true Under Monitor Audio System (UMAS). In addition, the Sound BlasterX features the Aurora Reactive lighting system, a series of 49 programmable LED lights lined from edge to edge of the Katana chassis, making it the perfect addition to fully optimize and customize your PC and desktop setup.
Under Monitor Audio System: So Sleek, Yet So Powerful
The Katana can be effortlessly tucked right under your monitors and TV. With a slim profile shorter than 60mm, this Under Monitor Audio System is drastically superior in form and function to ordinary "gaming soundbars" and is perfect for all setups, especially multi-monitor PC and/or console gaming rigs.
Aurora Reactive Lighting System: Light Up Your Setup
The Katana incorporates the Aurora Reactive lighting system, where its base is lined with 49 programmable LED lights from edge to edge. Just like each unique hamon of the Japanese sword, the Aurora Reactive lighting system comes in 16.8 million colours for you to customize your ambience lighting effects to create your own unique profile that elevates your gaming and movie experience.
5-driver Design: Expertly Tuned Acoustics
The Katana houses a 5-driver design – two up-firing midbass drivers and two high-excursion tweeters in the soundbar, and one long-throw driver in its subwoofer.
Each driver is individually chambered and powered by a DSP-controlled amplifier to deliver ultra-precise audio.
5.25″ (133mm) Subwoofer Driver
The long-throw subwoofer features a super stiff paper cone and low loss surround for clean, detailed, chest-thumping bass. The driver is housed in a CARB-compliant MDF cabinet with flared port tube for laminar air flow and increased output. Experience the Katana to hear its powerful bass that reverberate through your bones.
Tri-Amplified Design: Put the Cutting Edge in Audio
The Katana utilizes a game-changing tri-amplified design with a total output of 75RMS/150W Peak Power to deliver room-filling audio, with uncompromisingly clear, high-definition, well-balanced audio and deep resonating bass. With the tri-amplified design, the amplifiers are controlled by our proprietary multi-core Digital Signal Processor (DSP) – two dedicated to driving mids, another two dedicated to deliver the high frequencies, and one dedicated to churn out heart-thumping bass. From traversing through ravines to bullet-fast evasive maneuvers, you can hear all the details that other speakers fail to deliver.
High Resolution 24-bit Audio: Immerse Yourself in Your Games and Movies
In addition to powering the tri-amplified design, the Katana features our award winning proprietary multi-core DSP that is capable of producing 24-bit high-resolution audio for lossless, crystal-clear and impressive room-filling sound. It is also a certified Dolby Digital decoder, providing incredibly realistic virtual 5.1 surround sound.
Immersive 3D PC Gaming Audio
The Katana doubles as a sound card which supports Virtual 7.1 channel1 audio input signals to deliver realistic gaming effects and audio cues with near-perfect accuracy and positioning when you hook it up via USB.
Comprehensive Connectivity Options
#SetupGoals are now achievable with the Katana. Comes equipped with comprehensive connectivity connections, the Katana is versatile and compatible with many multimedia devices.
When connected via optical-in, the Dolby Digital certified Katana delivers realistic virtual 5.1 surround sound, giving you the most of your console gaming and movie nights.
Crystal Clear USB Audio for Sony® PS4™, PS4 Pro, and PS4 Slim
Enjoy cinematic audio performance on the Sony® PS4™, PS4 Pro, and PS4 Slim via USB! Beyond powerful audio performance, in-game communication is also enhanced with a full suite of noise-reduction and voice morphing technologies made possible by the Katana's built-in advanced Sound Blaster processor.
The Katana supports Bluetooth v4.2 that gives you a connecting range of up to 10 meters, so you can enjoy all the convenience for great wireless audio.
Perfect for Late Night Games
You don't have to wake up the entire house to be a late night gamer. With the headphone jack and microphone inputs, the Katana works with most headphones and headsets, so you can conveniently put your best game forward, even when everyone else is in their deep slumber.
Main
Brand
Creative
Color
Black
Features
Features
Perfect for Late Night Games | Optical-in | Immersive 3D PC Gaming Audio
Connecitivity
Interfaces
Bluetooth, AUX-in, USB Flash Drive, Headset out, USB Audio, Mic-in, Optical-in
USB
Yes
Bluetooth
4.2 Version
Optical Input
Yes
Aux Input
Yes
Speaker
Driver Size
Soundbar: 2 x 34 mm
Tweeters, 2 x 2.5 Inches
1 x 5.25 Inches
Driver Design
Tri-Amplified
Sound
Number of Channels
2.1 Channel
Digital Amplifier
Yes
Physical
Dimensions (Main Unit) (HxWxD)
60.0 x 600.0 x 79.0 mm
Weight (Main Unit)
1.5 kg
Dimensions (Subwoofer) (HxWxD)
333 x 130 x 299 mm
Weight (Subwoofer)
4 kg