Spigen GLAStR Align Master designed for iPhone 14 PRO Screen Protector (2022) Premium Tempered Glass – Full Cover [2 PACK]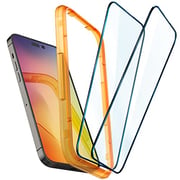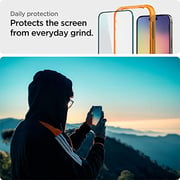 Spigen
Spigen GLAStR Align Master designed for iPhone 14 PRO Screen Protector (2022) Premium Tempered Glass – Full Cover [2 PACK]
Offer details
CasePro is an Authorized Spigen Reseller. Buy from Authorized reseller to ensure Original Spigen.
+ AED 13.00 Shipping
Delivery 04 Oct - 05 Oct
Secure Transaction
Details
Want it perfect ? Easy & Guaranteed Glass alignment with ALIGN Master powered by Auto Align Technology Now 2 pack includes 2 pcs GlastR screen protectors Spigen GLAStR ALIGNmaster Full Cover for Apple iPhone 14 PRO is specially made with reinforced scratch resistant Tempered Glass & offers nearly Full coverage of the front screen with a black border frame that mimics original iPhone 14 PRO design. The Protector is manufactured a fraction smaller leaving just enough room on the edges to allow installation of most covers without problem as long as the case / cover is not touching / pushing up the protector. With 9H hardness rating, ROUNDED EDGES, the GLAStR provides premium protection, perfect Clarity and absolutely NO LOSS in Touch Screen Sensitivity (Feels like touching original screen). Compatible with : Apple iPhone 14 PRO Note: NOT compatible with iPhone 14 Retail Pack includes: – 2 pcs GLAStR Full Cover Premium Tempered Glass Screen Protector – ALIGNmaster installer tray – Screen Cleaning Wipe – Dust Removal Sticker (To Remove/Pull dust from Screen Before installation) – Microfiber Cloth Features: – ALIGNmaster : an innovative, auto-alignment installation tray for effortless application – Surface hardness : 9H rated for ultimate scratch protection – Oleophobic Coating : Prevents contaminants. Easy to clean. – Installation tip: Dust particle on screen can cause tiny bubble. To avoid this, BEFORE fixing protector, please make sure all dust particles on screen are removed via included Dust removal sticker Note: Only Compatible with iPhone 14 Pro (6.1 inch). This is NOT compatible with iPhone 14 (6.1 inch), iPhone 14 Plus (6.7 inch) and iPhone 14 Pro Max (6.7 inch)
You might want to check these..
S200784724