Spigen GLAStR EZ-Fit Optik PRO Camera Lens Screen Protector designed for iPhone 14 PRO and iPhone 14 Pro MAX (2022) – Black [2 Pack]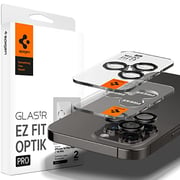 Spigen
Spigen GLAStR EZ-Fit Optik PRO Camera Lens Screen Protector designed for iPhone 14 PRO and iPhone 14 Pro MAX (2022) – Black [2 Pack]
Offer details
CasePro is an Authorized Spigen Reseller. Buy from Authorized reseller to ensure Original Spigen.
FREE Shipping
Delivery 02 Dec - 03 Dec
Secure Transaction
Details
No matter what angle, maintain good optics.
Spigen GLAStR Optik PRO Camera Lens Protector [2 Pack] for Apple iPhone 14 Pro MAX (6.7 inch) and iPhone 14 PRO (6.1 inch) keeps things looking clean and your camera lens protected from all angles with 9H Tempered Glass. Get the precise fit you've always wanted. Use the EZ fit tray to align it directly on your lens and press down for a picture-perfect fit. We got you.
Compatible with : Apple iPhone 14 Pro MAX (6.7 inch)
Compatible with : Apple iPhone 14 PRO (6.1 inch)
Retail Pack includes:
– 2 sets – Camera Lens Protectors
Color: BLACK
Features:
– Premium Tempered Glass with 9H Hardness rating for extra scratch protection
– EZ-FIT tray included for precise and easy installation
– Individual Lens Protectors. 3 separate Lens Protectors in each set to maintain look of Original Camera design
– Same Original Quality Photos. No blemishes or flash reflection. Just the same original quality
– Case-friendly cutout stays compatible with all Spigen cases
Note: Only Compatible with iPhone 14 Pro MAX (6.7 inch) and iPhone 14 PRO (6.1 inch). This is NOT compatible with iPhone 14 Plus (6.7 inch) and iPhone 14 (6.1 inch)