TP-Link MR400 ArcherAC1350 Wireless Dual Band 4G LTE Router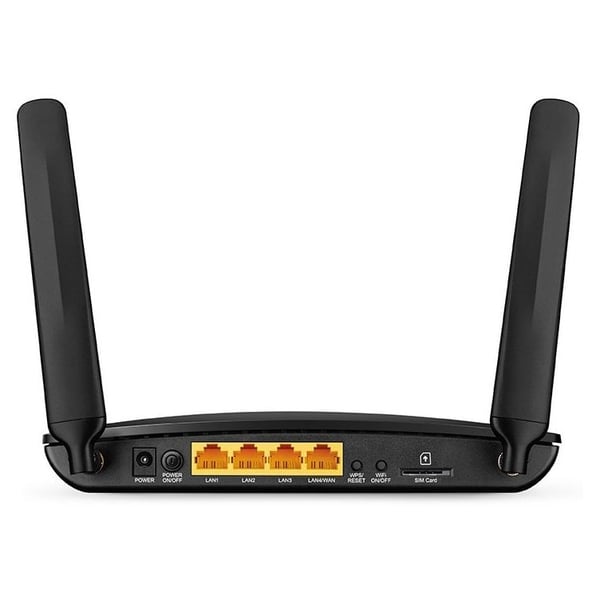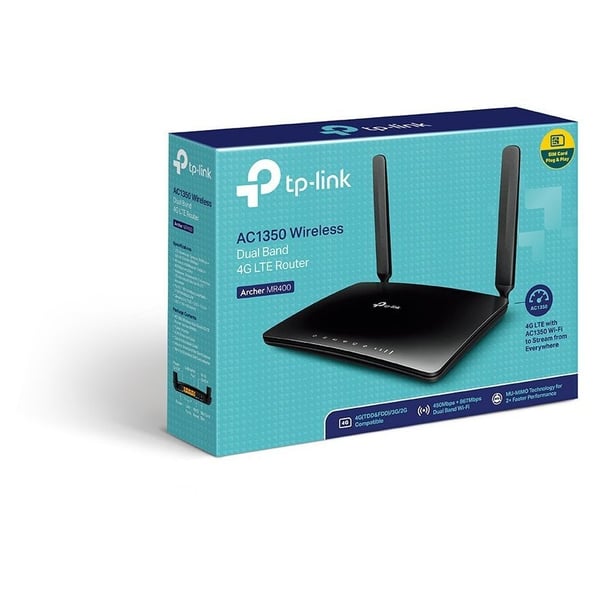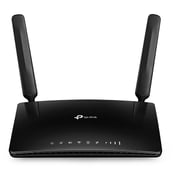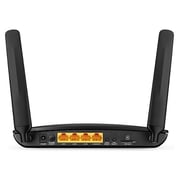 TPLink
TP-Link MR400 ArcherAC1350 Wireless Dual Band 4G LTE Router
+ AED 13.00 Shipping
Delivery 03 Oct - 04 Oct
Secure Transaction
Key Information
Type:

Router

It is the rate of radio signal to send and receive communication signal. Common frequencies are 2.4 Ghz and 5 Ghz.5GHz provides faster data rates at a shorter distance. 2.4GHz offers coverage for longer distances, but may perform at slower speeds

Frequency band:

2.4GHz and 5GHz

Input/Output Terminals:

3 10/100Mbps LAN Ports, 1 10/100Mbps LAN/WAN Port, 1 SIM Card Slot

Color:

Black
Details
Archer MR400 AC1350 Wireless Dual Band 4G LTE Router Shares your 4G LTE network with multiple Wi-Fi devices and enjoy download speeds of up to 150MbpsPowerful, integrated antennas provide stable wireless connections and better coverageRequires no configuration, just insert a SIM card and turn it on to enjoy a fast wireless connectionCreates simultaneous dual band Wi-Fi networks, with maximum speeds of up to 450Mbps on the 2.4GHz band and 867Mbps on the 5GHz bandOffers options and flexibility with the LAN/WAN port, allowing you to choose your connection type
Share Your 4G LTE Network
Take full advantage of your cutting-edge 4G LTE networkwith the Archer MR400, which can achieve download speeds of up to 150Mbps. TheArcher MR400 allows you to share your 4G LTE network with multiple Wi-Fidevices so you can enjoy uninterrupted HD movies, rapid file downloads, andvideo chats that won't freeze up.
Great Coverage and Dual Band Wi-Fi
The 4G LTE router creates a simultaneous dual band Wi-Finetwork that can deliver data at speeds of up to 1350Mbps. The two distinctwireless networks, utilizing the 2.4GHz and 5GHz bands, provide optimizedperformance and minimize signal interference. The incorporation of advancedantennas and the latest wireless technology allows you to enjoy stableconnections and incredible coverage.
No Configuration Required
With an integrated 4G LTE modem and a built-in SIM cardslot, all you need to do insert a SIM card and turn on the Archer MR400. Enjoyingfast, stable Wi-Fi on a 4G LTE network has never been easier.
Wi-Fi Where You Need It
The Archer MR400 offers unmatched convenience andversatility. The ability to quickly establish powerful wireless networks can betremendously important. The Archer MR400 is the perfect solution whether you'reat home or working in a remote location. Just plug it in to boost on-siteproductivity and stay connected in a diverse range of environments. From theexhibition center to the RV, the Archer MR400 has you covered.
Available WAN Connection
With the inclusion of the WAN/LAN port, the Archer MR400can also support a wide variety of connection types, including cable, fiber,and DSL modems.