TP-Link RE500 AC1900 Universal Wi FI Range Extender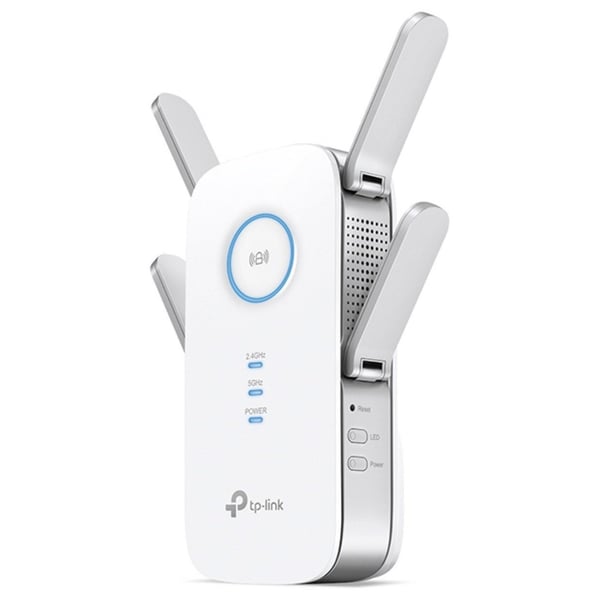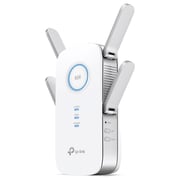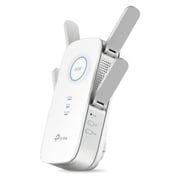 TPLink
TP-Link RE500 AC1900 Universal Wi FI Range Extender
FREE Shipping over AED 500 from seller
Delivery 08 Oct - 09 Oct
Secure Transaction
Key Information
It is the rate of radio signal to send and receive communication signal. Common frequencies are 2.4 Ghz and 5 Ghz.5GHz provides faster data rates at a shorter distance. 2.4GHz offers coverage for longer distances, but may perform at slower speeds

Frequency band:

2.4GHz & 5GHz(11ac)

Operating Distance:

Up to 30 ft.

Type:

Range Extender

Input/Output Terminals:

Ethernet Port

You can connect multiple devices using wired ethernet cable in a local area network

Ethernet:

1 x 10/100/1000M Ethernet Port (RJ45)

Color:

White
Details
AC1900 Wi-Fi Range Extender RE500Superior Extended Range – Four fixed external antennas extend Wi-Fi coverage by up to 14,000 sq. ft.AC1900 Dual Band Wi-Fi – Simultaneous 600Mbps on 2.4GHz + 1300Mbps on 5GHz3×3 MU-MIMO – Simultaneously transfers data to multiple devices for 3x faster performanceBeamforming Technology – Send targeted Wi-Fi signal to individual devices for stronger connectionsGigabit Ethernet Port – Provide faster wired connections to smart TVs, computers and gaming consolesIntelligent Signal Light – Helps to determine the best location for optimal Wi-Fi coverage by indicating the signal strength in the current placementAP Mode – create a new Wi-Fi access point to enhance your wired network with Wi-Fi capabilityTP-Link Tether App – Easily access and manage your network using any iOS or Android mobile deviceUltimate Compatibility – Extend the range of any Wi-Fi router or wireless access point
AC1900 Dual-band Speed for Everyone Simultaneously
Running up to 3x faster than traditional AC rangeextenders, the RE500 uses 3×3 MU-MIMO technology to serve up to three devicesat once, reducing wait time and boosting Wi-Fi throughput for everydevice.

3-Stream technology helps reach maximum speeds of up to600Mbps on 2.4GHz and 1300Mbps on 5GHz, supporting your most demanding onlineactivities, including simultaneous 4K streaming and lag-free gaming.
Super-Fast Dual Band. Wi-Fi Extension Up to 14,000 Sq.Ft.
With four external dual band antennas, the RE500establishes a stable wireless connection to any Wi-Fi router to boost the network's coverageby up to 14,000 square feet.

Beamforming adds strength to the coverage by detectingthe location of devices and concentrating Wi-Fi towards them for targetedconnections.
880MHz

Dual-CoreCPU

4 Antennas
Compatible with

anyWi-Fi Router
Find the Best Spot with Intelligent Signal Indicator
The Intelligent Signal Light helps you quickly find thebest location to install the RE500.
Drop-Free, Seamless DualBand Connections
one of the main router's dual bands drops suddenly, or incase the main router can only deliver single band, the RE500 still providesstable dual-band connections, allowing you to enjoy stable and drop-freeexperience on all your devices.

Built-in Access Point Mode
The RE500 is more than a wireless range extender. Simplyplug an Ethernet cable into its Ethernet port and easily turn your wiredinternet connection into a 3×3 MU-MIMO dual band wireless access point.
Reliable Wired Connection
The RE500's Gigabit Ethernet port lets you connect awired device such as a game console or smart TV to create a fast, reliablewired connection.

Easy Monitoring and Control
TP-Link Tether is an intuitive app that let youconveniently monitor the state of your range extender, control its functionsand alter its settings from any compatible mobile device.