Vrs Design Damda Glide Pro Designed For Iphone 11 Case Cover Wallet [semi Automatic] Slider Credit Card Holder Slot [3-4 Cards] – Green Groove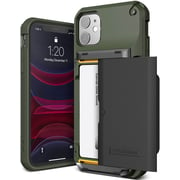 VRS Design
Vrs Design Damda Glide Pro Designed For Iphone 11 Case Cover Wallet [semi Automatic] Slider Credit Card Holder Slot [3-4 Cards] – Green Groove
Offer details
CasePro is the only Authorized VRS Design Reseller. Buy from Authorized reseller to ensure Original VRS Design product.
+ AED 13.00 Shipping
Delivery 06 Oct - 07 Oct
Secure Transaction
Details
VRS Design Damda Glide PRO Case for Apple iPhone 11 lets you access your cards in a flash via a Semi Automatic Sliding Back Compartment that can hold 3 to 4 cards or cash. The Damda Glide PRO allows checkout functionality by storing cards that cannot be digitized. The Worlds first Semi Automatic Sliding mechanism (US Patent 9,661,116 B1) allows you to open the sliding compartment with a single push. The spring hinge mechanism immediately responds with a push, allowing users to access their essentials without difficulty. The card compartment with a recessed slot makes it easy to lift your cards when you need them. The Damda Glide PRO is a Dual Layered case comprising of a Flexible Shock Absorbing TPU and a Polycarbonate Frame which offers drop protection. These impact resistant layers enable users to travel light while protecting their device. The edges of the TPU protrude to protect the Screen and camera from Scratches when laid down. The TPU buttons allow extra responsive feedback and protection while precise cut-outs create fully accessible ports. Compatible with : Apple iPhone 11 Retail Pack includes: – Damda Glide PRO Case Color: GREEN GROOVE FEATURES: – VRS Standard Drop Tested – Guaranteed drop protection. – Storage: Get easy access to your Credit Cards and IDs (Holds upto 3 to 4 Credit cards OR Cash) – Innovative Semi-Automatic Sliding Door function – Tactile buttons and precise cutouts provide quick access to ports and feedback – Edges of TPU protrude to protect screen when laid down Note: Only Compatible with iPhone 11 (6.1 inch). This is NOT compatible with iPhone 11 PRO (5.8 inch) / iPhone 11 Pro MAX (6.5 inch)
You might want to check these..
S200779115