Motorola's multi-year, multi-device collaboration with Intel has finally borne fruit! The Google-owned smartphone maker has announced its first Intel powered smartphone, the RAZR i at an event in London on Tuesday, September 18th.
Speeds of 2.0 GHz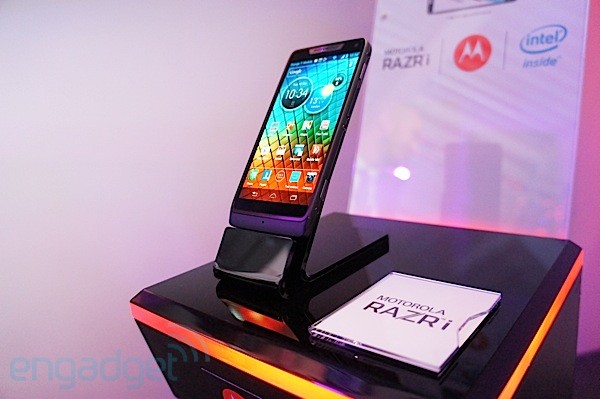 The RAZR i arrives running Android 4.0 Ice Cream Sandwich, with plans to upgrade to the latest version, Jelly Bean, next year. But, the real story here is that Intel's Atom processor powers the whole show – making the RAZR i the first smartphone to hit 2GHz. Users will be able to access all the major Google services on the handset, including the Google Play app store, Google Maps for Android, Voice Activation for tasks such as text messaging and directions, and the Google+ social network.
The smartphone also boasts of a 4.3-inch Super AMOLED Advanced edge-to-edge display with a 960 x 540 pixel resolution and is 8.3mm thick, weighs 126g and is powered by a 2000mAh battery, claiming up to 20 hours of mixed usage time.
Speaking of the design, the smartphone is crafted from diamond cut aircraft-grade aluminium with the now-familiar Kevlar back and is an absolute pleasure to hold. However, the highlight of the phone seems to be its 8MP camera which offers up to 10 shots a second and takes a mere second to start up. The device is also capable of 1080p HD video recording.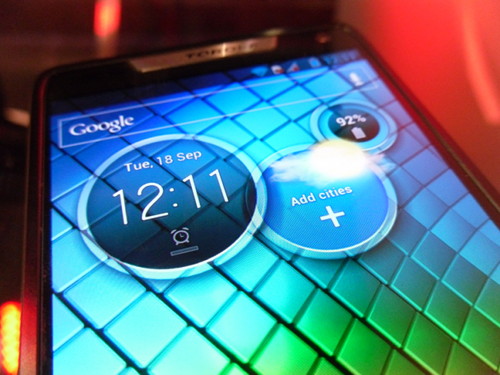 Cutting edge
The Motorola Razr i, which has been described as "pushing design to the edge", is also equipped with features such as the microSD card slot which goes up to 32GB, the front-facing camera which is a 0.3-MP, the phone weighs a mere 120g and it's only 8.3mm at its thinnest point. However, only 5GB of the 8GB storage is accessible by the users.
Alongside all the core Android functions, the phone comes with Circles on the homescreen, a new system that displays information in real-time such as the battery, date and message alerts, similarly to the Live Tiles in Microsoft's Windows Phone. Unlike the iPhone 5, the RAZR i does have Near Field Communications technology, meaning users can send contacts, web links, maps and images to other compatible NFC phones via Android Beam just with a 'tap'.
So which smartphone have you got your eyes set on? Will you be visiting our store to pick up the Motorola RAZR i or the Apple iPhone 5?