The Samsung Series 8 (UA55D8000) 3D LED TV is creating quite a buzz in the LED world. With a terrific picture quality, it poses to be the best choice to watch Full HD content. The LED Television is also heavy on features, coupled with an attractive design. Here's a detailed review of the LED TV that we found on PC World, which will give you a fair idea of this new technology offering in the market: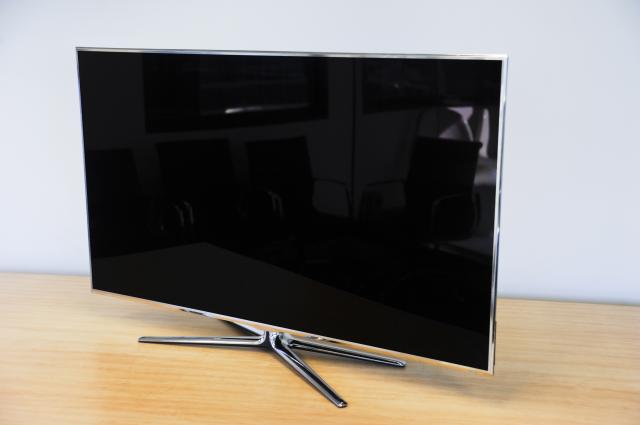 Samsung Series 8 3D LED TV Review: The Series 8 is Samsung's top-tier LED TV, with all the features of lesser TVs like the Series 7 and Series 6 as well as boosts to picture quality and video processing. If you can afford to pay for it it's an excellent TV with no crippling flaws — the few problems are mainly restricted to the TV's Web features. However, its Series 8 plasma rival has almost equal picture quality and offers larger screen sizes.
Design: The Series 8 looks just like its Series 8 plasma sibling, apart from a much thinner bezel around its 55in screen. The 5mm thick chromed bezel blends into the space behind the television, so in a dimly-lit room the Series 8's screen stands out. It's a very modern-looking TV — times have changed since chunky piano black LCD TVs dominated the market two years ago. The Loewe-esque four-legged stand is a feature we have liked on Samsung's TVs since 2010, so we're happy to see the trend continuing here.
At 29.7mm thick the Series 8 is a reasonably slim TV. It's not as stunning as the Series 9 LED TV from 2010, which was thinner than a pencil, but we think the Series 8 would look great mounted against a wall with Samsung's thin picture-frame wall mount.
The Samsung Series 8 is bundled with a novel remote control, which has a standard remote control layout on one side and a QWERTY tactile keyboard on the other. The QWERTY keyboard makes entering Web addresses or router passwords much easier than the traditional remote control keypad, and we like its inclusion even though we think it'll get minimal day-to-day use. We did have some trouble getting used to flipping it over when a text-friendly prompt came up, and we found we had to be within a few metres of the TV to use it.
Connectivity: Just like the Series 8 plasma, the Series 8 LED has four HDMI ports, a couple of USB 2.0 connectors, Ethernet, built-in Wi-Fi, digital audio out, VGA and break-out ports for component and composite video. The TV's active shutter 3D glasses sync up through an inbuilt infrared transmitter.
We don't think there's anything major missing here, but a couple more USB 2.0 ports on the Samsung Series 8 would be nice — then you could attach a USB hard drive permanently to the TV to store a music or movie library.
Features: If you get hung up on what extra features you get with your high-end TV, Samsung's got you covered. The Series 8 has, by our reckoning, the best Web features of any TV on the market at the moment. Sony's Internet TV beats out the Samsung setup in the sheer number of video services on offer, though.
The iOS-like grid layout of Samsung's Smart Hub is easy to navigate, and Samsung's App Store equivalent lets you pick and choose what services you want your TV to access. Like any marketplace there are bad eggs (Twitter and Facebook are much easier to use on a real PC) and good ones (Google Maps is fun on a big screen, and BigPond Movies on Demand is convenient), but the freedom to add or remove apps is excellent — if this 'smart TV' trend continues, we think it's something all manufacuters should do.
The Series 8 is one of only a few Samsung TVs with a built-in Web browser. Used in conjunction with the QWERTY remote, it's serviceable enough if you're too slothful to get up off the couch and go to a computer. It also supports a variety of rich Internet protocols like HTML5 and Flash, so you're not going to have a gimped browsing experience. Microsoft's Silverlight protocol is missing but we didn't find this an issue. At the end of the day, you're still going to get a better Web browser in a PC.
Picture quality
Samsung's high-end TVs have always impressed us with their excellent detail and colour, especially the LED models and especially when displaying High Definition content. The Series 8 LED TV continues that trend and takes it slightly further than last year's Series 7. The changes aren't mind-blowing, but we didn't expect them to be considering Samsung was working from such a high quality template.
The Series 8 is the only LED model in Samsung's 2011 LED TV range to feature local dimming, where the TV's LED edge-lights can dim individually to control the brightness in different areas of the screen. This theoretically allows deep blacks alongside bright whites and while it doesn't have the same pin-point lighting accuracy as a plasma TV, the system works well. It's only a problem when there are small areas of bright white light against a dark background, like rolling movie credits.
After running through Terminator: Salvation and The Dark Knight a few times and adjusting the TV's settings from the Cinema preset (it's the best preset, but you can still make it look better by lowering the brightness to suit your room and dropping sharpness slightly), we were consistently impressed with the picture quality and detail that the Samsung Series 8's 55in panel displayed. It's the most detailed TV we've seen when viewing Full HD video — Blu-rays look excellent.
Standard definition up-scaling of DVD and YouTube and other low resolution content is reasonable, but it's not as clean or as sharp as the pictures we saw from the Sony BRAVIA HX820. This means that day-to-day digital TV looks marginally better on the Sony than the Samsung.
The one fault we could find with the Samsung Series 8's picture quality was some bloom in the lower left and right corners of the screen on a black background — patches of extra brightness where the TV's LED edge-lighting sits. We've seen this before on edge-lit LED TVs of all brands and all sizes, so it's not an issue confined to this particular TV. If you want to avoid it, buy a plasma.
3D viewing is, to our eyes, marginally improved from last year's TVs. There's less cross-talk, where each eye sees a slight double-edge on 3D surfaces, and the effect seems to be stronger overall — perhaps a function of Samsung's newer, lighter, brighter 3D glasses. We played through Cloudy With A Chance Of Meatballs and some ocean documentaries and found the 3D effect to be generally acceptable. We've never experienced nausea while watching 3D TV and the Samsung Series 8 didn't start our stomachs churning.
Visit our store for more information or log on to www.sharafdg.com to buy online.