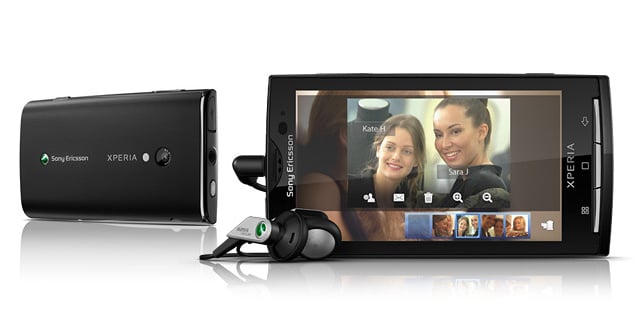 Sony Ericsson Xperia X10 has got all that goes into making a true classic – a whopping 4.3-inch screen with an impressive display, a 1GHz Snapdragon processor and it's a rocking Android with a cool overlay. It's got a sharp, angular design and minimal buttons and looks very sophisticated. The back of the phone is slightly curved, and thus, easily fits in the grip of your palm. The home screen uses the generic Android display, albeit with a slightly tweaked UI, with everything given a kind of futuristic 'sheen' by Sony Ericsson that looks impressive. And if that is not enough, here's a quick exploration of this smart gizmo, done by GSMarena.
The Specs
Quad-band GSM and tri-band 3G support
7.2 Mbps HSDPA and 2 Mbps HSUPA support
4″ capacitive touchscreen of WVGA (480 x 854 pixel) resolution and scratch-resistant surface
16M-color ready (65K effective colors under Android OS v1.6)
Android OS v1.6 with complete Sony Ericsson UI customization
Timescape and Mediascape UI
Excellent social networking integration
Excellent build quality
Qualcomm QSD8250 Snapdragon 1 GHz CPU, OpenGL ES 2.0 support; 384 MB of RAM
8 MP autofocus camera with LED flash, touch focus, image stabilization, geotagging, face and smile detection
WVGA (800 x 480 pixels) video recording @ 30fps
Wi-Fi and GPS with A-GPS
1GB storage, microSD slot, bundled with an 8GB card
Accelerometer and proximity sensor
Standard 3.5 mm audio jack
microUSB port (charging) and stereo Bluetooth v2.1
Document viewer
Li-Po 1500 mAh (BST-41) battery
Great audio quality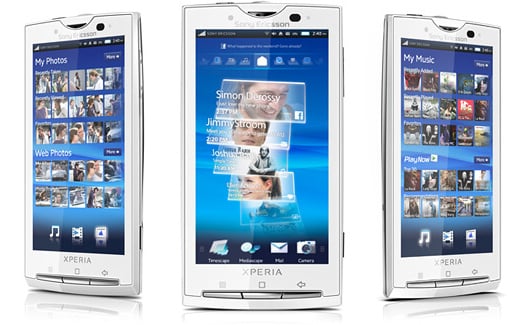 The Review: Sony Ericsson have been working on the X10 for quite a long time, taking the utmost care to make sure its software offers the best user experience possible. They wanted their first droid to be perfect and perfection requires time. That's right – the XPERIA X10 is the first Android to roll off the Sony Ericsson assembly line, hard as it might be to believe. But it certainly is not the kind of the phone to quietly disappear in the crowd of first-generation droids.
The popularity of Google's mobile OS is reaching unprecedented levels and the handsets adopting Android grow in number every day. And while Microsoft will try to unify their Windows Phone 7 and limit customization, Google favor the opposite approach.
Sony Ericsson immediately took on board the possibilities offered by customization and really ran with it. Their blue-themed interpretation breathes new life into the familiar Android OS and tries to give the user a whole new experience. But they didn't stop there. The unique Timescape and Mediascape interfaces are supposed to give the XPERIA X10 a much-needed edge in the high-end class. Trying to compete with the HTC Sense is a tough job, but Sony Ericsson have managed to offer something completely different – giving media and communications a central place in their UI. XPERIA X10 comes with top-notch hardware to meet its software demands. Here is the impressive specs sheet along with some potential drawbacks.
Most of the XPERIA weaknesses are hardly deal breakers and most people could live with them. Sony Ericsson have done enough though to reassure everyone that the XPERIA X10 will be on a par with its Android rivals at the time of release. Don't underestimate the amount of hard work put into the X10 during the long manufacturing process. The delay was definitely worth it.
What do you think? If you have already experienced this phone, we'd love you to write your review here, give us your feedback or comments on your experience with the phone!
And, if you still haven't experienced it, but want to get this smart phone right into your pocket from the stores, just visit www.sharafdg.com and shop online!