With digital music firmly establishing its presence and also growing at a stupendous rate, the mantra is to fully appreciate and enjoy beautiful sound as it was intended by the studios. Hence, headphones have become a necessity these days, and also a unique way of expressing style and attitude. Whether you're out and about listening to your MP3 player or rocking out at home to your high-end stereo, your choice of headphones is critical.
Keeping this in mind, Sharaf DG hosted a headphones festival at our Deira City Centre showroom on Thursday, July 19th, 2012. The first ever headphones festival held in the UAE was part of our "Stop & Listen" campaign. To promote this campaign we set up "experience zones" in our showrooms where customers were able to experience an assortment of blends of sound, colour, quality and technology from a wide a variety of headphones such as AKG, Sennheiser, Sol Republic, Urbanears, Skullcandy, Sony, Philips, Marshall Headphones, etc.
Silent Disco!
As part of the celebrations held at our Deira City Centre showroom, RJ Big O from Virgin Radio enthralled crowds with fun games and exciting freebies. One of the contests held in store was called "Silent Disco" where participants were made to wear headphones and were given instructions on them. It was quite fun to watch the contestants do the "Macarena", party like rockstars and dance around like chickens. The contest became quite a hit among the customers and a second round was conducted on popular demand. In total, eight headphones from Sennheiser and Skullcandy were given away to the best participants of the "Silent Disco".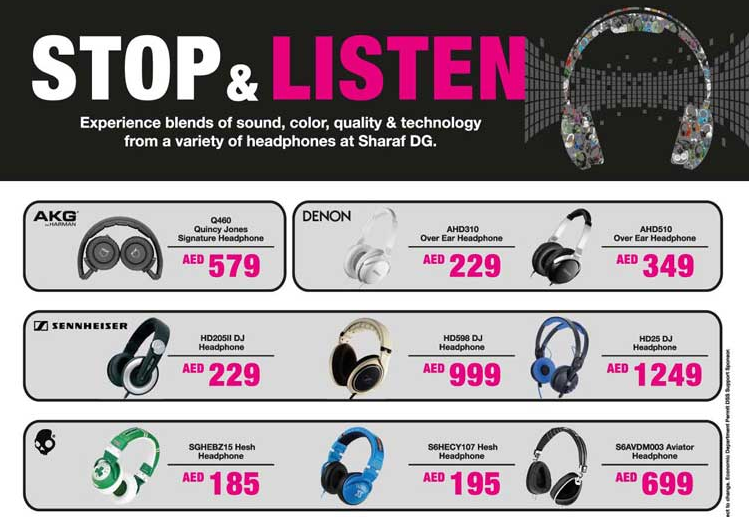 Now that the age of the digital audiophile – someone who demands the highest quality sound reproduction – is upon us, it's time to invest in a pair of headphones which deliver the perfect listening experience. Do visit any of our showrooms to check out the vast range of high-performing and superior quality headphones we have on offer. Purchase one today and make a statement both aesthetically and audibly! Simply said, wear them loud and proud.