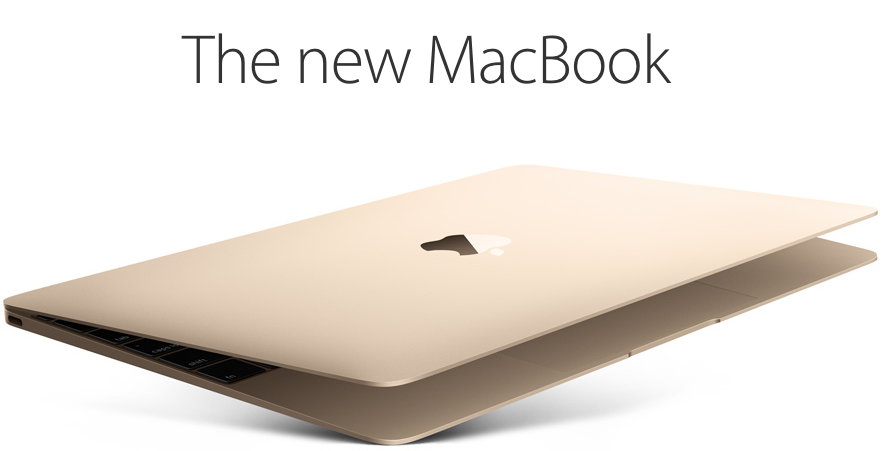 Apple announced their new MacBook earlier this month and said they set out to do the impossible: engineer a full-size experience into the lightest and most compact Mac notebook ever.
Apple CEO Tim Cook says that it is "the most extreme and efficient notebook we have ever created." The new MacBook weighs just 921grams despite having a bigger screen than the 11-inch MacBook Air. It is only 13.1mm thin at its thickest point, which is also 24% thinner than the 11-inch MacBook Air. It comes with gorgeous 12‑inch Retina display with edge-to-edge glass, making this the first ultra-thin MacBook to sport a Retina display. Over 3 million pixels render each letter with crystal clarity.
The new machine also has an all-new keyboard. Apple claims to have completely re-thought how a keyboard is constructed & engineered to make it work in the fraction of the space without compromising on utility and comfort. The result is a keyboard which is 40% thinner than the old style, but the key caps themselves are 17% larger. Each key has its own backlight instead of a general set of LEDs lighting up the whole keyboard. This makes for a more even application of light across the keyboard.
While Apple's track-pads were already the industry-standard, they have pushed the envelope even further with the Force Touch. While it is the same glass material, it has now become pressure sensitive. The Force Touch track-pad is engineered to deliver a responsive, uniform click no matter where you press the surface.  Force clicks enable new capabilities, like quickly looking up the definition of a word or previewing a file just by clicking and continuing to press on the track-pad.
The new MacBook has been engineered from the ground up for silent, efficient performance. It's sporting a fifth-generation Intel Core M processor that runs on just 5 watts of power(compared to other processors currently on the market, 5 watts is incredibly low), made even more efficient by optimizations throughout OS X Yosemite. Together the processor and OS X use so little energy that the system generates very little heat, so no fan is required to cool the computer. Hence, on the inside the new MacBook is rocking a fan-less design, which is the first MacBook ever to do that. What this means is that you won't hear a thing when your MacBook is working. Apple also says that you'll be able to enjoy 9 hours of web browsing without having to charge it again.
This is the first time in recent memory that Apple has sold a MacBook in multiple colors. It will come in the gorgeous colours of silver, space gray and gold.
Complete specs include a 1.1GHz Intel Core M processor, 8GB of memory, 256GB of flash storage and Intel HD Graphics 5300. As for ports, the new MacBook only has a headphone jack and one Type-C connector, which supports USB, DisplayPort, HDMI and VGA. Plugging in multiple things to your new MacBook would require an adapter.
The new MacBook will release on April 10, 2015.