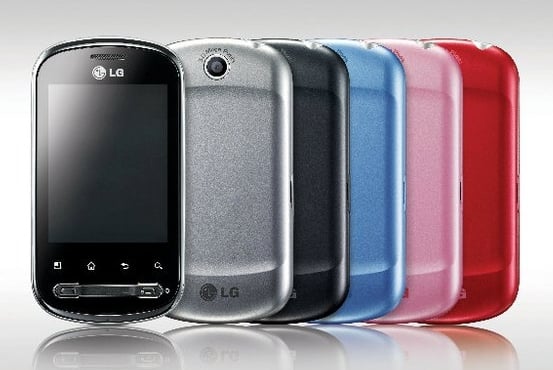 The Optimus Me P350 feels like a successor to LG's Optimus One P500, offering similar specifications and software for around the same price, with slight improvements and changes here and there.
The first thing that impresses you in a ME is its lightweight. At around 130g, it is quite a petite phone to hang around with!
The design is interesting with a predominately black front, and a silver accent running around the rim. The battery cover is rounded, with a slightly rubberized texture, which helps you get a better grip at the handset. A metallic covering at the back of the phone lends it a very premium look and feel.
It has a 2.8-inch, capacitive touch screen. Beneath the screen, the four Android action icons are located, which are also touch sensitive, while the call and call-end functions are operated by a rocker.
Optimus Me runs on Android 2.2 Froyo. LG has made some subtle changes to the Android operating system, with altered menus, exclusive widgets and timesaving enhancements. What's really useful is the bank of toggle buttons that appear when you drag down the notifications bar. These allow you to quickly control elements such as wireless connectivity, Bluetooth and GPS functionality.
The phone has a 3-megapixel camera that offers good clicks and standard-definition VGA video recordings. The phone runs on a 1,250mAh battery, which can comfortably keep up with one whole day's work.
Overall, the LG Optimus Me P350 is a great budget-buy for those who want to get on to Android, with an attractive design and a hand full of features.
Visit our store for more information or log on to www.sharafdg.com to buy online.