At a Glance: The thinnest and fastest BlackBerry to date.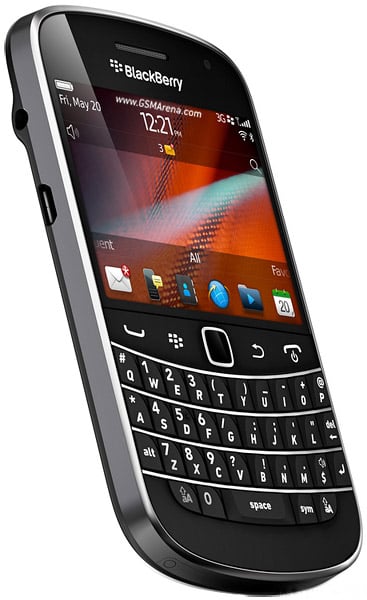 A modern smartphone with a 1.2 GHz ARM processor and 768MB of RAM, this new phone by BlackBerry is only 10.5mm thick, with a stainless steel frame and an attractive glass weave battery cover. The smartphone is a hybrid device, boasting both a 640×480 pixel capacitive touch screen, which is higher than the previous Blackberrys. The screen is great for watching videos, with clear blacks and vibrant colors.
BB 9900 also has 8GB of flash storage (expandable with up to 32GB of microSD cards). There are plenty of radios, too, with support, for tri-band HSPA + high-speed data, and for quad-band GSM/EDGE connectivity, as well as dual-band WiFi (2.4 GHz 802.11 b/g/n and 5 GHz 802.11 a/n) and Bluetooth 2.1.
The smartphone has a good, fast, browser, which shows full desktop versions of web pages. It also has support for HTML 5 canvas and video, as well as bleeding edge technologies like websockets and webworkers. It has NFC support, which enables you to pair the BlackBerry Bold 9900 to read information, such as a web link from smart tags by simply tapping the BlackBerry to an NFC tag. Other interesting features include voice activated search facility, HD video recording and real time chats with BBM.
BlackBerry 7 also supports the new BlackBerry ID, using it as a single sign-on for Twitter and Facebook, as well as managing applications in App World.
Physically, the phone is light and responsive. The keyboard is extremely comfortable, and the touch screen is smooth and easy to operate. The new Liquid Graphics GPU-accelerated user interface works well, with smooth animations and fast transitions. There are also no rendering delays while scrolling through documents, and zooming in and out of a PDF has also been made easy with the pinch-zoom facility.
If you've used BlackBerry 6, you'll find the look-and-feel of BlackBerry 7 to be very familiar. There are, of course, some changes such as brighter and more colorful icons, and the ability to customize the panes of the front screen. Overall it's a fast, powerful and light smartphone, with a hybrid keyboard/touch user interface that will suit all types of user.
Visit our store for more information or log on to www.sharafdg.com to buy online.