Asko Built In Combination Steam Oven OCS8478G
+ AED 13.00 Shipping
As low as AED 399.00 per month.
Key Information
Energy input:

Electric

Works using electrical energy

Oven Capacity:

50 Litres

For 4 to 6 members in a family, ideal capacity required is 32 Litres and above

Built In / Free Standing:

Built In

Dimensions (H x W x D):

455 x 595 x 546 mm

Color:

Black

Installation: Not Included
Warranty: 5 Years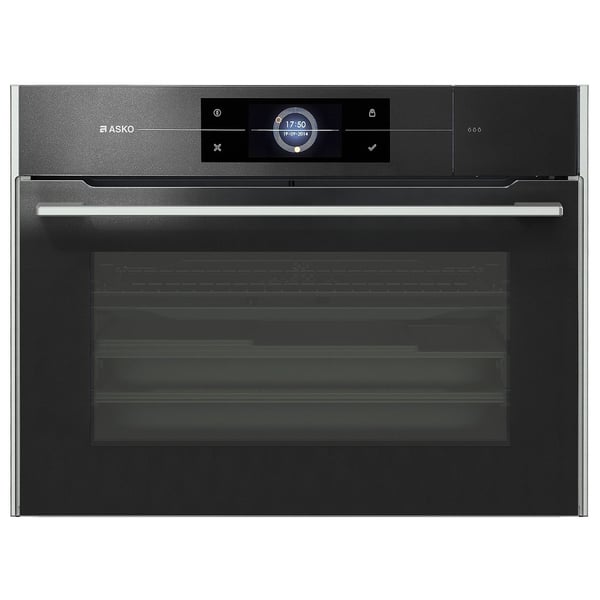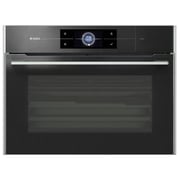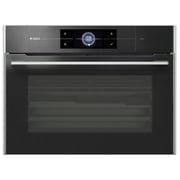 ASKO Elements Combi Pure Steam OvenCooking in home kitchen will never be the same after exploring the functions and cooking programs of the OCS8478G Elements Combi Pure Steam Oven. The introduction of steam bridges the gap between commercial and domestic appliances, while the comprehensive oven capabilities place all major cuisines and cooking styles within easy reach.Steam has long been used in restaurants and bakeries to produce perfect toppings and crusts. The secret is out, and the ASKO oven range proudly boasts some of the most progressive steam ovens available. The ASKO Pure Steam Oven is an extremely competent performer for any size kitchen, and can be coupled with other ASKO ovens, cooktops and microwaves for additional culinary output. Modern kitchens are again becoming expansive places designed for entertaining, and the ASKO OCS8478G Elements Combi Pure Steam Oven is ready to get the party started.
Superior ASKO Steam Oven Potential
ASKO combi steam ovens do everything a traditional convection oven can, and in combination with heating elements and fans the functionality is almost limitless. Preparing succulent fresh vegetables and other steamed treats has never been easier.
Benefits of Steam Include:
Revitalise Food:
With so much waste in the world, it's no wonder we feel guilty when throwing perfectly good leftovers away. The alternative to throwing leftovers from Tupperware to trash is steam; the healthy way to restore lost moisture and revitalise food.
Creating Healthy Habits:
Healthy lifestyle choices are beneficial, fashionable and worth aspiring for. The maxim, 'You are what you eat' always rings true, yet the rapid health improvements associated with steamed food remain a newfound thrill for converts. With steam cooking, more nutrients, vitamins and minerals are retained to nourish bodily systems and help re-establish a healthy, glowing complexion.
Crisp, Nutrient Rich Meals: Modern eating preferences are leaning toward crisp, steamed vegetables as opposed to oily, drenched foods. A balanced diet is important, and should always include nutritious, juicy and sweet vegetables, many of which are surprisingly good at replacing sugar, even in the diets of reluctant youngsters.

The OCS8478G Oven

The OCS8478G Elements Combi Pure Steam Oven is another ASKO success story, introducing the full scope of international cuisines into the humble (or grand) home kitchen.
ASKO Pure Steam Oven Standout Features Include:


Steam and convection features interlinked for independent or combined cooking
Twenty oven functions including steam mode, rapid preheat and multi-phase cooking
3-D hot air with steam for even baking and warming
Automated cooking programs for energy-efficiency and succulent results
Defrost, plate warming and reheating functions
Sous vide steam cooking
High definition control panel for easy oven use
Kid Safe lockable controls
Automated steam cleaning, aqua cleaning and descaling
Main
Brand
Asko
Color
Black
General
Type
Built In Combination Steam Oven
Built In / Free Standing
Built In
Energy input
Electric
Oven Capacity
50 Litres
Body Finish
Black Ceramic Glass
Control Type
Touch Control
Dimensions
Dimensions (H x W x D)
455 x 595 x 546 mm
Power
Power Voltage
220-240 Volts
Frequency
50 Hz
Power Consumption
2600 Watts
Features
Features
Pure Steam Generator | Aqua Cleaning | Steam Clean Function
Additional Features
2 Level of Telescopic Guide | Sous Vide Function | Auto Roast Function | Steam Mode | ECO Program
Other
Country of Origin
Slovenia
Weight
Weight
43.5 KILOGRAM
000000000001006448