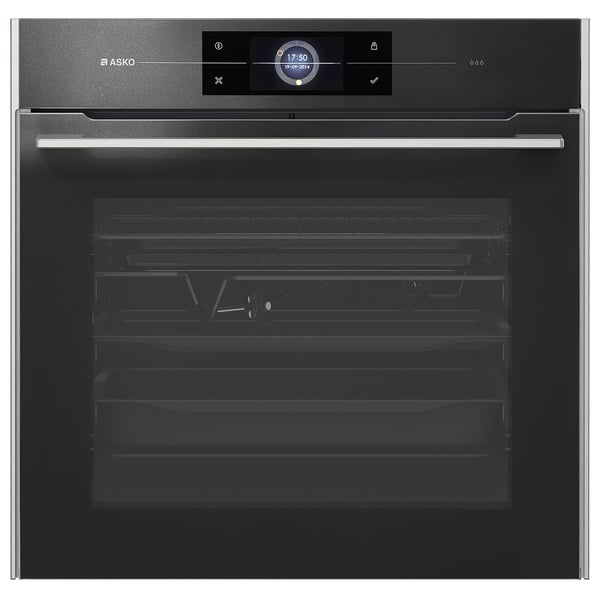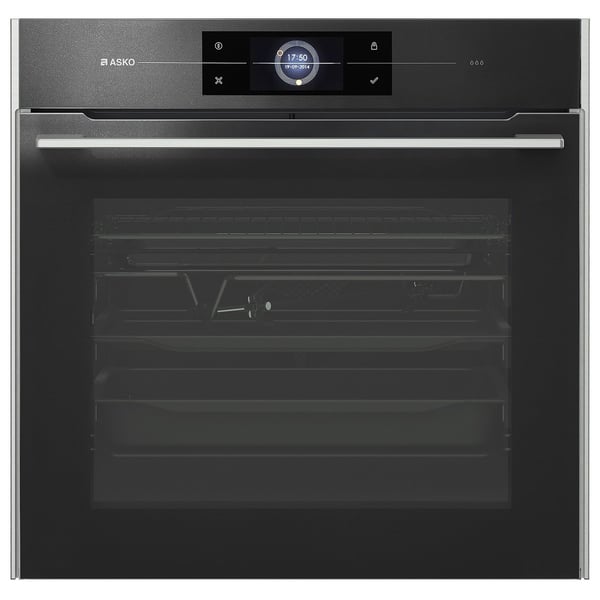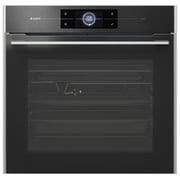 Asko
Asko Built In Oven 71 Litres OP8678G
Key Information
For 4 to 6 members in a family, ideal capacity required is 32 Litres and above

Oven Capacity:

71 Litres

Works using electrical energy

Energy input:

Electric

Built In / Free Standing:

Built In

Dimensions (H x W x D):

595 x 595 x 546 mm

Color:

Black

Installation: Not Included
Details
Multi-Functional Empowerment in the KitchenMany advantages of an ASKO OP8678G Pyrolytic Multi-Functional oven are immediately obvious. Whereas old-fashioned appliances are single dimensional with few uses, this ASKO oven features 19 different functions, programs and modes to satisfy all cooking requirements, with defrost, plate warming and rapid preheat for additional kitchen convenience. The XL oven cavity is designed to emulate wood fire oven airflow for even cooking, with settings easily personalised using the full colour digital display control panel.
ASKO OP8678G Pyrolytic Multi-Functional Oven
Oven improvements have kept pace with technological advances, resulting in a new breed of multi-functional appliances. Elements by ASKO are sophisticated and stylish new ovens that embrace technology to harness their full cooking potential, with the ASKO OP8678G Pyrolytic Multi-Functional Oven a classic example. Top quality pyrolytic ovens heat up to approximately 500°C during pyrolysis (heat) cleaning, creating a super-clean, multi-functional oven with the power to perform all cooking tasks with ease.
Pyrolytic Multi-Functional Oven Features
ASKO OP8678G Pyrolytic Multi-Functional Ovens can be coupled side by side or above and below, embedded as wall ovens that create an entertaining showpiece. The ovens can also be combined with other standout ASKO appliances such as a steam oven, combi oven or microwave oven for exponential increase of cooking potential and capacity. Satisfying the cravings and dietary needs of everyone is again possible thanks to ASKO.
ASKO Pyrolytic Ovens for Everyday Use
When maintained properly, top range appliances last for many years. ASKO pyrolytic ovens incorporate both pyrolytic and steam cleaning programs into oven design, taking guesswork out of the cleaning equation. Pyrolytic cleaning is thorough, leaving nothing but ash to brush away once the cleaning process is complete. Pyrolytic cleaning performed approximately once per month, depending on oven usage, will ensure the oven always looks and functions great.
Pyrolytic Multi-Functional Oven Features Include:


Nineteen functions, programs and modes including multi-phase cooking, auto roast, plate warming and the ECO program for energy efficiency
Versatile and interactive touch-screen control panel to guide chefs during every stage of food preparation and cooking
Extra-large oven cavity, including 5 baking levels, to ensure all unexpected food cravings are satisfied and catering tasks are easily accomplished.
Sturdy manufacture, integrated side trims, metal components and tinted door glass all constructed to stand the test of time
Active oven cooling, kid safe lockable controls, pyroproof racks and plates plus dishwasher proofed accessories