Asko Built In Oven OT8687S
Key Information
Energy input:

Electric

Works using electrical energy

Oven Capacity:

75 Litres

For 4 to 6 members in a family, ideal capacity required is 32 Litres and above

Built In / Free Standing:

Built In

Dimensions (H x W x D):

597 x 595 x 546 mm

Installation: Not Included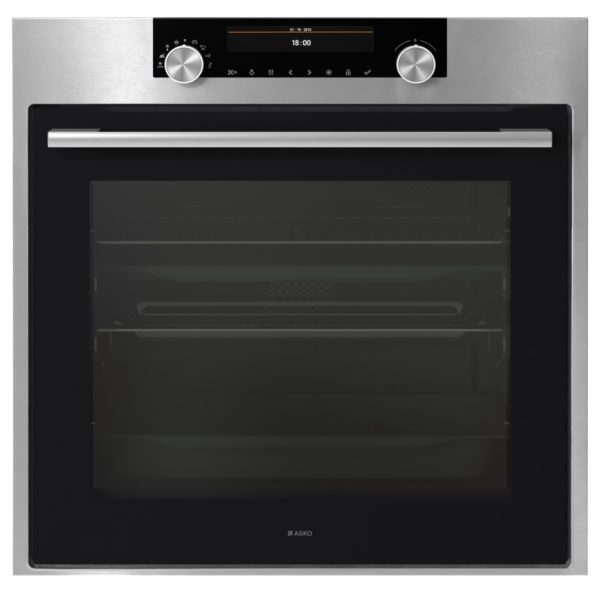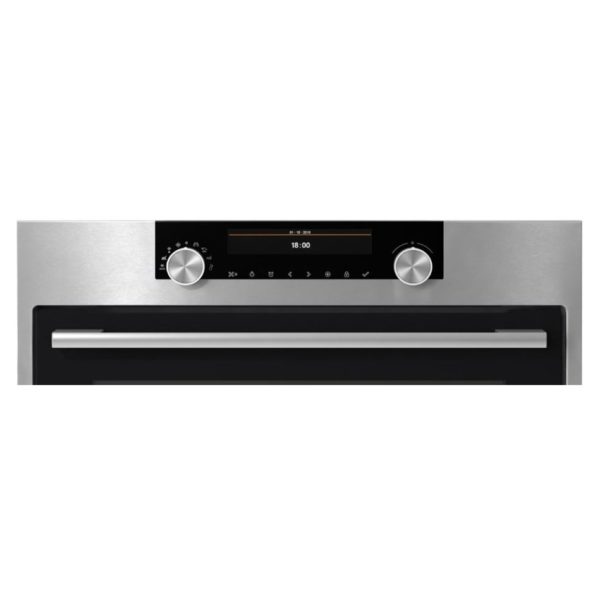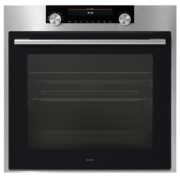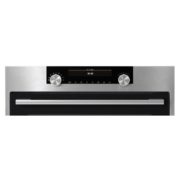 Asko Built In Oven OT8687S
CONSTRUCTION & PERFORMANCE
XL cavity
Hot air convection
Temperature range (°C): 30-275
Usable oven volume: 73 l
Oven guides: Wire guides
Baking levels: 5
Number of trays and grids: 5
Shallow tray
Deep tray
Grill rack premium
Glass tray
Number of interior lights: 2
Digital display
Number of dials: 2
Jog dial
Multifunctional timer
Favourite programs saving function
PROGRAMS, OPTIONS AND MODES
Number of oven functions: 17
Lower heater
Upper heater
Upper and bottom heater
Grill
Large grill
Large grill with fan
ECO program
Lower heater and fan
Hot air and bottom heater
Reheating
Defrost
Plate warming
Keep warm
Rapid preheat
Multi phase cooking
Auto roast mode
Full glass front
Touch Proofed Stainless steel
Metal knob/knobs
Tinted door glass
Integration side trims
Adjustable feet
Niche dimensions (HxWxD): 59 × 56 × 55 cm
Active oven cooling
Number of oven door glasses: 3
Soft closing
Kid Safe lockable controls
Aqua cleaning
Dishwasher proofed accessories
Craft ovens hand control of the kitchen back to the chef. Times have changed, and oven innovations are required to re-establish the importance of home cooked meals. Busy lifestyles had reduced conventional ovens to mere kitchen ornaments or clunky obstacles best ignored, so ASKO designers have responded with a range of incredibly versatile and powerful craft ovens. The ASKO OT8687S Craft Oven can guide menu planning, establish optimum cook settings and even help clean up after meal preparation is complete.
In a time-poor society, convenience and versatility are essential. ASKO craft ovens are well-known internationally for their minimalist design and maximum cooking potential, with classy Scandinavian styling shining through in touch proofed stainless steel. A welcoming and productive kitchen is the true heart of a happy home, and an ASKO OT8687S Craft Oven ties the decor together in energy efficient style. ASKO ovens remain true to traditional Scandinavian ideals, while also taking chefs on a culinary quantum leap into the future.
ASKO oven innovations for contemporary kitchens
Integrated oven design is a specialist field. ASKO designers incorporate the best progressive elements to create kitchens that are inviting, social places for family and friends. Advances in technology have been embraced along with traditional oven principles, transforming an ASKO OT8687S Craft Oven into a cooking powerhouse previously unheard of in domestic kitchens. ASKO are contemporary kitchen specialists, introducing chefs to a host of innovations, including:
ASKO OT8687S Craft Ovens are designed to be explored and enjoyed,
helping to re-establish cooking as a culinary art form. Fast food and takeaways will always be popular, but a hearty and healthy home cooked meal, prepared conveniently, cannot be beat.
Versatile and powerful ASKO oven potential
The culinary art has evolved and cooking is now a multi-dimensional experience. The introduction of global cuisine has dramatically increased eating options, and the challenge to satisfy all dietary requirements and meal preferences can be overwhelming. However, when using and ASKO OT8687S Craft Oven, cooking for family and guests doesn't need to be a confused a la carte speculation. ASKO ovens are more than just a kitchen appliance; they also teach and guide the chef during every stage of cooking.
The cooking potential of an ASKO Craft Oven is achieved by cutting-
edge design and technology working in harmony. ASKO ovens have been progressively developed for decades, with form and function considered equally important and appliances built to stand the test of time. Every function and setting is purposeful and integrated for ease of use, resulting in increased uptake of attractive ASKO appliances worldwide. When using an ASKO Craft Oven, the chef gets credit for perfect culinary creations, while the oven works efficiently, effectively and stylishly behind the scenes.
Additional ASKO Craft Oven initiatives
Although complex in scope, ASKO ovens define simplicity of style, allowing users to explore oven potential at their own pace. All capabilities of a conventional oven, electric oven and wall oven are easily attained, and the addition of seventeen cooking programs and functions takes cooking to the next level. The 'gratin' feature, for example, is the reason ASKO chefs achieve the perfect browning or crust that is almost impossible using an older or less advanced. appliance.
An ASKO OT8687S Craft Oven is a stand-alone kitchen whiz, and can
also be coupled with other ASKO ovens and appliances in larger kitchens designed for entertaining. Seamless integration of ASKO appliances facilitates the combination of craft oven, pyrolytic oven, steam oven, combi oven or microwave oven for contemporary kitchens where preparing delicious meals is a priority. ASKO designers and manufacturers use high-quality stainless steel, durable metal components and dishwasher proofed accessories to create ovens that are reliable, long-lasting and an extremely attractive addition to any kitchen.
Main
Brand
Asko
Color
Stainless Steel
General
Built In / Free Standing
Built In
Energy input
Electric
Oven Capacity
75 Litres
Dimensions
Dimensions (H x W x D)
597 x 595 x 546 mm
Weight
38.2 kg
Power
Frequency
50/60 Hz
Power Consumption
3400 Watts
Features
Features
High-definition, sturdy digital control panel for easy oven navigation | Child-lock safety feature for busy and active households | Soft-close door system including automated stop/restart of the cooking program
Additional Features
Seventeen functions, programs and modes for achieving culinary perfection | ECO program for energy-efficient cooking | Multi-phase cooking and 'auto roast' mode | Aqua cleaning program to ensure the oven always looks great
Other
Country of Origin
Slovenia