Bosch Dishwasher SMS68TI20M
Key Information
Capacity:

12 Place Settings

Full size dishwasher

Dimensions (H x W x D):

845 x 600 x 600 mm

Color:

Stainless Steel

Delivery Lead Time: 24-hour delivery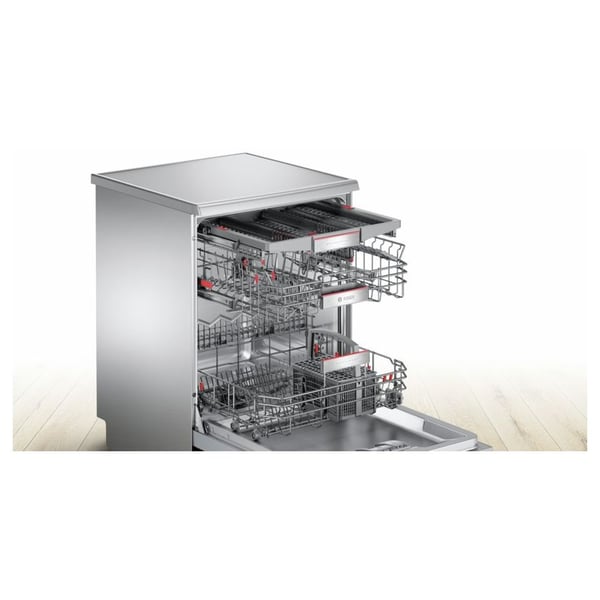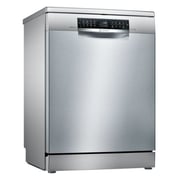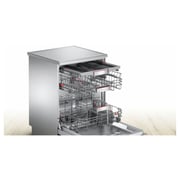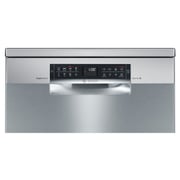 Bosch SMS68TI20M Dishwasher
Visibly more flexibility and better use of space
The movable parts are red or grey, depending on the dishwasher model.
Rinses three times faster with optimum cleaning and drying results with VarioSpeed Plus.
Use the VarioSpeed Plus option to wash and dry a full load of dishes perfectly clean in the shortest of time. Rinse time is reduced at the push of a button by up to 66% with the usual high cleaning efficiency. Simply activate the VarioSpeed Plus option when you need dishes fast, e.g. at family celebrations or birthday parties.
HygienePlus option: Rinsing with higher temperatures for highest hygienic performance.
HygienePlus is a new option that can be activated in many programmes, and guarantees maximum hygiene thanks to antibacterial cleaning. This effect is achieved by a higher temperature level of up to 70°C during rinsing, sustained for approximately 10 minutes. HygienePlus is therefore ideal for people with high hygiene standards, for instance in households with small children or allergy sufferers.
IntensiveZone: effectively cleans pots and pans at the press of a button.
The IntensiveZone option, which can be added to many programmes, ensures a higher spraying pressure and increases the temperature in the lower basket. Heavily soiled pots and pans are cleaned optimally whilst more delicate dishes can be placed in the upper basket.
Easy pre-select programme start for the desired start time.
With the time delay function you can pre-select the programme for the desired start time. This allows you to handle your appliance conveniently, at any time during the day, during work hours or at night. After the start of the programme a display indicates the precise remaining time.
LoadSensor automatically saves water and energy for fewer dishes.
The load weight is detected by a rotary speed sensor which recognizes the water level. For bigger loads, more water is needed to soak the dishes and the water level decreases. In that case more water is added. For smaller loads, less water is needed for rinsing. The load sensor provides for optimal water usage even for half loads or partial loads, saving water and electricity.
Heat Exchanger: always the right temperature for optimal dish care.
Dishwashers with heat exchangers treat precious glasses and porcelain with particular care and no risks. Water is pre-heated in the rinsing tank to avoid any temperature shocks.
AquaSensor: stain detection for brilliantly clean dishes.
The AquaSensor regulates the water usage depending on the type and degree of soiling, using light beams to manage the rinse. Depending on remaining food particles, grease or detergent residues in the rinse, the rinsing process is assessed to evaluate whether it needs to be continued.
More protection for your glasses with the Glass Rack.
The Glass Rack allows you to safely store extra high glasses, bottles or vases in the lower basket.
SuperSilence: exceptionally quiet operation at only 40-45 dB.
The electronically operated engine and many noise reduction measures, secure the exceptionally quiet operation of our SuperSilence dishwashers. Advantageous for eat-in kitchen or open areas.
AquaStop with 100% lifetime guarantee against water damage.
The AquaStop system consists of a double-walled supply hose, a safety valve, as well as a floor sump with float switch, offering 100% protection against water damage. Guaranteed by Bosch for lifetime.
Automatic programmes ensure automatically the best cleaning performance.
Water usage, water temperature and rinse time are adjusted exactly to suit the level of soiling. This provides best results while saving water and energy.
Resource-saving water management: optimal cleaning at low water consumption.
Resource-saving water management with intelligent water usage achieves minimal consumption per wash cycle: for example the ActiveWater Eco dishwasher uses only 6 litres of water in the standard programme with optimised hygienic cleaning.
EcoSilence DriveTM: powerful, durable, quiet and efficient.
To increase our cleaning efficiency we have developed the economical EcoSilence DriveTM. It is exceptionally quiet, efficient and guarantees low electricity consumption. The EcoSilence DriveTM works without brushes is ultra silenct and top results are automatically guaranteed.
Glass protection technology for extra gentle handling for your delicate glasses.
Because soft water causes glass corrosion, Bosch dishwashers with glass protection technology constantly regulate the degree of hardness. This is how we ensure that valuable glasses and delicate china are always washed with special care.
DosageAssist ensures optimum results thanks to effective dissovlving of the cleaner tab.
The DosageAssist ensures optimal cleaning results and a quieter wash. The detergent drops out the detergent dispenser and into a special tray on the top basket where it gets completely dissolved.
Whichever way you look at it, you can get more in now.
The innovative VarioFlex Pro basket system offers a wide range of adjustment options. Thanks to the red touchpoints and Rackmatic lever, you can always see immediately where and how you can adjust the baskets flexibly to the dishes to be loaded. In this way, more dishes become dazzlingly clean – in just one wash.
Our quality guarantee: 10-year rust through warranty against interior rusting.
We have developed special surface treatments and production processes that are precisely tailored to the materials used in the interior of our dishwashers. As a result, a 10-year guarantee against rust through of the inner cavity, from the inside out, on all our dishwashers can be offered. This guarantee can be activated for all dishwashers purchased from 01.01.2012 onwards.
Retains the luminous shine of your glasses, even after many wash cycles. A special valve automatically keeps water hardness at an optimally balanced level – fully independent of your water hardness settings.
Less water, less energy, better performance.
Bosch's innovative ActiveWater technology maximises efficiency to produce outstanding results whilst protecting the environment. With carefully targeted water distribution, improved filter technology, faster heating and increased pump output for more water circulation, ActiveWater dishwashers give superb results.
The silence program is the quietest way to run your dishwasher. By activating it, you automatically reduce the noise levels of your dishwasher to the lowest minimum possible. This is achieved by an especially adapted Eco 50 °C program, a reduced spray pressure and extended cleaning phase.
Activating the Extra Dry option dries your dishes extra-thoroughly by higher temperatures during the rinse cycle and a longer drying phase – with just one push of a button.
Main
Brand
Bosch
Color
Stainless Steel
General
Built In / Free Standing
Free Standing
Type
Standard Dishwasher
Capacity
12 Place Settings
Features
Features
ExtraDry: extra-thorough drying option for difficult-to-dry loads.
Silence Program and SuperSilence: remarkably quiet at 42dB, more so with the Silence program.
Glass 40°C: protective program for gently cleaning and drying glasses.
VarioFlex-baskets and VarioDrawer: enhanced re-adjusting options with more space on all levels.
LED Display: easy program selection with display of remaining time and short status info.
Physical
Display
Digital
Dimensions (H x W x D)
845 x 600 x 600 mm
Best Price Guarantee (Check prices across power retailers. The prices shown here are provided by Price Check – a 3rd party application. Sharaf DG is not liable for the prices disclosed by the application.)
000000000001119698